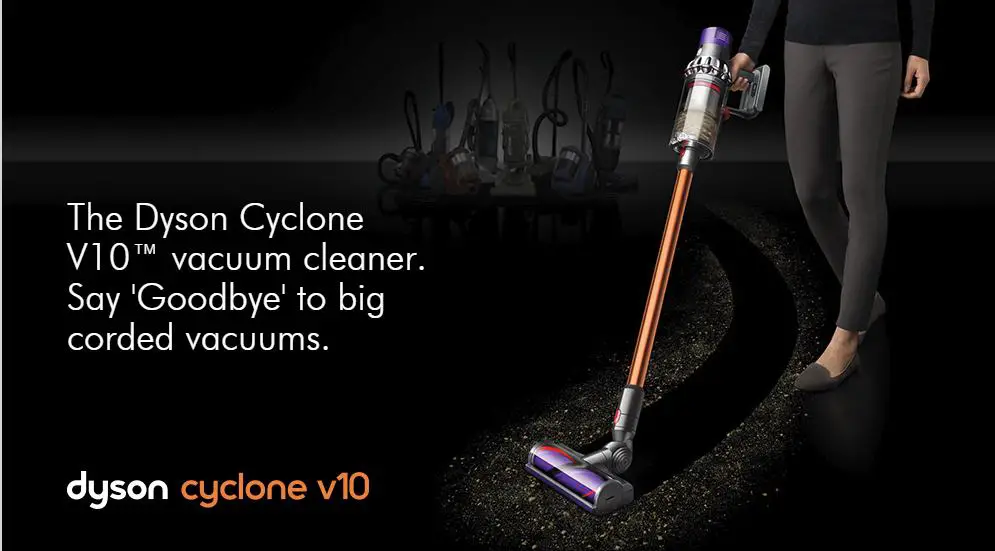 It has been a while since we have a new Dyson vacuum cleaner product release. Their latest cordless vacuum, the Dyson V8, was really good and I'm still using it til now. But the product was launched back in 2016 (check out my Dyson v8 Review back in September 2016) and we haven't heard from Dyson ever since.
The Dyson Cyclone V10 (I'll just call it Dyson v10 for short here) has now been revealed and launched today, bringing along the upgrades and a fresh design we've all been waiting for!
Dyson V10 Official Video
Dyson V10 – An all new digital motor V10
Dyson Supersonic Hairdryer runs with the digital motor V9 (there is no Dyson vacuum cleaner running the V9) but the new Dyson Cyclone V10 is powered by Dyson's latest engineering feat.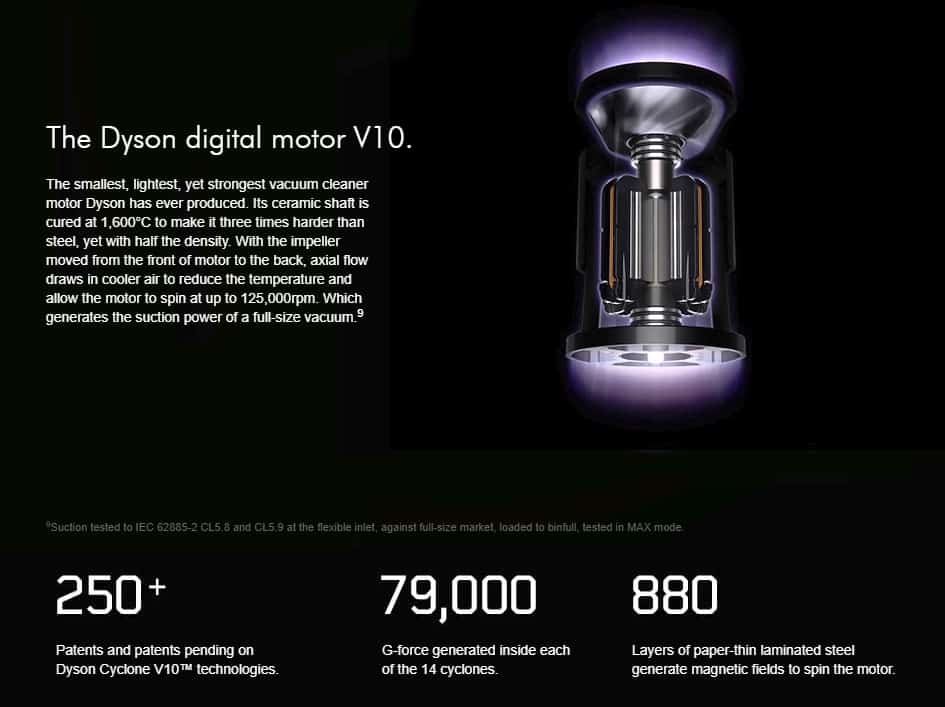 The digital motor V10 weighs less compared to the V8 (almost by half) and spins at 125,000 rpm (compared to the V8's 110,000 rpm). This offers more suction power and higher performance.
But the most interesting part is that the new motor is also intelligent (which seems to be a requirement on any tech products these days). The Dyson digital motor V10 continually adjusts itself to maintain maximum performance by checking for altitude, barometric pressure, temperature, and even weather.
By knowing the altitude of itself when used, it can make dynamic adjustments to deliver constant performance at different air pressures.
Sounds crazy, but we all know Dyson does not like half-baked solutions.
Dyson V10 vs Dyson V8 – What's the Difference?
Thanks to the new digital motor V10, the engineers at Dyson can make certain adjustments to the design of the vacuum cleaner unit, offering an all new design.
However, there is a purpose for this design because the new Dyson V10 design now allows air to be drawn in a straight line, which improves suction power and efficiency.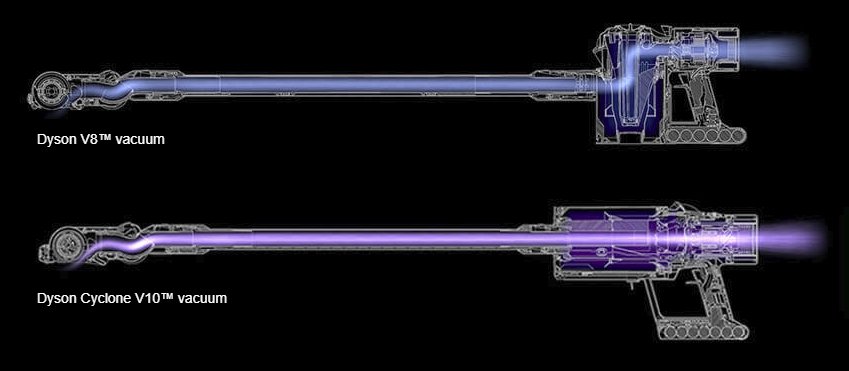 In summary, here are the other differences or improvements between the Dyson V8 and V10
Has 40% bigger bin capacity
Improves suction by 20%
Has more battery without adding extra weight, meaning better battery life (up to 60 minutes using a non-motorised tool, in Normal mode)
It's amazing to see the evolution of the Dyson cord-free vacuum cleaners (which I've seen, used, and reviewed them all), from the latest V8, V6, DC59, DC44, and the DC35 Digital Slim back in 2010. I find it less and less to use my corded Cinetic Big Ball or the Upright DC65.
The new Dyson Cyclone V10 Absolute+ cord-free vacuum has a recommended retail price of $999 and the Dyson Cyclone V10 Animal cord-free vacuum has a recommended retail price of $899. You can start pre-ordering from Friday, 16th March 2018 and available from Friday 6th April 2018 from Dyson.com.au and at all major electrical retailers around Australia.
Check out the official Dyson Cyclone V10 page for more info. Will let you guys know when I can get a hands on a review unit, stay tuned!