D-Link DCS-8630LH Review – If I'm not mistaken, this is D-Link's first Wi-Fi Outdoor Camera that comes with a built-in spotlight. The previous D-Link Full HD Outdoor camera I reviewed last year did not have it, though it's capable of seeing in complete darkness thanks to its infrared sensor.
While other competitors like Swann, Arlo, and Ring have incorporated spotlights in their outdoor cameras for a while, D-Link comes a bit late into the party. However, the DCS-8630LH does have a built-in Smart Home Hub which means that there is no separate Hub (for the smart features) to be plugged to your router, and it also has a cool, glass break detection.
Packaging
Design & Features
D-Link Full HD Outdoor Wi-Fi Spotlight Camera with built-in Smart Home Hub (DCS-8630LH) is a wired, outdoor camera solution. It can record in Full HD quality (1080p) with 150-degree wide angle view. And of course, like many other security cameras these days, it is equipped with built-in speaker, microphone, siren, and infrared sensor for night vision.
Design-wise, the camera is quite compact to many others that I've used and reviewed and installation is definitely one of the simplest. There are only two screws to be mounted (anchor points also included in the packaging if you are drilling into concrete) and installation is super easy.
Most other cameras require you to switch to the camera's wireless access point, complete the installation, and switch back to your home's Wi-Fi. The DCS-830LH however, didn't require you to complete this tedious process and only required my confirmation to connect to my detected, home's Wi-Fi network. I literally set everything up (including the drilling) within minutes.
A 7-meter cabling also gives a bit more flexibility to install the camera at your desired spot.
The 400 lumen spotlight is bright enough to scare intruders away and also for the colour night vision to kick in. The spotlight can be set to automatically trigger when motion is detected but can also be turned on manually. For example, you might want to use it to light your path while taking the bins out or for other things. You can set the spotlight timeout as well from the mydlink app settings.
One thing I really like about the camera is the 150-degree wide angle view. The angle is very wide that I've decided to place it where it can cover two corners of our backyard. I had the Swann Outdoor camera there but it only has a 110 degree viewing angle. Apparently, I just found out that an extra 40-degree angle matters a lot!
With the built-in Smart Hub, the camera is capable of detecting a person and when it hears a glass breaks. Unfortunately, it is not 100% accurate (like most other cameras I've tried) and there were times where I actually got a glass break notification once (of course, nothing happened) and often, when my dog is doing his thing in our backyard. However, if you schedule the notifications to trigger when everyone is asleep or inside the house, I guess the false trigger isn't going to happen. At least I won't get any notifications when our outdoor plants are swaying in the wind, thanks to the passive infrared sensor that uses infrared heat technology.
The built-in Smart Hub also integrates nicely to mydlink Smart DIY devices if you have them.
Rich notifications are pretty cool as I can see at a glance what's happening live and can even decide what to do before opening the app.
A recording sample of the camera:
The camera has an IP65 rating and has survived Melbourne's rainy and windy days so far in our backyard. It is also ONVIF compliant so you can record your streams into your ONVIF compliant NVR, VMS or NAS system for centralised viewing or continuous, 24/7 recording. I do have an ONVIF compliant NVR with my Dahua IP cameras (and the Synology DiskStation DS218j capable of this), but as far as I know, this requires a wired Ethernet connection and I just can't be bothered getting a very long Ethernet cable for this.
The DCS-8630LH is totally capable of recording clips to mydlink Cloud anyway (1-day cloud recording retention on the free account) and you can also plug in a microSD card for local recording (up to 256GB).
The quality of the recording is pretty good and I'm really happy with the camera so far. The recently-updated mydlink app also makes it easier to change settings and set rules with automations.
The camera works with Google Assistant and Alexa so if you have a Google Nest Hub and Amazon Echo Show 8, you can use your voice command to check for the live streams.
D-Link DCS-8630LH Review Conclusion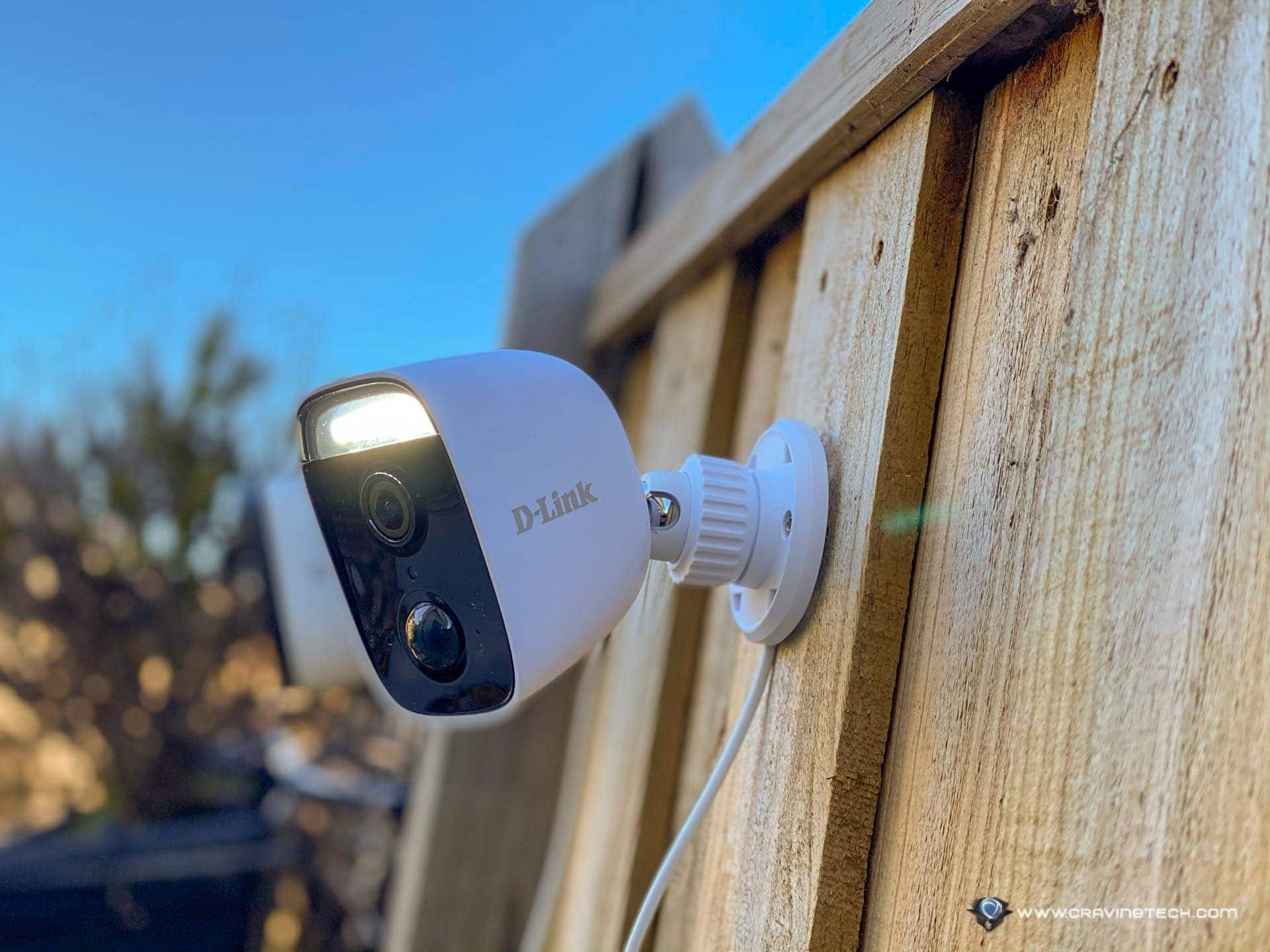 D-Link Full HD Outdoor Wi-Fi Spotlight Camera with built-in Smart Home Hub is more than capable to monitor the perimeter of your house with its super wide angle view, which I really like.
It's a great, standalone security camera that can withstand any weather and most importantly, protect the perimeter of your house with a built-in spotlight, siren, and advanced notifications.
The camera is equipped with Person and even Glass Break detection on mydlink Cloud Free account, which is usually a premium offer on Ring and Arlo monthly plans.
D-Link DCS-8630LH retails for AU$ 279.95 and available now at retailers around Australia and D-Link website.
Disclosure: D-Link DCS-8630LH review sample was supplied for reviewing but all opinions are mine and not paid
D-Link Full HD Outdoor Wi-Fi Spotlight Camera with built-in Smart Home Hub Review
Summary
Wired, Full HD, Outdoor security camera from D-Link with a mix of basic and advanced features
Pros
Quite a compact design
Fast and Easy setup
1080p Full HD
Wide angle view makes a big difference in coverage
Built-in mic, speaker, siren, spotlight, infrared sensor
Person and Glass Detection
Work with other D-Link Smart DIY devices
ONVIF Profile S support for 24/7 continuous recording
Free 1-day video recording retention at mydlink Cloud
Support local recording through microSD card
IP65 rating
Google Asssistant and Amazon Alexa support
No extra Hub to plug or purchase
Cons
Cannot do multiple motion zones setup (i.e Motion Detection Area)
Still has false Person detection