PaMu Quiet ANC earphones review – You may not have heard of PaMu much here in Australia, but they've made some good earphones plus endorsed by a few, popular NBA players. The PaMu Slide and PaMu Slide Mini were successful projects on Indiegogo and sound great for music listening.
PaMU Quiet is their next TWS (True Bluetooth Wireless) earbuds, which now comes with ANC (Active Noise Cancellation). It's world's first earphones powered by dual chip, which is Qualcomm QCC5124 audio chip and AMS3460 noise cancelling chip.
The packaging includes a nice hard-case that also recharges the earphones while they are inside. The round-shaped case can be hanged around the neck, or just inserted into your pocket (or left at home if you just want to have a quick jog around the block as the earphones can last around 5 hours on a single charge). There is also a carrying pouch included.
The charging case is charged via USB-C (a plus point in 2020) and a glowy, blue LED will show whether the charging process has already been completed. The charging case can also be charged via Qi wireless charging so if you have a Qi wireless charging pad or portable battery for your phone lying around, you can just place the case on top of it to charge. Pretty cool.
PaMu Quiet Technical Specifications:
Driver: Diameter 10mm, PEN + Titanium compound membrane
ANC level: About -40dB
Codec: aptX Classic, SBC, AAC
Bluetooth: 5.0
Weight: 5.1 grams (single earbud), 91 grams (with charging case)
What I love most about the PaMu Quiet, being an ANC earphones, is that you won't experience the air-pressure feel on the ears – which normally happens on most ANC earphones and headphones. With PaMu Quiet, the experience is so subtle that you probably won't even realise you are wearing an ANC earphones.
The earbuds also offer good passive noise isolation because I can barely hear anything once I turn my music on. The buds are very comfortable and fit much better in my ear canals compared to the original PaMu Slide (which doesn't feel secure at times). The fit is surprisingly one of the best earphone fits I've ever experienced – considering I've reviewed many earphones here at Craving Tech.
Sound wise, I let my wife tried PaMu Quiet because she's been using the PaMu Slide frequently for her walk with our dog around the block. The first thing she noticed was the improved sound quality over PaMu Slide and has fallen in love with the PaMu Quiet in an instant. As expected, she didn't even know it was an ANC earphones – due to the missing air-pressure feel, which is great.
However, do not expect the PaMu Quiet ANC to perform as good as heavy-duty headphones like Bose QC35 II or Jabra Elite 85h (that easily performs well in reducing engine noise, for example). I do find that the earphones do reduce ambient noise without the music on, but the effect is more prominent when you are actually listening to music.
The audio itself is quite rich and I was surprised when I put the PaMu Quiet on for the first time. The bass feels strong and thumpy, plus the rich treble makes easy music listening a great experience. The audio balance is geared a bit more towards the lower channel (bass) but without overpowering the other channels. Probably not going to satisfy audiophiles looking for a more neutral, balanced sound signature but will satisfy most casual users like you and myself.
Controls are all touch-based using a single tap, double tap, or tap and hold. They can also be further customised with an app that can also tweak the audio equaliser.
PaMu Quiet Review Conclusion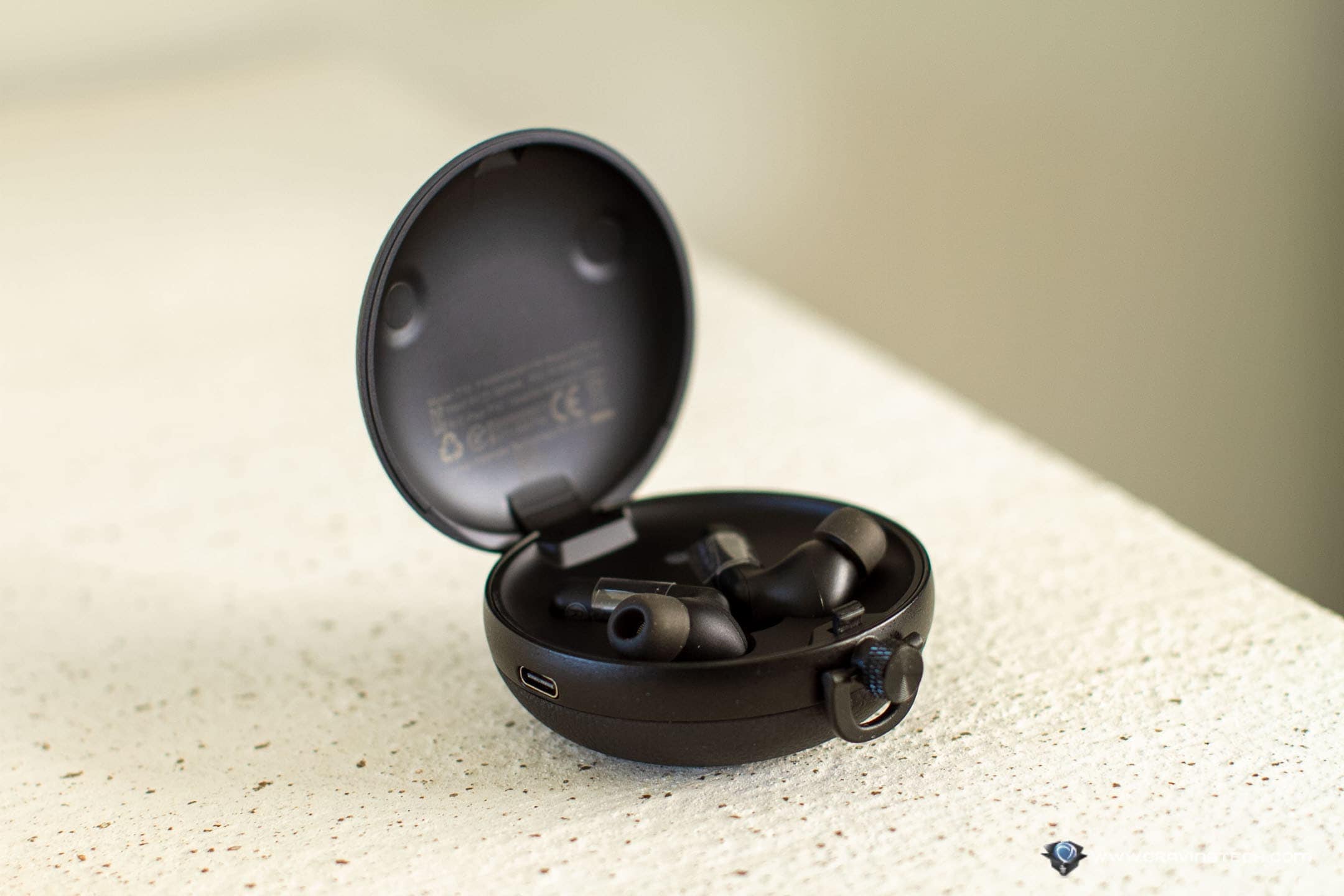 PaMu Quiet is one of the most comfortable TWS earphones I've ever used, has rich audio quality, and a great ANC without the weird air pressure feel and losing audio quality.
The earbuds stay fit inside my ear canals even without the ear hooks design like Apple Powerbeats Pro and they don't feel intrusive or make my ears painful after listening music for a while.
Make sure to subscribe to their newsletter to be notified when you can make a purchase and also to get more information on pricing, etc. PaMu products are usually cheaper than the big brands' so if you can hold off on buying that Jabra Elite Active 75t, you might be able to save some money and still get a great, audio quality earphones.
Disclosure: PaMu Quiet review unit was supplied for reviewing but all opinions are mine and not paid
PaMu Quiet Review
Summary
Comfortable, ANC wireless earphones with really good sound quality
Pros
Comfortable to wear
Subtle ANC 
Good sound quality
Thumpy bass
Charging case & pouch included with wireless charging
Cons
Charging case might be too bulky for some
Not the best battery life but you do have to compromise with a lightweight build, ANC, and sound quality