PaMu Slide Mini Review – After the successful launch and sales of PaMu Slide (check out our review), Padmate had not sit still.
They've recently launched PaMu Slide Mini true wireless earbuds that come smaller in size, but sound as good. It's also recommended by a few NBA players like T Mac (Tracy McGrady) and Spencer Dinwiddie if you care about influencers' recommendations.
Packaging
There is an extra carrying pouch and many different ear tips that you can pick here (6 different sizes).
Design & Features
PaMu Slide Mini design is as intended: small in size. I'm actually talking about the charging (also carrying) case here. The wireless earbuds dimensions themselves are pretty standard, similar to Apple AirPods.
The mini charging case can extend the battery life of the earbuds (which is around 10 hours) to another 30 hours. In contrast, Apple Powerbeats Pro has 9 hours of listening time and the bulkier case can only add another 24 hours extra. However in all fairness, the Powerbeats Pro can deliver a stronger and more satisfying bass – which requires extra power.
The case has LED indicators to indicate how much battery it has left, but the LEDs will lit up only when you place the earbuds inside the case – and not when you open the case up (which I prefer).
To my surprise, the charging case supports Qi wireless charging so if you have a wireless charger for charging your phone, you can use it to charge the PaMu Slide Mini case wirelessly. For some reason, my 3SIXT Wireless Charger doesn't seem to work with it, but it's charging fine with my Cygnett Wireless Charger and Belkin BOOSTUP Wireless Charger.
Not to worry though if you don't have a wireless charging pad (or if it's not compatible somehow), you can still charge the case with the included USB-C cable.
PaMu Slide Mini earbuds themselves are well-crafted and ergonomic in the ears. They fit well – I think even better than the original PaMu Slide in my ears. They can go deeper into my ear canals and feel more secure.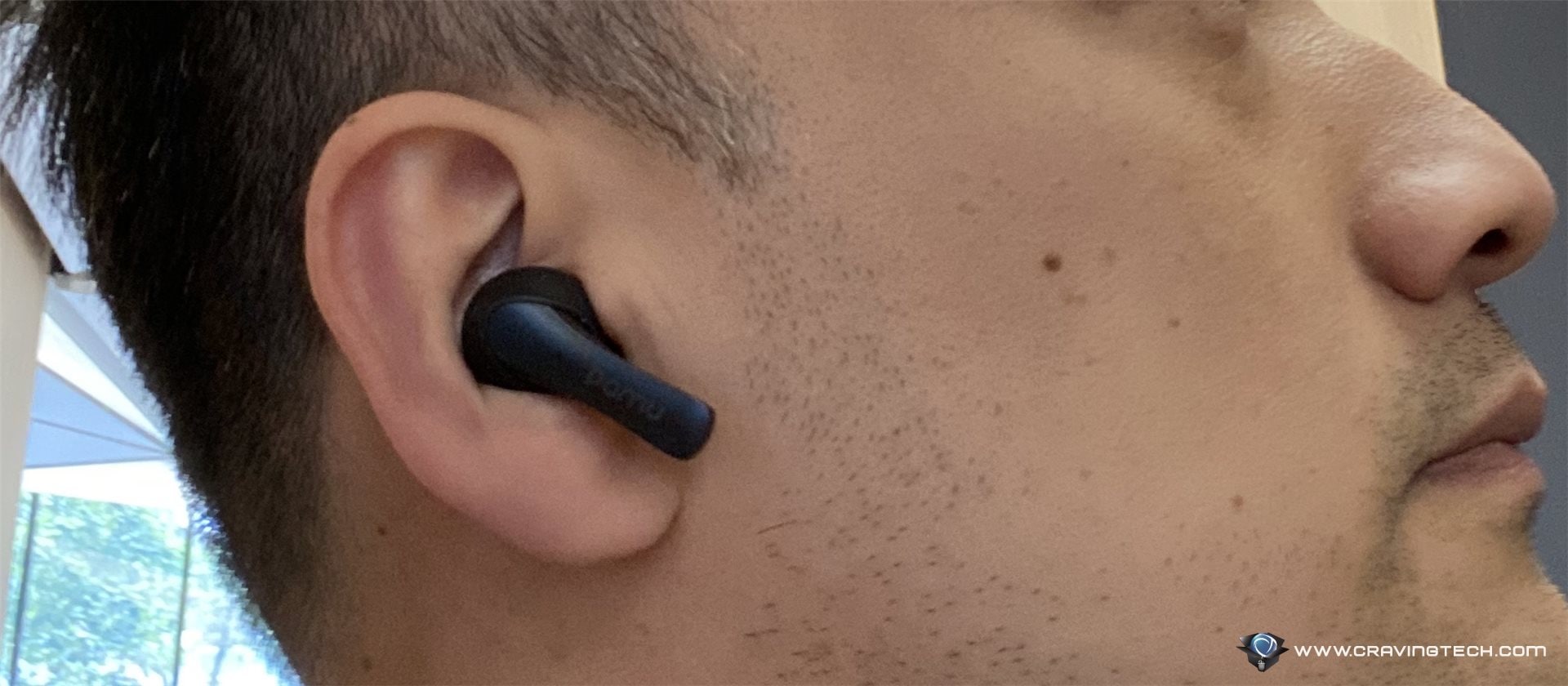 The tight seal gives a good passive noise isolation, especially considering I'm commuting by train every day to work. With PaMu Slide Mini, music listening experience feels good once you turn the volume up.
And oh, these true wireless earbuds are also IPX6 water & sweat resistance, making them a perfect companion for exercising and jogging.
Touch controls for managing both calls and media are quite easy and I like how I can adjust the volume with the earbuds. Most other brands don't even have this functionality and you have to adjust the volume from your phone (eww!). With PaMu Slide and PaMu Slide Mini, you can tap + hold the left earbuds to lower your volume, and do the same on the right earbuds to raise it. Sweet.
Sound wise, the PaMu Slide Mini sounds pretty good with more focus on the treble and bass. The drum kicks are also quite prominent, which is nice (I'm a Bass player so I might be bias here). As with all earbuds, you have to make sure that you get the right ear tips that fit within your ear canals to be able to feel the Bass.
I also somehow manage to listen little details on certain types of songs that I frequently listen to. However, the overall ambiance feels a bit muddy compared to higher, premium earphones like the Jabra Elite 75t (but it's 3 times more expensive than the PaMu Slide Mini!).
Watching movies on the PaMu Slide Mini offers a good experience as well, thanks to the passive noise isolation and punchy bass perfect for action scenes with explosions especially.
PaMu Slide Mini Review Conclusion
Powered by Qualcomm QCC3020 TWS chip and Bluetooth 5.0, the PaMu Slide Mini offers an enjoyable music listening experience without lags and cut-offs. The earbuds have ergonomic design and great fit on the ears, offering good and natural passive noise isolation.
The charging and carrying case is compact, yet offers a lot of extra battery hours to the PaMu Slide Mini earbuds. It also supports wireless charging on its own, so you can just place it on your wireless charging pad to charge.
Best of all, you can grab all these goodies for just US$69, which I think is a really crazy deal and unheard of!

Sure, the competition is fierce and I'd say the PaMu Slide Mini does not have the best sound compared to many other TWS earbuds out there like the Jabra Elite 75t or Edifier TWS5, but for the price and features, you definitely get more than you bargain for here.
Disclosure: PaMu Slide Mini review sample was supplied for reviewing but all opinions are mine and not paid
PaMu Slide Mini
Summary
Wireless earbuds at a very affordable price. True successor to the original PaMu Slide
Pros
Affordable price
Slim design
Compact case
Secured in-ear
Supports wireless charging
Cons
Good sound quality, but not exceptional