Cygnett Wireless Desk Charger Review – Ever since Apple announced and released the iPhone X (read our review on the iPhone X), manufacturers have started releasing new wireless charging pads.
Cygnett is no exception here and has come up with the Wireless Desk Charger, a Qi-compatible charging pad that will work on your iPhone 8/8 Plus/X and also other compatible Android smartphones like the Samsung Galaxy Note8.
Cygnett Wireless Desk Charger features a sleek and minimalist design. It has a disc design that many wireless charging pads go for, with an anti slip surface. Thanks to the anti slip surface at the bottom, the charging pad itself will stay still on desk.
The pad is smooth and does not look and feel like plastic, so it'll look premium on your desktop area. It also supports charging while the phone is on a case which thickness is under 3mm. I'm using Caudabe Veil XT on my iPhone X which has a 0.35mm thickness and it's been working great for the past 2 weeks.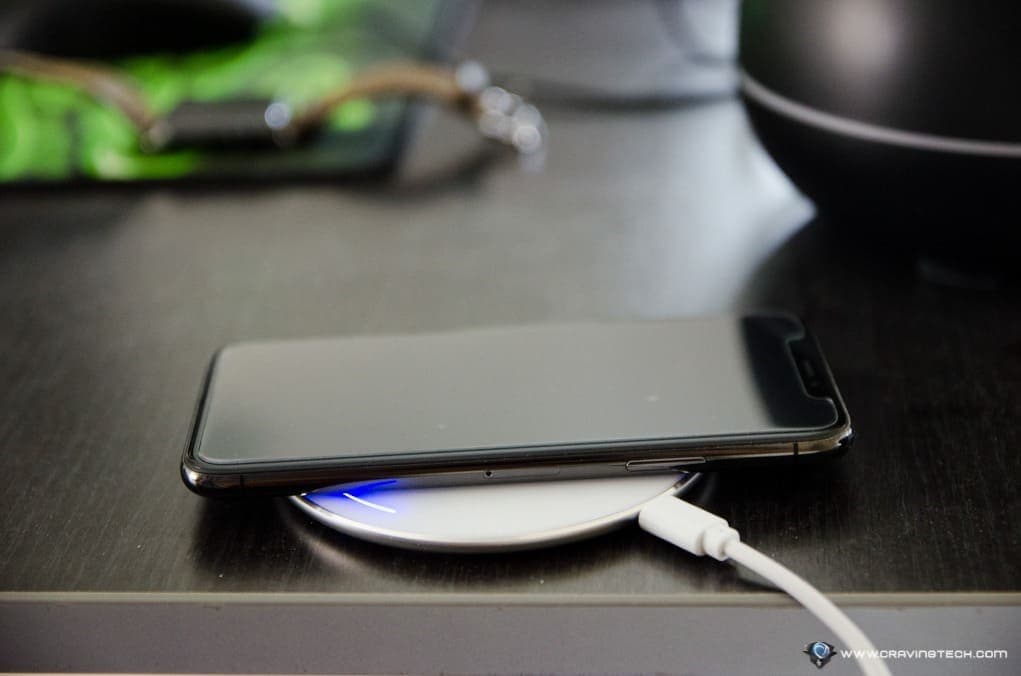 An LED light surrounds the charging pad will confirm when you place your device correctly on the charging pad. On standby, it illuminates in Red and then changes to Blue when it charges your device. You can see the LED status while you are in a lying position (when you are in bed, for example), so that's good.
The packaging includes a microUSB cable to be plugged to the charging pad, so you do need to have a power board with USB slots to be able to use the Cygnett Wireless Desk Charger as there is no power adapter included.
Thanks to the slim-design and compactness, Cygnett Wireless Desk Charger is a perfect accessory to be carried while you travel as it only requires little space inside the luggage or inside your backpack.
Disclosure: Cygnett Wireless Desk Charger review sample was supplied for reviewing but all opinions are mine and not paid