Canon EOS M5 Review – I have seen mirrorless cameras and what they are capable of, but I haven't field-tested one myself intensively. I had a brief time to see what they were like inside a camera store back in 2011 (Panasonic GH2, Sony NEX and Canon EOS M). The technology back then left me unconvinced to make a switch from DSLR.
I recently reviewed Canon's latest entry DSLR, Canon EOS 200D, and I love that camera. This time, Canon has kindly sent me a mirrorless APS-C Canon EOS M5 for me to play around with and here are my thoughts!
Canon EOS M5 Review – Build and form factor
Straight out from the box, Canon EOS M5 is noticeably small, smaller than the Canon EOS 200D: 116 x 89 x 61 mm vs 122 x 93 x 70 mm respectively. Canon EOS M5 body itself feels really rigid, thanks to the removal of the internal space (usually occupied by a piece of mirror in DSLR to reflect the image from lens to viewfinder). The absence of that mirror and a more efficient internal space translates 26 grams less weight on Canon EOS M5 (427g vs EOS 200D's 453g). Carrying the camera with the  included 15-45mm lens kit still feels very light and I appreciate the smaller footprint overall.
In contrary, Canon EOS M5 smaller body comes with more button dials. Camera mode dial and a power ON/OFF switch are positioned on the left side of the camera. At the right side of the camera, a trigger button is bundled together with a dial to change exposure settings on semi automatic mode, a dedicated dial for exposure compensation and a multifunctional dial with a button. The last dial is located near the LCD viewfinder.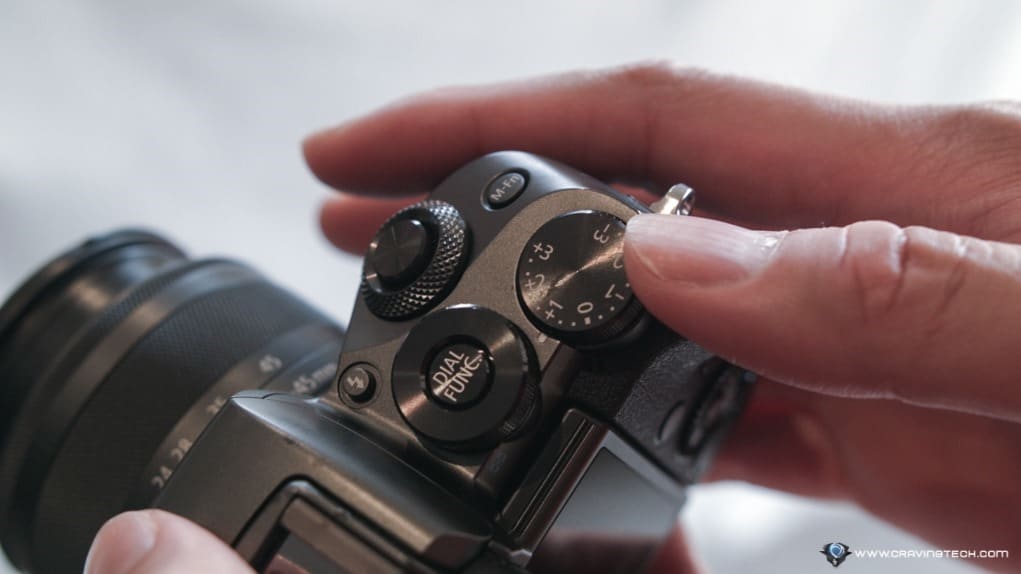 It takes times to get used to those dials but when you do, they are excellent and hard to live without!
Canon EOS M5 comes with a new EF-M lens mount. Their lenses are generally more compact and slicker. The 15-45mm EF-M lens kit that comes with the camera is cheekily small because the lens has to be extended to operate. The lens produces good sharp photos and all photos in this article is taken by this lens kit.
If you have a collection of EF/EF-S lenses like me, all EF/EF-S lenses could be used with the help of EOS-M adapter module, sold separately. My Sigma 18-35mm lens sits nicely with the adapter and the adapter itself has a tripod screw allowing it to hold the weight of EF lenses that are generally bigger and heavier than the Canon EOS M5.
Canon EOS M5 Review – Shooting experience
Shooting workflow with Canon M5 is different compared to the shooting workflow of a DSLR. With a DSLR, you'd normally shoot the subject and check your photo to see if the subject is exposed properly or not. It's not really the case with Canon EOS M5 or general mirrorless cameras. When you shoot with them, whether to see through either its LCD viewfinder or electronic viewfinder (EVF), the viewfinder is showing what will you get directly. The subtle change on workflow here actually helps you save time to take a good photo compared to a traditional DSLR.
The EVF is OLED 2.36 million dots and takes a reading straight from sensor and shows in fluid high frame rate on most of occasion. EVF is automatically activated through a sensor located at the viewfinder and the camera also turns the LCD viewfinder off while EVF is active. As a result, my hand often activates EVF by accident and it can be annoying. I always shoot with RAW + JPEG and the buffer can quickly run out with burst shot enabled. When the buffer is full, you have to wait until it's all written to the media storage, so make sure to invest in an SD card with fast read/write speed. I'm using the Sandisk Extreme Pro and it complements the Canon EOS M5's 7 fps to 9 fps burst shot feature. You'll rarely miss out the good moments, such as taking picture of your child blowing his first bubble with this camera.
Focusing is very easy on the Canon EOS M5. You can just touch on the LCD screen where do you want the camera to focus on. The focus is also spot on with no focus hunting, thanks to Canon Dual Pixel technology.
Canon EOS M5 comes with an internal flash. I don't use it very often but very handy on situations where a lighting fill is needed. Its battery life is shorter than a DSLR since everything is electronic when shooting a photo. The battery lasts up to 295 shots and I'd advice to buy an extra battery for a spare.
Sharing photo to smartphones such as the latest iPhone X and Android phones is very easy, thanks to the Canon app and the EOS M5's built-in Wi-Fi. Controlling the camera through the app is also possible and you don't need to buy a separate remote trigger for it to work.
Recording video is a mixed bag on the Canon EOS M5 in my opinion. Again, Canon's Dual Pixel technology is making sure the subject's face to be in focus continuously. You can record in 1080p 60fps, but no 4K support unfortunately. The included microphone jack makes sure you can attach a third party microphone such the Rode Video Micro (which is a perfect size for the Canon EOS M5). There is an electronic image stabiliser on camera and with the included lens kit to make sure your footage is smooth and pleasant to watch.
Here is the thing that slightly disappoints me: the LCD screen mechanism. If you're behind the camera all the time, Canon M5 will perform just fine. But If you're a vlogger, you may want to test the camera first. The screen is flipped down so if you're vlogging yourself by hand, it has no problem. However, the screen either can't be flipped or is very difficult to see if the camera sits on a tripod. Although there is a workaround by using the Canon app remotely so you can check whether you are in focus or not. And, no headphone jack means you can't monitor the audio you're recording.
Canon EOS M5 Review – Sample Photos taken by Canon EOS M5 with 15-45mm lens kit
Canon EOS M5 Review Conclusion – Who is this for?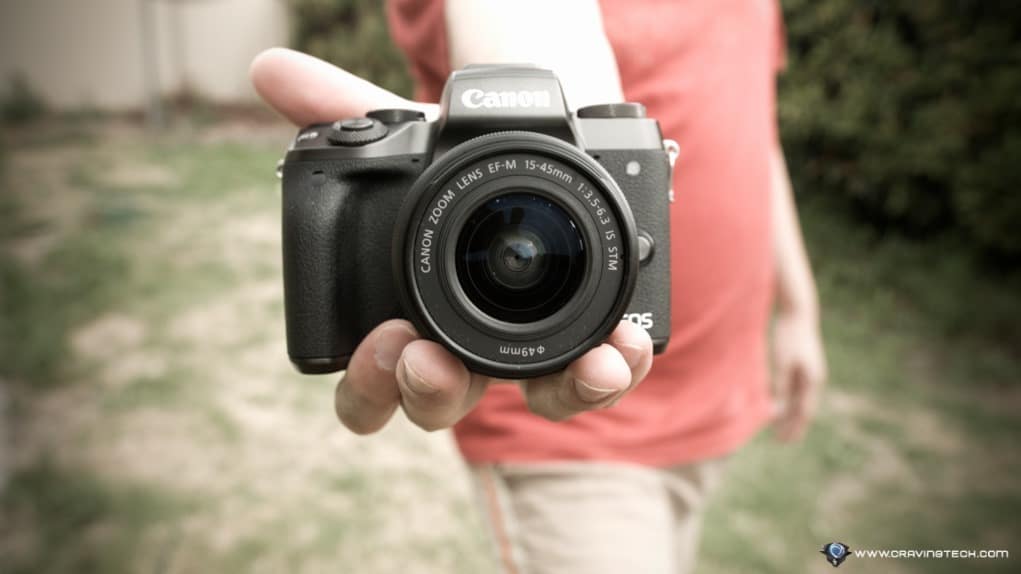 Canon EOS M5 is a good package camera all around. Getting a preview image that is about to be taken is excellent. You can save precious time and catch more good moments. I love the EVF and those dials are easier to access. The camera is also small and perfect for travellers who want to travel light.  I think Canon EOS M5  come close but not on the same league with the Canon 80D (which has a headphone jack, better screen mechanism and longer battery life). Canon EOS M5 sits on top of the Canon EOS 200D that I reviewed before due to those dials and more settings on the M5.
Canon EOS M5 with 15-45mm lens kit is sold at AUD$1,499 and available at JB HiFi. There is a cash back offer running until January 2018, so you can get it for $1,249 after cash back.