PADACS Fortress for iPhone 4/4S review – Feeling really really scared of scratching your previous iPhone screen or surface? Well, many of us do feel that way, so you are not alone. People go to different lengths to protect their iPhones from applying a screen protector to a heavy duty case with double padding.
Do they all work? Well, pretty much – depends on how bad you drop your iPhone and all that. How about if you "accidentally" scratch your iPhone with a nail? Or "accidentally" hammer your screen with a hammer? From the promotional video, PADACS Fortress promises to protect your iPhone 4/4S from all these abusive activities you can think of.
PADACS Fortress is an amazingly strong plastic shield that protects your iPhone from smashes and scratches alike. I'm talking about "BIG HUGE" smashes and scratches here. The Fortress looks like an ordinary screen protector (and a back protector) and feels as if it's nothing special at first. It doesn't look bulky (though it's definitely thicker than an ordinary protector) and doesn't feel like it has any padding on it.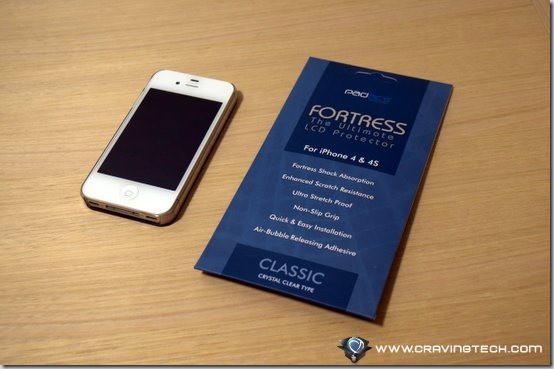 The PADACS Fortress packaging includes:
2 x front shock absorption films
1 x back shock absorption films
Squeegee (a card to be pushed slowly to apply the shields)
Microfiber fabric (to wipe those pesky dust away from your phone's body)
Fitting instructions
I like how PADACS give 2 front shock absorption films because for some weird reasons, I always needed 2 screen protectors every time I tried to apply it successfully on my phone (without air bubbles – I'm a perfectionist).
It's pretty much the same workflow in applying the shields, just like a regular screen/back protector. Though this time, there is only 1 adhesive screen to be removed (normally you have to remove the last one after you apply it on your iPhone's screen/back).
There is somewhat a minor sticky feeling to the shields and they are roughly a few millimeters thicker compared to regular shield protectors. However, your touch experience will still be the same and there is no input lag whatsoever. I do find that it's harder to draw slowly/more accurately on the screen after I applied the PADACS Fortress (when playing Draw Something, for example). The screen feels somewhat too smooth and harder to control. This, however, is a small price to pay compared to the protection that it offers.
As the back protector though, the PADACS Fortress rocks. Now I can get rid of my cases because no matter how good and slim they are, they still add weights into my iPhone 4S. With PADACS Fortress, I can see the whole beautiful naked body the way Apple wanted it to be. At the same time, I don't feel so scared anymore whenever I place my iPhone 4S on a surface, knowing that the PADACS Fortress will fully protect it.
Check out these PADACS Fortress promo videos about how protective it can be.
Here is another one:
PADACS Fortress is definitely the best protection solution for your iPhone without adding weight and losing the aesthetic look of it! WARNING: Do not try the things in the video to your phone until you've applied PADACS Fortress.