Last month's traffic statistics: 57,796 unique visitors and 77,732 page views.
Traffic details:
Referring sites: 32,632 visitors.
Search engines: 19,330 visitors.
Direct traffic: 5,709 visitors.
Other: 125 visitors.
Referring sites breakdown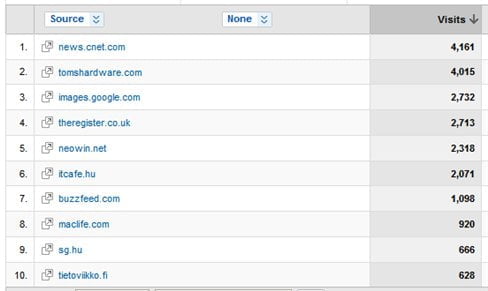 All thanks to my Office 2010 Beta post that received around 24,000 visitors in a few days: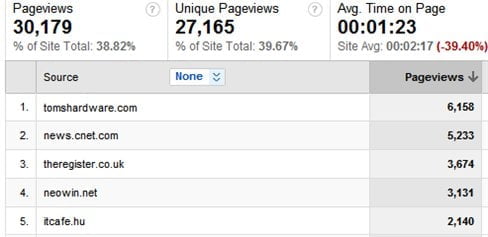 If you check my analytic graph (the first image on this post), that nice traffic only came once and afterwards, it pretty much went back to a steady 1000-ish visitors a day :(
A lot of things were happening to this blog recently:
A new fresh domain name (and branding): Craving Tech.
A few days ago, I finally took the step and migrated to the Thesis theme. It'll take some time before we can find out whether this blog will really get a better ranking and more search engine visitors from the theme's optimized codes. Still plenty of tweaking to do (which is not easy since I don't know much about CSS styling).
I applied for a Sole Trader early this week so Craving Tech is officially a "business" now! I took it as a hobby when I started but nowadays I'm not so sure anymore (which is a good thing, I guess)
I also upgraded this blog to WordPress 2.9 Beta 2 so I can try its new Post Image Thumbnail feature. I'll write up a post about it soon.
Money made online in November 2009
Google AdSense: A$128.70 (around US$118)
Amazon Associates: US$17.03
Total money made online: US$135.03. I need to find private advertisers to earn more!
November 2009 Post Highlights
There is no weekend fun post this week but feel free to watch me went into a coma last Sunday on our church's Christmas play: