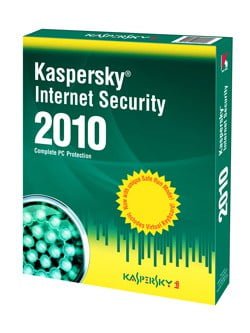 There have been so many new threats emerging in the form of viruses, trojans, spyware, key loggers, you name it. With the internet being available to practically almost everyone on the planet, these threats even get more and more dangerous (and smartly concealed). I've received more and more unsafe attachments claiming from Facebook, Twitter, and even the "Bank of America" (Mind you, I live in Australia and why would I receive a "forgot your password" email from Bank of America?). I'm already "trained" not to open questionable attachments and even learned to always check a URL correctly before clicking on them. But how many people can comfortably do this?
Kaspersky Internet Security 2010 provides an all in one solution to your computer's security, no matter what you do. It gives you protection from viruses, spyware, spam emails, phishing sites, and hacker attacks. Preventing the harm from ever being done to your computer is always better than trying to recover your computer from it.
Kaspersky Internet Security 2010 is full of bells and whistles, but they are not there just for the show. Alas, it's not possible to entirely cover every single piece of feature it has on just a single review post.
Just look at this screenshot from the official Kaspersky Internet Security 2010 page about what it protects you against:

Suffice to say, it covers almost every single imaginable threat out there!
Antivirus
Kaspersky Internet Security 2010 includes one of the most popular and widely recognised antivirus, Kaspersky Antivirus 2010. Kaspersky antivirus is one of my top three recommended commercial antivirus for the last few years and it hasn't changed, if not better. The antivirus sits in the background, monitors and catches any unwanted threats in your system. The most common thing to happen is that you normally get a virus or two from an external USB flash drive. I got that very often since I've been plugging my flash drive in and out of different computers. You'll be amazed by how many different viruses and trojans you can collect that way! Thankfully, every time you plug-in an external flash drive into a USB slot, Kaspersky quickly pops up a message and nags whether you want to scan the drive first before accessing it.
You can either choose a Full scan or a Quick scan from the pop-up. Very handy! Even if you ignore this, it doesn't mean that Kaspersky will automatically set the drive to be safe. However, I'd always recommend you to quickly scan the files since it takes merely seconds in my experience.
Scanning my whole system took about 4 1/2 hours: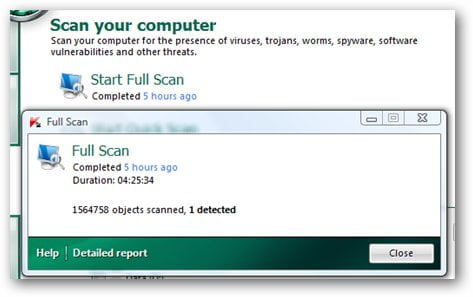 Firewall
Kaspersky Internet Security 2010 firewall can be set to replace the default Windows firewall or you can choose to use the Windows firewall instead.
I was having a problem earlier when I tried to install Seesmic for Windows and the installation could continue only after I turned Kaspersky Firewall off. At times, you may need to add a new application as a "trusted" application in the firewall.
Antispam
Tired of spam? Kaspersky Internet Security 2010 also includes an antispam and it works along nicely with my Microsoft Outlook 2010 Beta. The antispam will add a "spam rating" to a potential spam email such as "!! SPAM", "?? Probable Spam", and so on. This is done because you will be able to "train" the antispam and train it you must. I've had several occasions where legitimate emails were being tagged as spam.
Game mode
There is nothing more frustrating than getting killed in a multiplayer action because all of a sudden your computer starts thrashing. Turning on the game mode will make sure that the application will suspend any alerts, updates, and scans while you game. A big plus to gamers like me!
Secure Virtual Keyboard
If you normally have this dodgy feeling every time you are entering your login credentials on the net, then you'll love this feature. The virtual keyboard allows you to securely enter your login credentials on the web and safely fight against keyboard loggers (threats that monitor your keyboard presses and steals your credentials secretly). I just wish every internet cafe has KIS 2010 installed for this very reason.
Safe Run
This is new in Kaspersky Internet Security 2010. Safe Run allows users to test new software and downloads in a sandbox (contained) environment and can be terminated safely if it poses a threat. If you are the type who likes to download and try "unheard-of" software, then Safe Run will be your best friend. The Sandbox will have its own virtual space so whatever happens in it will not compromise your system.
Kaspersky Internet Security 2010 Review Conclusion
Look, to be honest here, Kaspersky Internet Security 2010 has so many features that it may take thousands of words to actually describe, test, and review them one by one here in detail (I haven't even mentioned and covered the Parental Control, ProActive Defense, Network Attack Blocker, and many others!)
Note this: If you are concerned about the security of your computer but don't really understand the technical details of a security application, pick Kaspersky Internet Security 2010.
These screenshots below will definitely answer your questions whether it is worth buying Kaspersky Internet Security 2010. Here are some threats that Kaspersky caught while I was using my computer: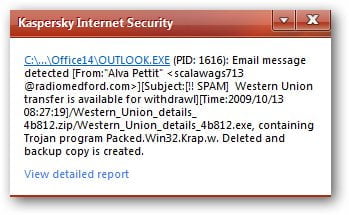 Have these screenshots convinced you yet? Some of these threats went through my email inbox and some were from my daily web browsing routine! If you are simply looking for a "set it and forget it" security application, look no further than Kaspersky Internet Security 2010! I highly recommend it! You can even dig down deeper through each module settings if you want to tweak the advanced configuration settings.
Kaspersky Internet Security 2010 Pros
+ Low in resource, doesn't bog down the system.
+ Comes with one of the best antivirus out there.
+ Has so many features that protect you from every single intrusion you can name.
+ UI is not everything but it's easy to use.
+ You can simply install and forget it.
Kaspersky Internet Security 2010 Cons
– Can be annoying when you need to approve every single application when you first run one
– You will be nagged with "Some components are disabled" and the yellow security risk warning if you disable one of the major feature (such as the firewall or the antispam).
– Might be a bit too much if you are only looking for an antivirus and a good firewall bundle. But more means better here!
Purcase Kaspersky Internet Security 2010 @kasperskyanz.com.au