This is a Sponsored Post written by me on behalf of Yamaha. All opinions are 100% mine.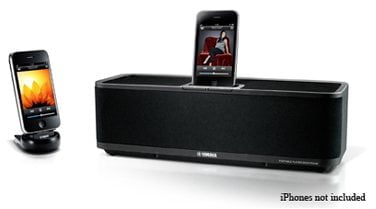 Yamaha PDX-60 is an iPod/iPhone Wireless dock, complete with a powerful speaker system providing a strong, rich, and dynamic bass sound. I don't normally listen to my iPod through a speaker system though (although I'm using a great quality headphone from Razer, the Razer Moray+).
My iPod Nano has been a loyal friend, accompanying me on the road to the office. Although I can watch movies as well on my iPod Nano, I normally use it to listen to my music collection.
The Yamaha PDX-60 Features
Easy to Use
Speaker can be placed in any out-of-the-way location
Easy operation (auto power on/off and volume control sync)
Transmitter unit is small enough that you can carry the iPod/iPhone around and talk on the iPhone with the transmitter attached
Cradle for setting the iPod/iPhone on a table, etc.
iPod charges from both speaker and cradle
Card-type remote unit for convenient iPod operation
Low power consumption
Four color variations to match your iPod and room
High Sound Quality
Uses lossless (uncompressed) signal transmission to achieve wireless sound quality
Strong, rich and dynamic bass sound
Perfect synchronization between sound and video when watching movies on your iPhone or iPod
The thing that I love the most about the Yamaha PDX-60 is the wireless feature! This means that you can cook in your kitchen with your iPod lying on the kitchen bench, wirelessly connected to the Yamaha PDX-60. This way, you can control what music you want to listen easily when you are cooking. Or, you can have the music being played while you are on your bed with your iPod/iPhone. No more plucking your earphones or going up from the bed just to change songs.
From the pic, it looks like the transmitter unit is small enough to be carried around in your pocket, but not too small either (so you are not gonna lose it):
The Yamaha PDX-60 is also available in different colors to match your personality and iPod's color, so feel free to check it out!