Available in entirely 5 different colors (Graphite, Teal Blue, Berry Pink, Lime Green, and White), the Microsoft Wireless Mobile Mouse 4000 provides a compact, yet stylish wireless mobile mouse for your laptop. Combined with the BlueTrack technology, 10 months of battery life, and a Nano transceiver, the mouse is filled every single feature you need from a notebook mouse.

Microsoft Wireless Mobile Mouse 4000 Features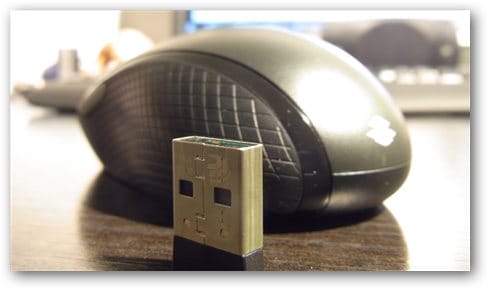 BlueTrack Technology
Featuring the Microsoft's BlueTrack Technology, the Wireless Mobile Mouse 4000 works on practically any surface (except on a clear glass or mirrored surface). It means that you don't need to bring your mouse pad wherever you go (since you can even use your own body as the surface!)
Nano Transceiver
Probably one of the best things I love with the Wireless Mobile Mouse 4000 is the "Nano Transceiver". A wireless transceiver is the wireless thingie that you need to plug to your laptop's USB slot to sync with the mouse. The size of the transceiver is "massively" small here. You can store the transceiver underneath the mouse OR you can even leave it plugged into your laptop's USB slot. It's quite safe to do so because of the "nano" size it has.
10-Month Battery Life
This is probably the first time I've ever heard that a wireless mouse with a single AA battery can last up to 10 months (at least that's what Microsoft claims with this mouse). It's unclear though how many hours per day can you spend in order for the battery to last that long.
There is also a low battery light indicator if your battery is ever running low.
2.4 GHz Wireless
Microsoft 2.4 GHz wireless delivers a reliable connection with up to a 30-foot range (around 9 metres).
Windows Flip support for Windows 7
The Wireless Mobile Mouse 4000 also supports the Windows 7's windows flip.
4 Customizable Buttons
You can assign the buttons on the mouse to practically anything using the Microsoft IntelliPoint software.
Microsoft Wireless Mobile Mouse 4000 Review Conclusion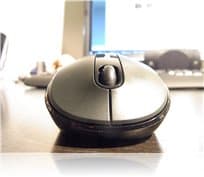 The Wireless Mobile Mouse 4000 is a compact & stylish mouse, a perfect companion for your laptop. The mouse itself is quite comfy to use and has sturdy grip surfaces on the sides of the mouse, giving it a non-slippery feel. The middle click button makes quite a noise though so if you are looking for a super quiet mouse, you may want to go to a shop and try the mouse first before you make the decision.
The Wireless Mobile Mouse 4000 also has the Microsoft BlueTrack technology, eliminating the need to carry around a mouse pad with you. Its wireless transceiver is also very tiny and can either be left plugged into your USB slot or stored underneath the mouse in its own compartment.
The battery life is also top-notch, providing up to 10 months of battery life, according to Microsoft. Because of this, the mouse does not come with fancy lighting effects to save the battery life. The only light you'll see is the low battery indicator when it ever turns low. Oh, I also forgot to mention that the mouse also has a power off button. So if you think that you are not going to use the mouse for long, simply turn it off to further save the battery.
The wireless transceiver, also called the "Nano Transceiver" is very small, so you can practically leave it plugged onto your USB slot even if you have to pack-up your laptop into the bag. Very, very pleased with this one.
Microsoft Wireless Mobile Mouse 4000 Pros
+ Compact
+ Stylish, available in different colors
+ Wireless transceiver "Nano" size
+ Roughly has 10 months of battery life
+ BlueTrack Technology
+ Has an off button
Microsoft Wireless Mobile Mouse 4000 Cons
– Fairly loud middle mouse clicking
NOTE: The review unit was provided by Microsoft