My blog's November 2008 statistics: 51,190 visits, 93,051 pageviews.
Referring Sites – 34,938 visits
Search Engines – 11,453 visits
Direct Traffic – 4,792 visits
Other – 7 visits
Referring sites traffic breakdown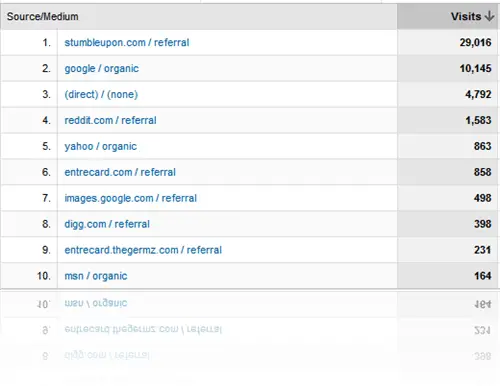 Nothing fancy happening in last month's traffic statistics.
Income made online on November 2008
BuzzLogic: $77.50
Google AdSense: $59.61
ASE AdNet: $19.46
Private Advertising: $15
Total income made online: $171.57.
Interesting things happening last month
As you are already aware, I've made another face lift for this blog. The main reason to go to a less-personal blog layout was because I've had received quite a number of professional review requests last month. I thought that this is the time to take my blog to the next level. My dream one day through this blog is to be one of the main sources of news/reviews on products or gadgets from the giant companies such as Logitech, Microsoft, Apple, etc.
The only thing that I regretted though, is this blog's domain name. I should have made this blog a professional blog since day one and not tied it into my personal name. However, I'm very happy to find that lots of people have grown a love into this blog, even though its "name" is no where sound professional :)
November 2008 Post Highlights
What's your dream/vision through your blog?