Apple has launched its next generation of iPod Nano (the 4th Generation), also known by people as the iPod Nano Chromatic. It comes with 9 different varieties of colours to suit everyone's taste. Now there is no more reason not to get an iPod! iPod Nano Chromatic comes with 2 different sizes: 8 GB and 16 GB. Apple released the 4 GB version too but it seemed that they have stopped producing them. However, if you are lucky, you can still get the 4 GB version on some shops (assuming you don't need the space).
iPod Nano Chromatic Available Colours
As I said before, there are 9 variations of colours available: silver, black, purple, light blue, green, yellow, orange, red, and pink. The red colour, however, is a special edition and can only be bought from the Apple store. I actually bought the blue one from JB Hi-fi, a shop in Melbourne. If you ask me "What colour should I get for my iPod Nano Chromatic?". The answer is: Any. There is no bad colour, just a different taste. You ask people around, you'll find different answers and preferences. So choose the colour that you like and stick with it ;)
iPod Nano Packaging
What you get when you buy the iPod Nano Chromatic:
A sexy looking display box that holds the iPod
Standard earphones
USB 2.0 cable
Dock adapter
A Quick start guide (don't expect it to be a 30 pages manual)
What you don't get when you buy iPod Nano Chromatic:
A case or a protector
A screen protector
A power adaptor to charge the battery (you have to charge it via a computer's USB port)
A user manual/guide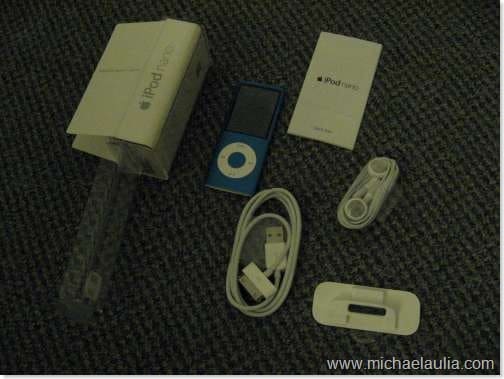 iPod Nano Chromatic Design
Overall, the design of the new iPod Nano is a top-notch design, as expected from Apple. It's slim and sexy looking. In my opinion, it's probably the sexiest looking mp3 player out there. Because of its slimness, however, it's advisable that you buy a protector for your iPod Nano Chromatic (a silicon protector, a crystal case, a bag, etc) especially if you are known as the "Gadget Breaker" or "Gadget Dropper". I can't imagine what would happen to it if I let it fall to the ground.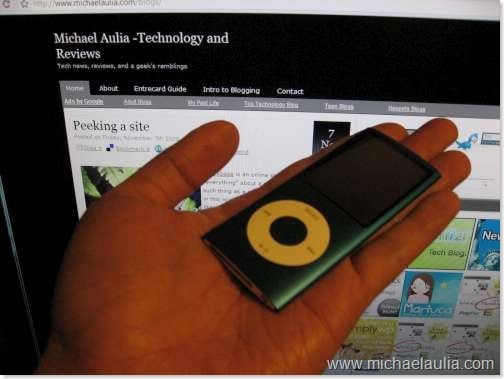 As for its specification, feel free to read it yourself at Apple iPod Nano Chromatic official page. It has a very similar look with its 2nd generation design, except that the 4th generation has a bigger LCD screen, which is good. The navigational buttons remain the same throughout the generations. So if you already have an iPod, you shouldn't be having problems knowing which button does what. The new iPod Nano also has a lock button on the top left of the gadget. This will make sure that you don't accidentally turn the iPod on and waste the battery.
iPod Nano Chromatic Features
Music, photos and videos
iPod Nano Chromatic supports photos and videos as well. However, the videos have to be on m4v, .mp4, or .mov format. Unfortunately, you'll have to find a software to convert the files for you yourself as it's not included in the packaging.
Shake to Shuffle
The feature is cool but I fail to see the practicality behind it. You need to shake your iPod Nano Chromatic with a short but hard stroke. A reader of this blog on my iPod Nano Chromatic release post also said that it's different on every batch. Sometimes you need to shake it gently and sometimes you need to shake it hard. Whichever it is, you will not accidentally fire this feature when you swing it around, so don't worry. You can also turn the thing off (which is what I do). Pressing the "next" button is simply easier, thank you. And oh, make sure that you don't let go of your iPod while shaking it.
Rock and Roll Over
Just like new digital camera models, iPod Nano Chromatic will change its display orientation to Portrait or Landscape, depending on how you hold the iPod. It's cool and a very useful feature, especially if you want to watch videos or browse your music collections by the album arts.
Genius

It's basically a smart feature to find other similar songs on your iPod, based on your song selection. However, you need to install and use iTunes to enable this feature. You'll also need to register an account on the iTunes store. You'll also have to allow them to know and examine your music collection to enable Genius on your iPod. Unfortunately, you'll still occasionally see a message "Genius is unavailable for the selected song". Some people in the forums suggest unselecting and selecting all of your songs on your iTunes to fix this. I haven't tried it yet, though. Extras iPod Nano Chromatic also has an alarm feature, calendars, clocks, contacts, notes, and a stopwatch feature. I can't see why you would ever use these features on an iPod, unless if you don't always carry your hand phone/mobile phone with you.
Games
iPod Nano Chromatic comes with 3 games: Klondike (Solitaire alike), Maze (quite fun to play and utilizes the iPod screen orientation feature), and Vortex. Again, I use my iPod solely to play audio files and not to play games, but I guess having games on it doesn't really hurt.
iPod Nano Chromatic Menu Navigation
I find that the iPod Nano Chromatic navigation both intuitive and confusing at times. You choose the menu on the LCD screen using the clock-wise & anti clock-wise rotational navigation pad, the same as when you want to increase/decrease the iPod's volume. The Center button serves like the "ENTER" button on your PC. It's used when you want to confirm your selection. However, when a song is playing, it will also be used to display a sub menu, based on the currently playing song. The Menu button acts like a menu, but also as the back button, depends on which menu you are at. The play/pause button, if you press and hold it, will actually turn the iPod off. All of these are intuitive, but it will take some time to remember which button to press to go to a specific menu or to do what you want it to do.
iTunes, iTunes, and iTunes
One thing that I hate with Apple products is that they almost always require iTunes to be installed on your PC. You'll need iTunes to register/activate your iPod Nano Chromatic. You'll need iTunes to put your music, photos, and videos to your iPod. You'll need iTunes to turn on the Genius feature. You'll need iTunes to update your iPod firmware.
Unless you love iTunes (I don't), then this can be annoying. If you don't love iTunes, you can use a freeware program called SharePod to put your files (and create playlists) to your iPod Nano Chromatic. You can check out my post about SharePod here. However, once you get your iPod Nano 4th Gen, you really need to install iTunes, unfortunately.
More iPod Nano Chromatic Reviews
The iPod Nano 4G (4th Gen) receives an overall score of 6.4/10 (based on 19 expert reviews, 285 user reviews, from 28 sources in 9 different countries). This score is grabbed from TestFreaks.com.au, the Australian version of popular in US and Europe website TestFreaks.com. More ratings and reviews details can be found on TestFreaks iPod Nano 4G page. This score (6.4) actually puts the iPod Nano Chromatic to the last place in the ratings for all other iPods, which you can see here at TestFreaks.com.au. TestFreaks.com.au aggregate reviews from the best Australian sources and it seems that the iPod Nano 4G is loved more in Australia than the other part of the world as can be seen from these other professional reviews:
All of them giving the iPod Nano 4G Chromatic an 8.5 out of 10 score rating. I highly recommend you to check out TestFreaks.com.au if you are thinking whether you should get another mp3 player instead. TestFreaks.com.au has a wide range of other mp3 players' reviews available. I spent quite some time there, trying to find out more information about other mp3 players before I decided to get my iPod Nano.
Conclusion
Overall, the 4th generation iPod Nano Chromatic is a great all around mp3 player. It has more features than you need for a media player, but if the price is not a big deal for you, then grab it. It is simply the sexiest looking mp3 player out there at the moment.
iPod Nano 4th Generation Pros:
+ Sleek and sexy design
+ Slim
+ Photos, Podcasts, and Videos support
+ Good quality sound
+ Lots of features for a mere media player
+ Available on different flavours (colours)
iPod Nano 4th Generation Cons:
– The annoying "Genius is unavailable for the selected song" error
– Shake feature is fun, but not practical – Battery life is not so great
– A bit confusing on the navigation
– Can't play songs when the iPod is connected to the PC – iTunes reliant