Craving Tech's traffic statistics summary for September 2010: 75,328 unique visitors and 93,307 page views.
Traffic details:
Referring sites: 20,112 visitors.
Search Engine: 48,439 visitors.
Direct Traffic: 6,746 visitors.
Other: 31 visitors.
Total money made online in September 2010: US$776.22
September 2010 Referring Sites Breakdown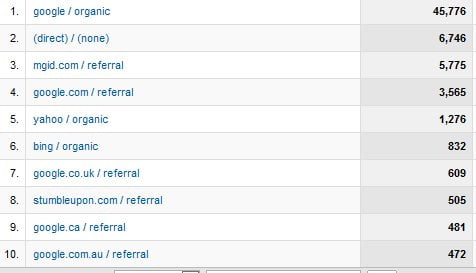 Money made online in September 2010 breakdown
Private advertisers: US$344.12
Google AdSense: US$328.46
Amazon Affiliates: US$103.64
Sorry for the late income and traffic statistic post for this month. I was waiting for the final report from my Google AdSense partner.
A steady increase from search engine visitors compared to last month, which is good. However, I need a break through in increasing referring sites' visitors (from social bookmarking, etc), as always.
Review units on the latest gadgets have been delivered constantly to me which is great; Love trying new technologies and sharing my experience to you all here. New opportunities keep coming each day and my network of vendors is expanding too. I hope you didn't get bored of reading my iPhone/iPad app reviews as I know not every one of you has an iPhone or an iPad :) Unfortunately, it's not every week that you can design and manufacture new innovative products so a wider range of reviews is good for Craving Tech.
I think it will not be long before I can break a $1000 mark per month. It's probably time to create that "Why and How to advertise at Craving Tech" page that I was planning to make one year ago….sigh