I'm not sure if I'm the only one who turns the Auto Completion feature off on their iPhone (and iPad). It's probably because most of the time, I'm writing texts in my own language (Indonesian) rather than English (except when I'm replying emails related to Craving Tech but even then, I'd still prefer to type my emails on the PC's keyboard).
TextExpander is a nifty app because it lets me create my own auto completion libraries (doesn't have to be in English) and takes it even further to turn my laziness into productivity
With TextExpander, you can create a list of wordings (or even paragraphs) that you'd normally type repeatedly on your iPhone or iPad. Some examples of these wordings are email signatures, your email address, your phone number, or perhaps some words that you type almost every day on a text message to your friends.
In TextExpander, these custom snippets can be categorized by groups. If you are the one who normally write meeting minutes for your company, you might want to create a group containing custom words for that purpose, such as your company's name, employees' initials, and so on.
TextExpander works by specifying the Abbreviation and the Content. For example:
Abbreviation: ty
Content: Thank you!
Abbreviation: myemail
Content: [email protected]_domain.com
Abbreviation: mvcn
Content: MyVeryLong Company Name
Abbreviation: callme
Content: Can you call me back please? Thanks.
When you type "ty", for example, your text will automatically be replaced to Thank you! in an instant so you can keep on typing while TextExpander does its job smoothly in the background.
I can't imagine how many times TextExpander has made me more productive, especially when I need to write long notes. Since I type a summary of the sermon every Sunday at church, TextExpander has saved me big time when I needed to type long and fast notes. I kept on adding my libraries as I realized how many times I typed a certain word many many times.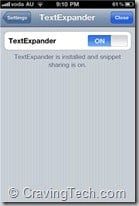 The only drawback (or more like a limitation made by Apple) is that TextExpander does not work on iPhone default apps like the text messaging, Contact, etc. TextExpander needs An application can only use your custom snippets if it has added support to TextExpander. Thankfully, there are quite a number of great applications that supports TextExpander such as BlogPress, Twitter, Todo, 2Do, Pocket Informant, Things, Simplenote, and PlainText. For a complete list of all applications with TextExpander support, check TextExpander currently supported apps.
If you are using an application without the TextExpander integration, you can compose a text in TextExpander Compose section and then do a copy paste after you've finished. It's not the most elegant solution but this way, you can type faster using TextExpander libraries and copy the final text somewhere else.
As you can see, many great and popular applications have acknowledged TextExpander and it's a good thing. If you get tired of filling forms, use Aarde Web Browser app with the TextExpander integration. If you like to write long notes or posts, use PlainText (with DropBox auto integration support) or BlogPress to blog.
TextExpander is guaranteed to improve your productivity on the iPhone/iPod/iPad big time!
TextExpander – SmileOnMyMac, LLC
Note: Promo code provided for the review