Disclosure: This is a sponsored post by Nuffnang. All opinions are 100% mine
In Victoria, especially Melbourne, renting an apartment or a house to live in is not unusual. I, for example, have been a renter ever since I came to Melbourne back in 1996. Unfortunately, there aren't many renters/tenants who are aware of the rights and correct procedures of renting here in Victoria. We put our faith in our real estate agent, hoping that they are honest and give all the information we need.
The RentRight app by Consumer Affairs Victoria, is a free app that will help you manage your tenancy process (prior to, during, and after) Yes, it is an official app, so you do not need to worry about the legitimacy of its information. In fact, I found out a lot of new information through the app and I thought I was an expert after being a tenant for so many years.
Apart from giving you information about bonds, your rights and responsibilities as a tenant, the app also helps create email drafts that you can use straight from the app. The drafts include emails to your agent (the property manager) for when you need something to be repaired, or when you need to end your tenancy.
The RentRight app is divided into these main sections:
My Account
By entering your contact information, property address, and your property manager details, the app can automatically fill them in when you need to send an email to your property manager.
You can even enter your bond number here to track the bond amount over at RTBA (Residential Tenancies Bond Authority) and whether it has been refunded at the end of your tenancy.
Email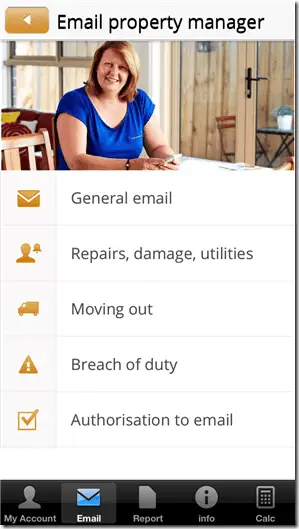 This is the section that you'll probably use the most during the period of your tenancy. RentRight helps you compose emails to be sent to your property manager to request repairs, to notify that you are moving out of the property, and many others. These are neatly organised into sub-sections.
Even though you can send your own email directly to your property manager without the app, time can be wasted when you don't provide enough information on your first correspondence. Hours (or days) may be lost while you wait for your property manager to reply. RentRight ensures that you provide enough information for a quicker turn around (such as your property address or photo of a reported damaged area). At the moment, you can only upload a single photo but hopefully future updates will allow you to upload multiple photos in case you want to report more than a single issue.
Here is an example of an email template when requesting a repair: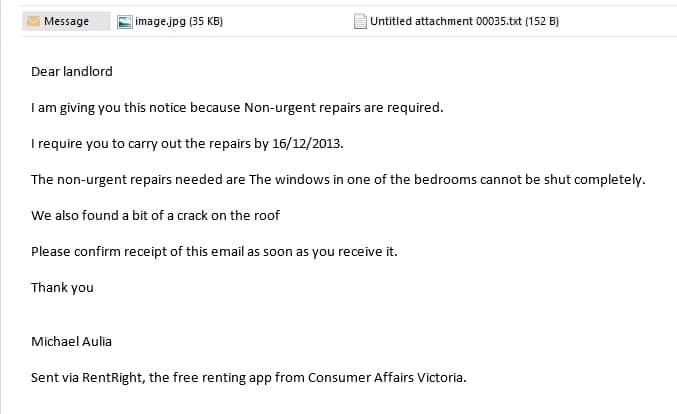 Report
This section contains information about the Condition Report that you must fill in before you start your tenancy. There are tips and steps that you can follow to ensure that you are well protected as a tenant.
I always take photos of the new property thoroughly and write my condition reports as detailed as possible. However, this is because I had previous tenant experience. If this is your first time renting a property, RentRight will help you with useful guides and to-do lists before you even start moving in.
Info
All other info about renting a property is listed here, including your rights and responsibilities as a tenant. It contains a wealth of information, things that I've never bothered to find out before.
Calculator
This is a handy calculator to find out how much you're spending in rent on a particular property (daily, monthly, etc). Sometimes a $X/week figure can be a bit vague. With the help of this calculator, you can plan your savings and expenses accordingly for the months to come.
The RentRight app can be downloaded for free and is available for iOS and Android devices. I encourage you to grab the app and give it a go, especially if you are new to renting a property in Victoria and do not know much about the process. Though most real estate agents are helpful in guiding you through, it is best if you know both your rights and responsibilities well ahead.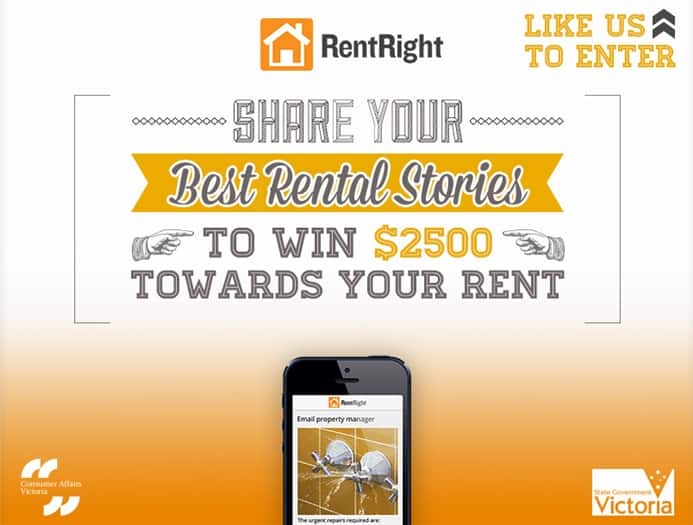 To celebrate the launch of the app, there is an awesome competition running on Consumer Affairs Victoria Facebook page to win $2,500 by sharing your best rental stories. I'm sure we all have one. The direct entry form to submit your entries can be accessed here.
Let us know what you think about the app!