Who doesn't love deals? Ever since Groupon was launched in Australia, good deals after deals have been purchased by many Australians (including myself and friends). You can enjoy countless discounts for your meals, interesting new products, or services like a nice massage at a largely reduced price.
The guys at Groupon  have just updated their iOS and Android app to deliver a faster and more personal "Groupon deals" experience.
Some highlights of the Groupon App updates:
Local Explorer
If you travel a lot, the Groupon app can now detect when your location has changed. This way, you can browse local deals easier than before.
Gift Sender
Not planning to use the deals yourself? There is a gift feature for your loved ones that can be set up easily within the app. You can also put a personal note to be sent along with the voucher.
Improved user interface
The new design makes it easier to browse, purchase, and claim within the app. The user interface is smooth and browsing for different categories of deals is also intuitive.
I was sponsored $50 by Groupon to try the new app update out. After installing the app on my iPhone 5s, I started browsing for deals in my local area (Melbourne). I can also change the city into something else if I want to (such as if I want to gift a deal to a friend).
There is an easy "Featured" tab to browse for the current featured deals, but I can swipe left and right to browse different deals in different categories. A one-hour full body massage for just $39 sounds like a great deal (normally priced at $85) so I decided to pick that one up.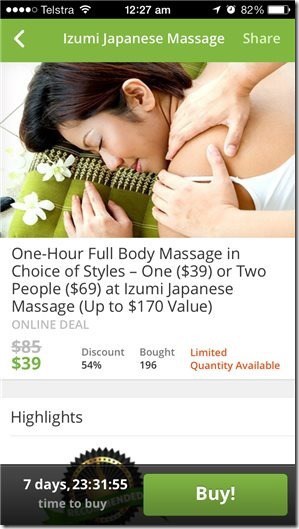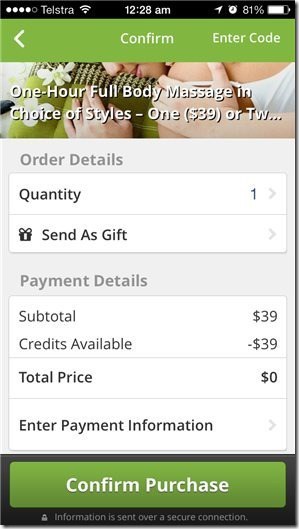 Purchasing a Groupon deal within the iOS app is seamless and pretty much instant. All the information on the deal is clear and well laid out.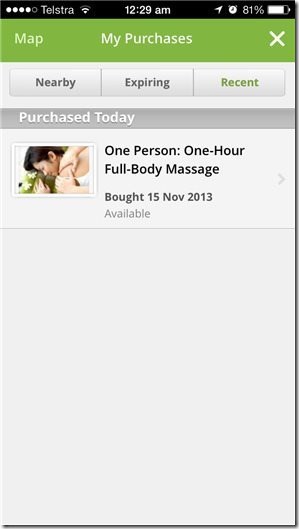 Once the deal is purchased, you can view its voucher and details through the "G" button on the bottom right corner of the app. You can then view all of your purchased deals on the "My Purchases" section.
A handy "View Voucher" means I don't need to print the voucher at all. I simply went to the place and showed the screen to the staff. There is also a "Redeemed" label once I've actually redeemed the voucher at the massage place.
There are tons of great deals from well-known businesses around Australia so if you haven't tried Groupon already, I'd suggest to go to their website and start having a look. If you are already a Groupon member, I'd encourage to download the nifty app for a seamless deal grabber!
Groupon on iTunes | Groupon on Google Play