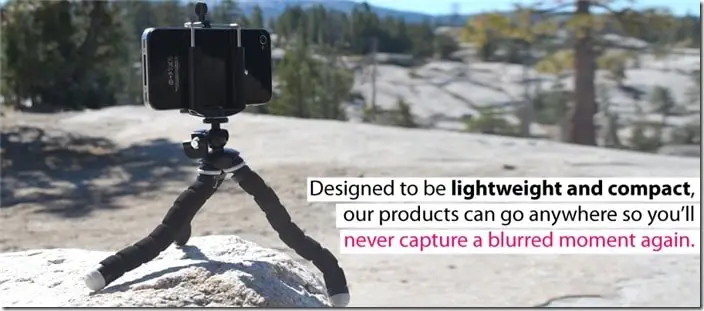 I like to take pictures with my smartphone. And in many occasions I would travel with a group of friends and would like to take a picture with everybody in that shot – or when I am alone, away from the group and would like to take pictures with me in them.
Of course there is the option of doing selfies using the front-facing camera, but we know how those pictures always turn up: non-proportional faces blocking the background that was supposed to be the very subject of the photo, not to mention that the front-facing camera usually has lower resolutions.
You can also rely on the help of a nearby stranger, but then there will be uncomfortable moments like when they don't know which part of the screen to press, and the accidental press that closes the camera app, and the dreadful blurred photos even after two shots – and you would still have to fabricate your gratitude!
It was for these exact social awkward moments that I immediately said yes when offered to try out these two products: iStabilizer Flex and iShutter Remote for iOS. These two products work together to change the future of mankind. Well, at least the quality of memories captured from their smartphone cameras.
iStabilizer Flex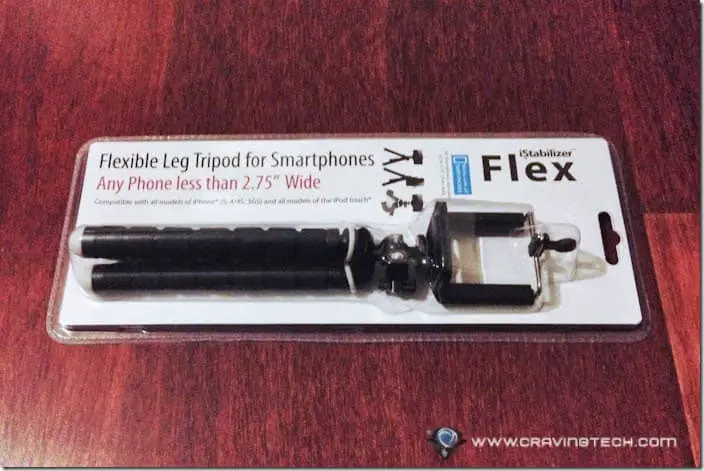 The iStabilizer Flex is, in a nutshell, a small tripod for your smartphone. It is very lightweight, has a professional look, and is very versatile thanks to its flexible legs and its full-degree easy-rotate ability.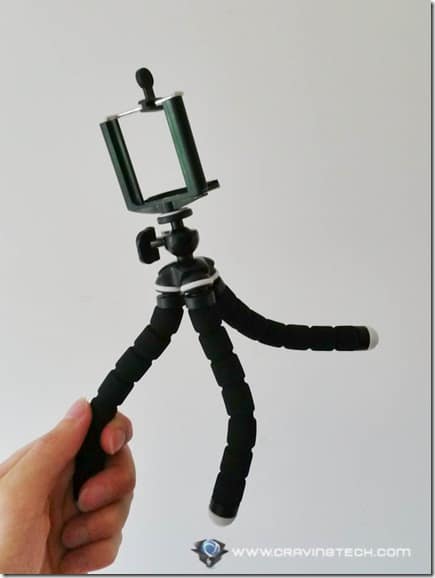 It is very easy to use iStabilizer Flex: just pull the spring-loaded mount, pop in your smartphone, and the mount will automatically grip your smartphone on release. The mount is very simple it doesn't block any of the buttons or the screen.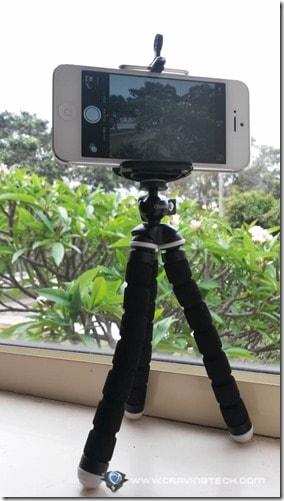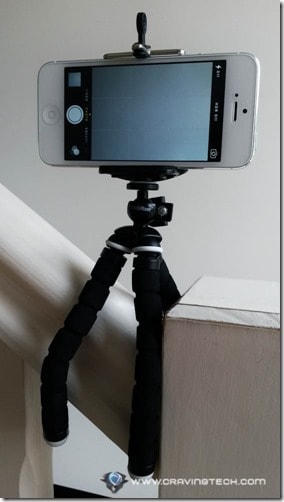 The mount is detachable and comes in two sizes:
1. iStabilizer Mount (included in iStabilizer Flex) – for small phones such as the iPhones, and
2. iStabilizer Mount XL – for larger phones like Samsung GALAXY S4 and your phablets such as Samsung GALAXY Note II.
The rotator ball essentially allows you to rotate the mount to any angle of your choosing, even vertically and facing up! One example usage scenario would be putting iStabilizer Flex on a wall, taking pictures using your back camera and then rotate the mount to see the results on the screen without having to walk back and forth across the wall every single time.
The flexible legs is, well, very flexible. Each of the three legs is like "tentacle" that you can bend and shape in any direction you want so it will always be stable no matter what surface it is on. This certainly beats taking pictures using your shaky hand.
In addition to taking group and/or selfie pictures, you can use iStabilizer Flex for many other occasions, such as a hands-free video call, a photo gallery on your side table, watching videos at an up-right position whilst eating dinner, and any kind of other ways your creative minds can come up with.
Pocket BT Shutter Remote for iOS
Once you have your tripod all set up, you will then need to think of how to take the picture. One way would be to set a timer on your camera app (if it is supported) or buy an app that supports this. But I am not a fan of using timer, simply because it always involves rushing in after you press the button, and then the awkward wait before the capture.
Another way (and I also say a better way) would be using a remote. And this is where Shutter Remote for iOS comes into play.
Shutter Remote for iOS might remind you of Apple Remote but this device has so much more to offer and is very easy to setup: just switch on the remote, press the Bluetooth button, and go to your Bluetooth settings on your device (iPhone and/or Mac) to connect.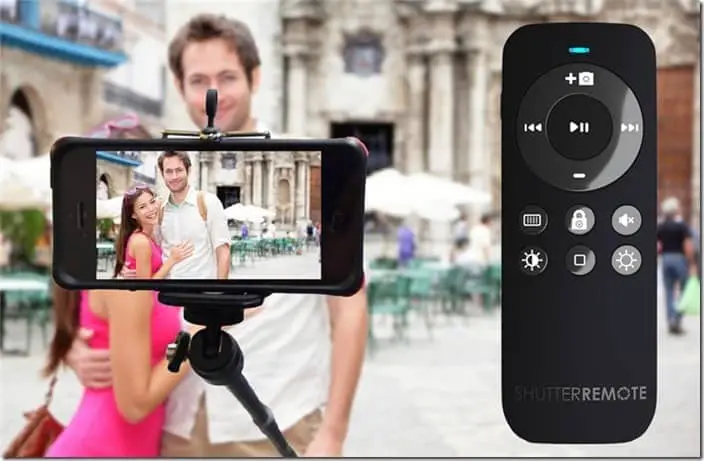 The remote has a light indicator, which is very excellent at providing feedback. When you first turn on the remote, the light will show blue, indicating that it is turned on. During pairing process, the light will blink red and blue until the process is completed. Once it is paired, the light indicator will blink blue light every 5 seconds to let you know when the remote is on and that it is currently connected.
I am not sure whether or not it is just my remote but the ON/OFF switch seems to fail to trigger the light indicator intermittently and that I have to give an extra push for it to turn on.
The remote doesn't seem to play nicely when connected to more than one device. In my experiment, once I connected the remote to both my iPhone and my Mac, iPhone seems to be having trouble reconnecting to the remote until I "forget the device" and pair them again.
The remote uses two CR2025 3V lithium button cell batteries.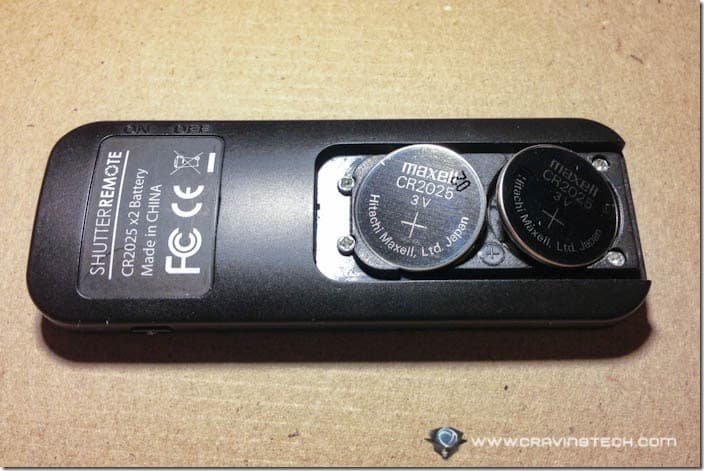 Most of the buttons in the remote are music-related. Pressing the "Play" button will start your Music app and plays the current song if the Music app is not running (both on screen or in the background) or resume and/or pause the current song if the Music app is already running. Then there is the volume buttons and mute button, as well as previous and next track buttons that also work as fast-forward and rewind when you press and hold the buttons.
The other buttons are (when paired with an iPhone):
– "Camera" button, which works both in Camera mode and in Video mode to start and/or stop the recording
– "Lock" button to wake up and/or sleep the screen display
– "Brightness" buttons to adjust the screen brightness
– "Home" button which acts just like iPhone's Home button (which you can double-click to open the list of open apps, or press and hold to activate Siri)
Both iStabilizer Flex and Shutter Remote for iOS have a real added value and takes away all the annoyance associated with taking pictures on my iPhone.
Disclosure: iStabilizer Flex and Shutter Remote Review samples were sponsored for the review. All opinions are 100% mine