X-mini KAI review – These X-mini speakers never stop getting better and better. X-mini speakers are mini portable speakers with sexy design and unbelievable sound output (in terms of loudness and quality). Craving Tech has been reviewing their speakers since the early models came out such as the MAX II,  HAPPY, RAVE, and now their latest, KAI.
The X-mini KAI basically keeps the same design and sets of features (reminds me of "don't change what works"), but ante up the value by providing a new Bluetooth connection – something that has never been existed before in the previous models.
X-mini KAI Review – Packaging
The packaging contains:
X-mini KAI speaker
Travelling pouch
USB & 3.5mm audio cable
Mini guides
X-mini KAI Review – Design
The overall design is pretty much similar to the RAVE that I reviewed before, with a rubber based material coated in mostly black. It can be expanded for a better bass and quality sound overall, or collapsed for easy storage. One thing I notice though, the KAI seems to use a more solid air compression design compared to the others. I had an issue where my HAPPY and RAVE couldn't be expanded in full anymore (feels deflated somewhat) and it seems that they have fixed this problem in KAI to prevent this from happening again in rare cases.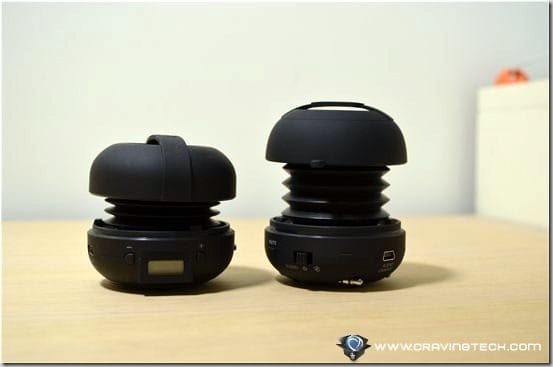 When collapsed (by twisting the two ends of the speaker), the KAI is much more compact to be carried around in a shirt's pocket or inside the case included in the packaging.
At the bottom of the KAI, there is a short 3.5mm audio cable tucked nicely around the unit. This makes it easier to connect KAI rather than having to carry the supplied cable around with you at all times. The cable is not too long but it's good enough to play your favorite music at a much higher quality from your phone when needed.
The main switch switches between a standard AUDIO (through the 3.5mm audio jack), POWER OFF, and BLUETOOTH (No RADIO this time – for that you have to buy the RAVE although RAVE does not have the Bluetooth support).
It uses one dial button to control everything such as going from one track to the next, playing and pausing the music, and also to control the volume of the music playing. Though this saves a lot of space on the unit, at times it can be frustrating because changing the volume level can be mistakenly treated as changing the tracks. Thankfully, you can still use your device's volume (and playback) controls so this shouldn't be a big issue.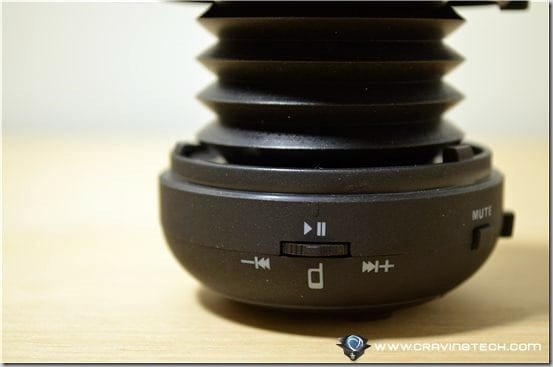 There is also a built-in microphone so you can even use KAI for making and receiving calls! When you have a few people trying to listen to a call using the Speaker mode on the phone, often we all have to sit close to the phone to be able to listen clearly. Now, you can hook the phone up (or via Bluetooth) and everyone in the room can listen without any difficulties.
The microphone does not have a noise cancelling technology though, so try to use it inside a room rather than using it outdoor (which I haven't tried yet unfortunately).
X-mini KAI Review – Impressions
The Bluetooth support is the game changer here. Rather than having to get your device plugged with the speaker all the time, you can store it inside your pocket or anywhere in the room. Listening to music is much easier because of the Bluetooth support and you can now place the X-mini speaker away from your media device.
According to the technical specification, the playback time is around 8 hours, though it will be cut to 4 hours with the Bluetooth enabled.
I did find that sometimes it took a while to connect my iPhone 4S to KAI via Bluetooth. Or at times when I pressed play on my phone, the connection was lost and I had to reconnect again. Not sure if this is my iPhone's fault or whether it's the KAI.
X-mini KAI Review – Conclusion
X-mini KAI
The X-mini KAI may not seem like it brings anything new, but that doesn't mean it's a bad thing. It still has the same sexiness, portability, and loudness. The new Bluetooth support is definitely the heart of the new model and a game changer in the X-mini speakers range.

It's easy to connect my devices through the Bluetooth connection and when needed, I can pass my call to it straight away; thanks to the built-in microphone.

KAI also gives an option to hook up to your old media devices that do not have Bluetooth support using a 3.5mm audio jack. Whatever portable media device you have, you can always hook it up to KAI!
Note: X-mini KAI review sample was provided for the review