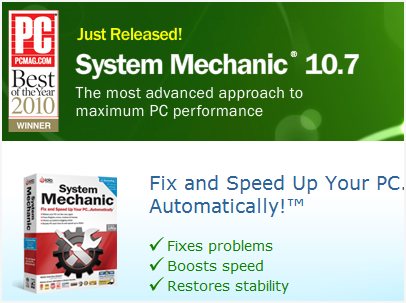 System Mechanic 10.7 is a great piece of software that will auto optimise your Windows system while you are not using your computer, fix registry problems, and a whole lot more (read Craving Tech's System Mechanic 10.7 review for further info).
Well, guess what – thanks to iolo technologies, Craving Tech is hosting a giveaway to distribute 5 System Mechanic 10.7 licenses to you, lovely readers.
There are 4 Standard edition licenses (valued at $39.95 each) and 1 Pro license (valued at $59.95) to give away. Read more to find out how to get your free System Mechanic 10.7 license!
System Mechanic 10.7 licenses giveaway – How to enter
Use the PunchTab widget below to enter (thanks to Tuan from TechWalls who introduced me to the PunchTab service).
You will have to leave your answer to the question "How to best describe your feelings when you find out that your Windows system is getting slower and slower?" in the comment form to be eligible.
You can also earn points by Liking this post, tweeting, and by inviting friends through the widget. FIVE people with the best answers will be chosen and the one with the highest entry will get the Pro version of the System Mechanic 10.7.
All the best, all!