System Mechanic 10.7 from iolo technologies is not just a minor update to the previous System Mechanic 10 (read Craving Tech's System Mechanic 10 review). This latest version actually adds a few more main features into one of the most powerful software to keep your Windows PC in a healthy and optimised state.
System Mechanic 10.7 also finds and fixes more registry and system problems than before. It just gets better and better.
The interface and main functionalities are pretty much the same – for example, upon running System Mechanic 10.7, you'll be presented with the main Dashboard that tells you the condition of your current system (after the analysis is performed). A thorough analysis is recommended if you can spare the time compared to a quick one.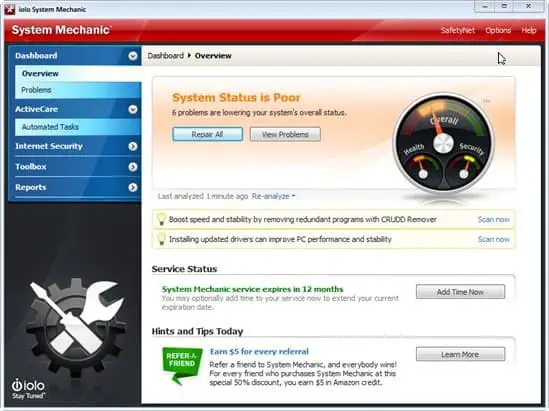 Here are some of the highlighted features in System Mechanic 10.7.
System Mechanic 10.7 – Designated Drivers™
Updating drivers on your Windows system can be quite scary and at times, I know some people who can't be bothered to make sure that their display driver (or any drivers in that matter) is always up to date. Only when problems occurred then they start to find out what went wrong (and most of the time, it's either a spyware or an out-of-date driver).
The Designated Driver, available exclusively on System Mechanic 10.7, makes sure that your drivers are always up to date by searching for the latest signed drivers for all of your devices.
This can somewhat backfire if you have installed a latest unsigned driver as System Mechanic can actually recommend an older driver version like what happened here (my current driver is dated 2011):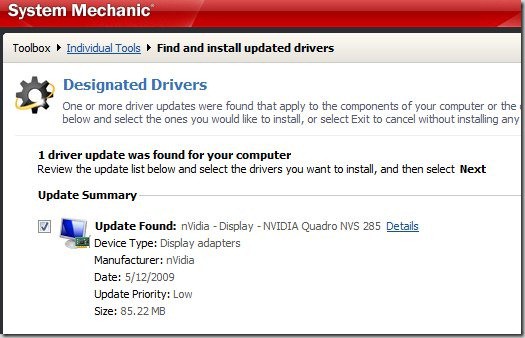 However in most cases, you will always get the latest drivers, unless if you like to experiment and install beta drivers like I do.
System Mechanic 10.7 – SSD Accelerator
With SSD (Solid State Drive) being used nowadays in modern desktop and notebooks, iolo technologies has invented an optimisation tool to make sure that your SSD drives run at their peak performance.
Unfortunately I don't have any SSD on my system so I couldn't test this out.
System Mechanic 10.7 – Program Accelerator™
The Program Accelerator scans misaligned program files, then groups and re-aligns each programs related files to make sure that the programs are loaded and run as fast as possible (by positioning the file clusters on the disk, if you want to go a bit techie). By properly analysing which block of data belongs to which programs and grouping them together in a way that the disk can read them quicker, Program Accelerator is a must to run on production machines (or on any desktop with lots of installed programs like the Adobe suite or Microsoft's).
Depending on how big your drive is and how many programs you have in there, the process may take a while but it's definitely worth it. According to iolo technologies, 25-30% boost can be achieved in most cases.
System Mechanic 10.7 – Other features and impressions
The CRUDD (Commonly Redundant or Unnecessary Decelerators and Destabilizers) is one of the talked features of System Mechanic 10 and it still is one of the best tools to have around. Unused or redundant programs can be installed and run on your PC without your consent and take away system resources. Why keep them if you don't need them?
For example, you may have installed similar applications to compare (such as photo editing software) but only use one of them in the end. Of course, like most busy people, you've probably forgotten that you have 4 other unused photo editing software already installed, unused. Thanks to CRUDD, it will smartly try to  detect this and give you options to uninstall or keep them if you want to.
For example, since I like to play around with new things all the time and blog about them, I have a few web browsers installed in my system and CRUDD detected this (used to have K-meleon, Maxthon, Safari, and others installed to :)):
CRUDD also takes into account feedback from the communities so you can quickly compare and decide which to keep (if you can't make up your mind).
I also love System Mechanic because you can set it to auto optimise and clean your system while you are away from your computer. You can set it to automatically repair registry problems, repair hard drive errors, free some space, and more – it's like set it and forget it, you let the software do the job for you even when you forget about it.
System Mechanic 10.7 is a powerful software for both regular and power PC users. It's all automated, but if you want to, you can actually go down deeper and read more about what the program is trying to do and take control (which is important when it tries to clean startup programs and all that). Though if you are a bit lazy, you can set it to just "Repair All" and let the software makes your Windows system feel somewhat faster without having to scratch your head trying to figure out what the jargon means.
Even when you know your ways around Windows and aware not to install dodgy software, chance is that you'll still have fragmented registries or performance problems once you've installed and uninstalled stuffs in Windows. With System Mechanic 10.7 installed, it'll act like a guard on duty, optimising things behind the scene and making sure that your Windows system is as fast as possible.
There are many other features that this software can do and words won't be enough to tell about it in a single post. So please make sure that you've read my System Mechanic 10 review and also visit iolo System Mechanic 10.7
to find out more about the software.
Note: System Mechanic 10.7 review license was provided for the review