Note: This is a guest post by Marty
Freelancing online is becoming more and more attractive lately and we can see a lot of people taking up blogging as a part-time job. Blogging is one of the easiest things you could do online to make some extra money and having a website or a blog is not such a big deal these days. Everyone needs some extra pocket money and where could you find better working conditions than in the comfort of your own home?

After a while, some brave folks even take up blogging as a full time job, getting sick and tired of the 9 to 5 schedule and concentrating more on their small business. If you are considering this option you should know that it's not as easy as you may think. It's actually pretty difficult being your own boss and putting yourself in the corner for not doing what you're supposed to. You'll find that you need to keep a tight schedule, as there's a lot of work involved when you're doing everything by yourself. Freelancing requires a lot of discipline and pragmatism, that is, if you want to be successful at it.
Fortunately, there are currently a lot of tools that can help you in your freelancing career, and some of these have already migrated to mobile devices such as tablets or smartphones, so you can keep an eye on your work even when you're away.
Today we'll be covering five great apps for iPhone that you can use to keep up with your small freelancing business, no matter where you are.
Analytics Agent
Owning a blog is the most common way to make money online and after you've spent a few months writing quality content, you may gather up some decent traffic back to your site, so you might want too keep a watchful eye on it.
Analytics Agent is a free iPhone app that brings Google's Analytics service to your smartphone.
You'll be able to track visits, clicks and keep an eye on what's happening to your blog, no matter where you are.
Analytics Agent Free  | Analytics Agent Pro (UPDATE: Apps seem to be removed from the App Store)
Billings Touch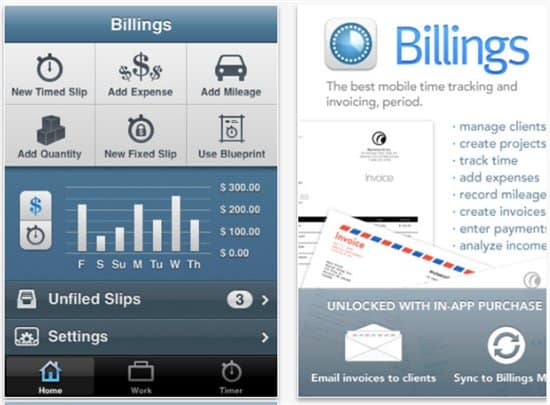 On the other hand, online freelancing doesn't mean just blogging. You could be offering your services as a writer or take up web designing or web developing and help out others grow their business.
Once you do that, you might soon be looking for a comfortable way of billing your customers and creating invoices.
The Billings Touch iPhone app will help you create some great looking invoices and will also track your time spent on a project, so you can bill those hours.
Billings Pro Touch – Marketcircle
OmniFocus
Organization is essential when you're freelancing and you need to make sure you keep a schedule of what you're supposed to do. The OmniFocus app for iPhone is one of the best task managers you can find that will help you create lists, write notes and help you maintain a daily schedule.
OmniFocus is praised to be an essential app that can really help you organize your daily routine.
OmniFocus for iPhone – The Omni Group
Fring
Communication is key and being online whenever a client wants to contact you is essential to any small freelancing business. An Instant messaging app can help you out a lot in these situations and Fring seems to be a popular app among iPhone users. You'll get an all-in-one app that will let you access your Yahoo! Messenger, ICQ, Google Talk or AIM accounts directly from your iPhone.
This iPhone app will also offer you the possibility to make cheap VoIP calls with the FringOut service.
Mocha VNC
If you've been blogging for a long time and have enough traffic to sustain your small freelancing business, you've most likely moved to a dedicated server or VPS. In order to maintain your VPS server you'll need to install a VNC server application on your laptop or home computer.
Mocha VNC is an app used to control your VPS server directly for your iPhone using a secured connection to always make sure your blog is up and running.
The Mocha VNC app comes with an easy-to-use interface and can be an ideal way to keep an eye on your dedicated server when you're away for a longer period of time.
—
Freelancing is a real source of income for a lot of people these days and these free tools can help you out when you're away from home to keep an eye on your business.

Note: This is a guest post by Marty. Marty usually writes about the latest gadget releases on his blog.