Note: This is a guest post written by Alexander Peters
5 Drawing iPad Apps for Artists – With its multi-touch and sheet-like surface, the iPad is the best way for a creative person to reveal his skills. Regardless of whether you like to doodle for fun or intend to draw as a professional artist who respects the digital art tools available on iPads, the following 5 apps will definitely come in handy for you.
However, first and foremost, we want to give a review of some useful styluses and brushes created especially for those who like to use an iPad for drawing or handwriting.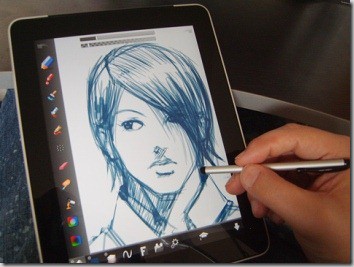 What Drawing Accessories Can You Use for the iPad?
If you have an iPad and few drawing apps, then you probably would like to eventually buy a stylus to give you better control over the drawing process or simply to write down your notes using an Apple tablet as a digital sheet of paper.
Since the launch of the first iPad, there has been an evolution of styluses manufactured for different purposes. One of the most popular styluses for both drawing and writing is the iClooly Multi-Touch Pen designed by Pyramid Distribution. The stylus looks like a mechanical pen with 3 nozzles —a brush, a plastic tip for pocket PCs, and a special conductive tip for the iPad's surface.
Another popular stylus for artists who prefer to exploit iPads for drawing is Nomad Brush, which looks like a regular paintbrush but with bristles made of conductive fibers designed especially for the iPad's screen. Be ready to pay about 25 USD for such a must-have accessory.
There are a lot of interesting styluses for the iPad available on the market, so you can definitely choose one as the best alternative to finger-drawing.
The Top 5 Drawing Apps in the App Store
Procreate – Sketch, paint, create. – Savage Interactive Pty Ltd
Price: $4.99
Procreate is a must-have app for every art school student and professional artist. It offers a set of customizable palettes, erasers, 16 different layers, and endless possibilities for creating digital art masterpieces. You can also create your own brushes if you don't find the required one among the existing brushes within the app. Procreate is a nifty app for all creative people who like to draw for hours.
SketchBook Pro for iPad – Autodesk Inc.
Price: $4.99
In 2010, SketchBook Pro was declared The Best Drawing App of the Year according to the respected iManiacs MacWorld magazine. The following updates and fixes only improved this tool that can turn your iPad into a digital analogue of a sketchbook-on-the-fly. With 75 different pencils, markers, brushes, and filters, SketchBook Pro is able to provide the required inspiration for editing existing artworks and creating new ones. It has a nice and simple UI and outstanding zooming properties for easier doodling.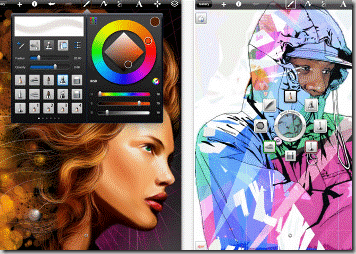 ArtStudio for iPad – draw, paint and edit photo – Lucky Clan
Price: $2.99
Equally as good for beginners as it is for digital art professionals, ArtStudio serves as the analogue of PhotoShop, only for the iPad. It has about 30 instruments (brushes, pens, pencils, smudge tools, and erasers) for drawing images from scratch and multiple filters for editing photos. The best part about ArtStudio is that it offers 17 free that help you learn the basics of drawing. Using this application, you will also be able to add text and captions to your drawings or simply edit photos directly from your Camera Roll.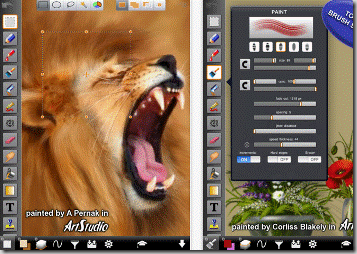 Price: $2.99
Zen Brush is actually one of the simplest tools offered for artists who use iPads. It motivates the user to use such tools as the ink brush for creating iPad masterpieces and does it in a better way than any other app available in the App Store. Experience pure Zen art with this sophisticated tool that helps an artist completely disclose his skills. Every cartoonist and artist who is into brush painting will tell you that this app is the best one in the App Store. If you buy the Nomad Brush stylus that is described above, you will be able to create masterpieces using only your iPad and Zen Brush. You can directly post all of your works on Twitter via the app.
Price: $3.99
If you used to like to draw your first pictures for mom and dad with colored pencils, you will definitely become an aficionado of this creative tool designed by Kengo Lab. Colored Pencils lets you completely imitate drawing by using colored pencils on the iPad. Just like Zen Brush, this application is very simple to use even for a kid. Despite its simplicity, it has a lot of different options to offer including the regulated canvas size, endless undo/redo steps, multiple layers, and a lot of colored pencils with different erasers. Its intuitive interface and affordable price made Colored Pencils one of the favorite doodling apps in the App Store.
Despite the fact all of these doodling and digital art editors and tools are not free of charge, their options and abilities are worth of every cent you will spend. If you like to draw, especially on the professional level, you cannot miss the opportunity to upgrade your iPad with these applications.
Read more:
Note: This guest post was written by Alexander Peters