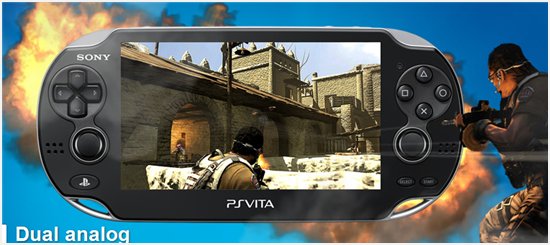 Sony PlayStation Vita is a handheld game console by Sony and released not long ago. It has a 960×544 OLED multi-touch capacitive screen with approx. 16 million colours, six-axis motion sensing system, and also supports Bluetooth, 3G, and WiFi. Two analog sticks and the usual triangle-circle–cross-and-square buttons allow you to be familiar right away with the Sony PlayStation trademarks.
With 3G connectivity, you can play your games anywhere you like and maintain connectivity with the other players online while you can track and update your scores on the go. Obviously, online multiplayer is where every game goes nowadays, so this will certainly excite many hardcore and even casual gamers.
The cross platform feature is amazing too – you can play on your PlayStation 3, pause, and then continue on your PlayStation Vita! Do you have to accompany your mom to the supermarket but don't want to stop playing? Grab your PlayStation Vita and tag it along (assuming your mom is okay with it).
It also has front and rear facing cameras, microphone, and GPS. These bring a new horizon to portable gaming (similar like on the smartphones) by utilising real world locations to make a game more exciting and real.
Here is an exclusive video, Rizzle Kicks' World in Play, the UK's hottest band and PlayStation Vita:
Note: This is a sponsored article. All images are courtesy of Sony PlayStation Vita