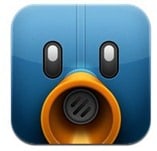 Tweetbot for iPhone review – Note that this Tweetbot review post is based on version 2.0, released in January 2012. There may be new features and updates by the time you read this post.
If you are not happy with the official Twitter app and looking for something more, you definitely want to have a look at Tweetbot. The interface is really smooth and easy on the eyes. Not to mention that it makes lots of tweeting actions easier and quicker to perform.
You can add multiple Twitter accounts easily on Tweetbot by typing your username and password. Switching between accounts is done by pressing on the "People/Group" icon and picking the Twitter account you want to use. The transition is smooth and quick. Each account can also be customised, as I'll explain in a little bit more on the next paragraph.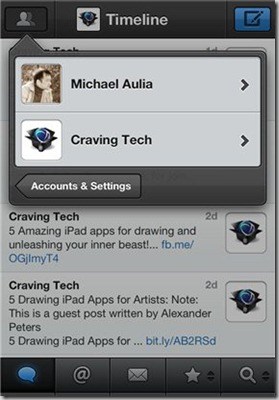 The main interface of Tweetbot includes tabs at the bottom where you can access your Timeline, Mentions, and Direct Messages. The last two tabs can be customised to either Favorites, Lists, Retweets by Others, Mute Filters, or your own Twitter profile. You can customise these last 2 tabs differently on each Twitter account you've set-up.

To compose a message, press the Compose button on the top right of the interface. You can add your location, note, people (with the @ tag), hashtag, and also photos. You can also save your Tweet as a draft and continue on some time later.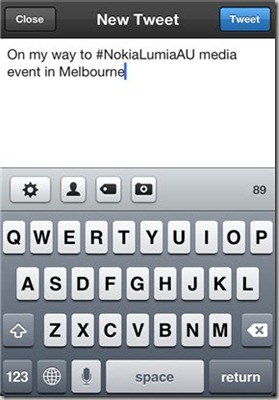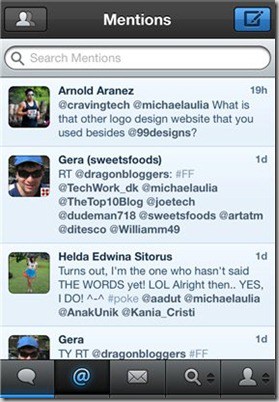 What's interesting is that you can do different actions which will do different things. For example, if you swipe a tweet to the left, you will see all the replies of that tweet. If you swipe right, you will see ALL conversations following this tweet (before and including replies). Press the tweet three times and it will trigger a quick reply (can be changed in the Settings). Press it once and you can see more options to choose from (like a retweet, etc). Double press on the Tweet timeline tab to auto scroll the Tweetbot timeline to the top.
There's also a "Post In Background" option so you can tweet or reply a tweet and keep on using the app without having to wait for confirmation. Tweetbot also supports many services such as Read It Later, Instapaper, bit.ly Pro, Tweet Marker, and more.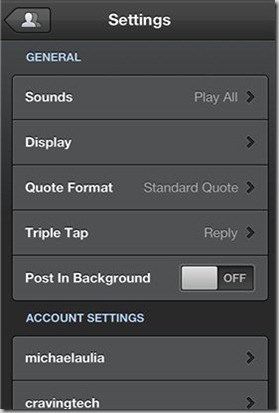 With links, there is also an in-app browser to open/read the link with just a finger press. Reading blog posts (and looking at photos/images) with Tweetbot is seamless and no jumping around between apps is necessary.
You can also set-up a bunch of customised Notification settings. You can be notified when you are added into a list or when someone in your list has made a tweet. There are also of course the Direct Messages and the standard Twitter notifications. What's more interesting is the "Sleep Options". Ever got upset by a tweet notifications when it's really late at night (one of your follower sent you a message from the other side of the world)? Well, no more. With the sleep options, you can set Tweetbot NOT to send the notifications during a certain time period. Awesome, right?
This intuitiveness is what makes Tweetbot really popular, not to mention that the overall theme looks really nice on the iOS. There are also subtle sound effects that can make a geek smile with excitement without making it too overpowering or overly done.
You can of course tweet just by using the free official Twitter app. However, tweeting is so much easier and fun with Tweetbot. Its interface is also clean, smooth, and intuitive. Not to mention the many useful features such as the smart gestures (swipes), one press image/link previews, advanced notification settings, and more!
Tweetbot for Twitter (iPhone & iPod touch) – Tapbots
Note: Tweetbot review license was provided for the review