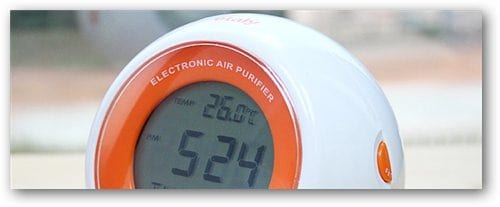 This cute and sexy looking clock does not stop at displaying the current time. It also acts as an Air Purifier and also a thermometer.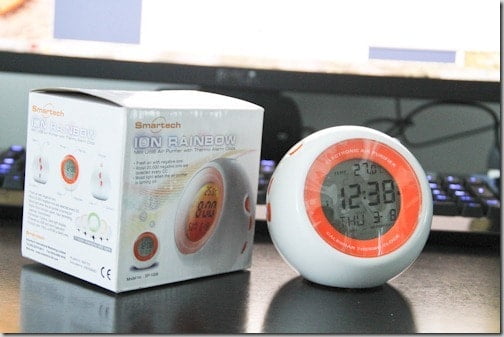 The USB Digital Thermo Clock with Air Purifier displays the clock in 12-hour format, the current day, the current date, and also the current month. The time display is significantly larger than the other information displayed so you can look at the time with a quick glance.
The clock itself is powered with 3 pieces of AG13 button cells (despite of the product page mentioning 5 pieces) to power the clock and the backlight (which can be triggered temporarily by pressing the clock's body down).
To activate the Air Purifier feature, the clock needs to be connected to a USB slot. The glowing LED light will alternately change colors once you've hooked it up to a USB slot. I do wish that the clock can all be powered by USB alone (it'd be annoying having to replace the AG13 button cells at some point in the future).
The air purifier is supposed to remove contaminants from the air and to make the air healthier and fresher. Although in a way, there is almost no way to test this out, so I have to leave it at that. According to the spec, the clock will deliver 20,000 negative ions (ion/cc) and is recommended for a 9 square meter area max.
There is also an alarm function and can easily be set using the buttons on the clock. The clock can also display the room temperature in Celsius or Fahrenheit.
The best part is of course the look of this clock. It looks really sexy and great on a desk. Not so much on my black colored desk but from the official product screenshots, it looks really nice on a wooden one.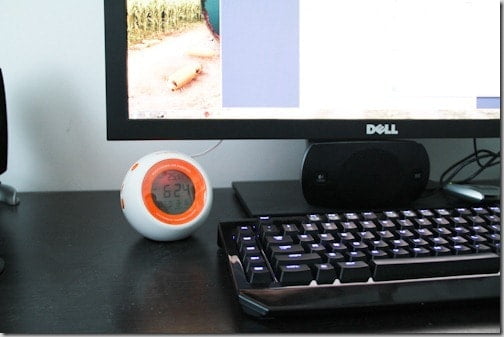 You can get the USB Digital Thermo Clock with Air Purifier (and other cool gadgets) at USB.BRANDO.COM website (it has a $3 worldwide shipping on every order).
Note: Sample was provided for the review
USB Digital Thermo Clock with Air Purifier Pros
+ Looks sexy
+ Displays hour, minute, day of the week, month, and day
+ Displays temperature in Celsius or Fahrenheit
+ Has backlighting, easily accessible by pressing down the body
+ Has an alarm function
+ Includes air purifier by USB connection
USB Digital Thermo Clock with Air Purifier Cons
– The clock is powered by AG13 button cells. Harder to find and replace.
– No option to turn the alternate lights off (when purifying air)