Kingston DataTraveler Elite G2 Review – We've reviewed quite an extensive range of USB flash drives from Kingston in the past, such as the DataTraveler 410, DataTraveler Locker+, DataTraveler Ultimate 3.0, DataTraveler Ultimate 3.0 Gen 2, HyperX 3.0, and DataTraveler Mini 3.0 (which is still tied into my key chain).
The latest USB flash drive from Kingston DataTraveler Series is the Elite G2, and it offers support for the lightning fast USB 3.1 Gen 1 read/write speed.
It also allows backward compatibility with USB 2.0 if your motherboard does not support USB 3.1 just yet. Safe to say, it will work faster if your PC supports it but if not, the USB flash drive will still work as long as your computer has a USB slot to plug it to.
Kingston DataTraveler Elite G2 has an elegant, professional design with rugged look. It has a removable cap to protect the USB connector head, so make sure not to lose it when you plug the drive into a PC.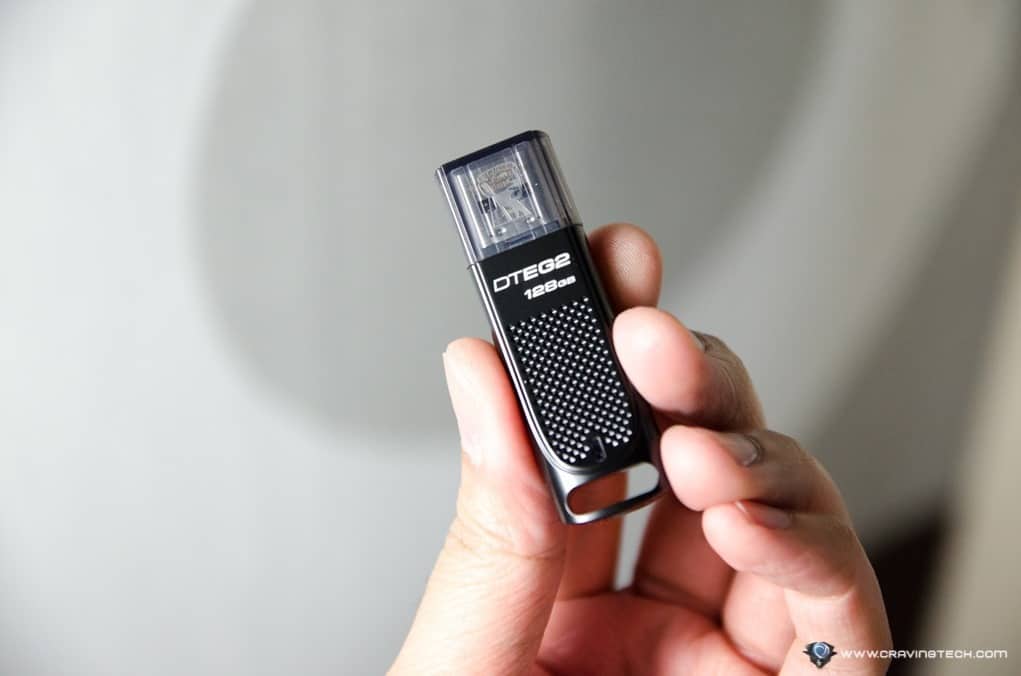 The metal-casing itself is shock and water resistant so if your pants get drenched from the rain while the USB flash drive is inside them, your data should still be safe inside. The Elite G2 does have a weight on it and feels solid in hand. It's good knowing that it will not snap accidentally or break easily.
There's a small LED light indicator to visually show when data transfer is in progress and you can hook the drive to a key ring to carry on the go too.
The review sample I have here is the 128GB Kingston DataTraveler Elite G2 with 180MB/s read & 70MB/s write speed. You can opt for lower capacities in either 32GB or 64GB.
Using CrystalDiskMark to check for the speed myself, I could actually get more than promised:
That is definitely fast for a USB flash drive! If you transfer lots of large files frequently, you'd definitely want to have the Elite G2 around (assuming you have a USB 3.1 slot). It'll save you tons of time! The drive also comes with a 5-year warranty, which is quite generous.


Kingston DataTraveler Elite G2 is a durable, 3.1 USB flash drive offering lighting fast speed and backward compatibility to many laptops and desktops. Its rugged design also offers protection from shock and water, giving you a sense of security, knowing that your data inside will always be safe.
Disclosure: Kingston DataTraveler Elite G2 review sample was supplied for reviewing, but all opinions are mine and not paid