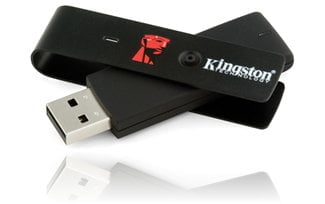 The day has finally come for us technology enthusiasts to see more massive space on a tiny USB flash drive. The latest product innovation from Kingston Technology, the DataTraveler 410, provides up to 32 GB space on a single USB flash drive. That massive space means that you can squeeze in more high quality photos, more documents and more multimedia files to be stored and retrieved in a flash.
The DataTraveler 410 is also available in 4GB, 8GB, and 16GB if you are looking for a lesser space at a lesser price. Let's find out about the DataTraveler 410 read/write speed and its security feature with the Kingston SecureTraveler software.
Kingston DataTraveler 410 Data Sheet
Specifications
Capacities — 4GB, 8GB, 16GB, 32GB
Dimensions — 2.58″ x 0.71″ x 0.41″ (65.76mm x 17.98mm x 10.7mm)
Fast — Data transfer rates of up to 15MB/sec. read and 6MB/sec. write
Operating Temperatures — 32°F to 140°F (0°C to 60°C)
Storage Temperatures — -4°F to 185°F (-20°C to 85°C)
Simple — Just plug into a USB port
Practical — Capless swivel design protects USB connector; no cap to lose
Guaranteed — Five-year warranty
Features/Benefits:
Safeguarded — Includes SecureTraveler1 security software for Windows
Customizable — Co-Logo program available3
Enhanced — For Windows ReadyBoost™ on Vista-based systems
Kingston DataTraveler 410 Look and Feel
Note: The one that I have for this review has a 32GB storage capacity.
The DataTraveler 410 is not the tiniest USB flash drive in the market but I've had several occasions where my "micro-looking" USB flash drive broke/chipped or even got lost somewhere. To me, the size of the DataTraveler 410 is just nice and fits well into my pants' pocket. It looks "fat" as my friend said when he saw it but a skinnier design normally makes a USB flash drive to be more fragile anyway, so it's all a matter of personal taste.
You can also attach the flash drive to your keys (like mine) so you'll always be ready whenever you need to store/retrieve your files on the go.
To protect the USB connector, the DataTraveler 410 uses a cap-free swivel design. It is a good design choice by Kingston as lots of people (including myself) often lose the USB Flash Drive cap somewhere on the computer table. However, a swivel design does not really protect your flash drive from water as much as a cap design. Since the DataTraveler 410 goes with me wherever I go (in my pants' pocket), I often found it to get a bit soaked from the heavy rain. However, I found that the flash drive still works up til now, so no complaints there.
Kingston DataTraveler Read/Write Speed
Kingston claims that DataTraveler 410 has been given a speed boost so let's try some experiments, comparing it with my older USB Flash Drive, the Transcend JetFlash v30.
When writing 907 files into the USB flash drives (a total of 2.25 GB of data):
10 minutes and 2 seconds with the JetFlash v30.
5 minutes and 6 seconds with the DataTraveler 410.
When writing a single file of 882 MB in size:
2 minutes and 46 seconds with the JetFlash v30.
1 minutes and 17 seconds with the DataTraveler 410.
From the experiments above, it is clear that Kingston DataTraveler 410 is the real winner, cutting all writing time in a half! The statistic says it all.
Kingston DataTraveler SecureTraveler
The DataTraveler 410 comes with Kingston SecureTraveler security software (a single executable file inside the flash drive). The most common problem that we have is that we often copy sensitive files without us realizing it (this includes our photos or our kids' photos). The DataTraveler 410 provides a nice security mechanism that allows you to partition (or divide) the flash drive into another area called the "Privacy Zone".
The "Privacy Zone" is like a separate drive on your Windows system (if you want to see it that way). You first use the SecureTraveler software to allocate how much space you want to set as the Privacy Zone using the slider:
You must then set a password to access the Privacy Zone later on. When everything is set, the USB flash drive will have to be reformatted to apply these settings.
What I like about this feature is that you can choose where do you want to go/access every time you plug the drive in: the "Public" area? or the Privacy Zone? This way you can easily lend the flash drive to a friend, knowing that he/she can use it just like any other flash drive yet can't see your private files and folders.
You simply login to the Privacy Zone by double-clicking on the executable file or you can set the login window to auto-appear whenever you plug your DataTraveler 410.

Kingston DataTraveler 410 Review Conclusion

Kingston DataTraveler 410 is indeed fast, has more storage, secure, and reliable. It comes with up to 32GB in storage and also with the SecureTraveler software. The software itself is just a single executable file on the flash drive and doesn't require any installation in your computer.
Using the SecureTraveler, you can allocate a partition on the drive to be secured (password-protected) yet allowing others to access the public/non-secure area just like any other flash drive. A simple login-logout procedure is done simply by clicking on the same executable file (the SecureTraveler software).
Kingston DataTraveler 410 may not be the thinnest and smallest in the market, but it is the fastest USB flash drive that I've ever had. You can attach it to a key ring along with your keys, so you'll always have it available wherever you go. Since you can put your important files into the Privacy Zone, there is no reason not to carry this everywhere you go anyway.
Kingston DataTraveler 410 Pros
+ Swivel design (no more lost cap)
+ More storage (up to 32GB)
+ Fast reading/writing speed (15MB/sec read and 6MB/sec write)
+ Can be attached to a key ring
+ Can have both public and secure zone on the same unit
+ One single executable file to manage the security
Kingston DataTraveler 410 Cons
– Not the slimmest flash drive
– Only comes with Black
[AMAZONPRODUCT=B002840KRY]
[AMAZONPRODUCT=B002840KRO]