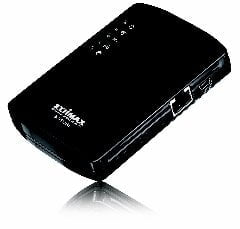 The Edimax 3G-621 is a not just an ordinary wireless 3G router. It's running on a rechargeable Li-ion battery to make it the most portable wireless router ever! The router will be ideal if you are travelling by groups and want to have an internet connection available to the group at all times.
Below is the official press release from Edimax.
Sydney, Australia – 8 December 2009: Edimax, a company dedicated to the design, development, and manufacture of leading networking solutions today revealed that they will release the world's first Edimax 3G-6210n wireless 3G router in early 2010.
Designed for today's on-the-go internet savvy generation, the 3G-6210n is a world first that allows users to share their 3G Broadband without the hassle of having to plug into a power supply.
The 3G-6210n will be among the smallest wireless 3G portable broadband router and will come with a built-in rechargeable Li-ion battery to make this ultra-portable router ideal for groups who is out and about but wants a constant internet connection.
For employees away from the office, needing to keep up to date with emails and work, the battery powered Edimax 3G-6210n will not only solve the offline issue through sharing of wireless 3G USB device but will eliminate the need to be in areas that do not have the convenience of power points.
Populations living in metropolitan cities will be able to enjoy the flexibility of choosing either LAN, WAN or 3G access point using the Edimax 3G-6210n and will no longer be restricted to areas without the need of a direct power supply. Students and business people alike can take advantage of the outdoors and field visits and take advantage of a shared internet connection among groups.
The Edimax 3G-6210n will come with a high speed solution that complies with wireless 802.11b/g and when operated with the latest wireless 802.11n technology, its wireless data transmission rate can reach 150Mbps. Users will be able to connect and share anywhere, anytime.
This, first of its kind, router will be easier to configure and will include a unique multi-language EZMax setup wizard, SSID, wireless security and firmware upgrade to make it simple for users to setup their internet connection.
The Edimax 3G-6210n wireless 3G router will ship into Australia early 2010.