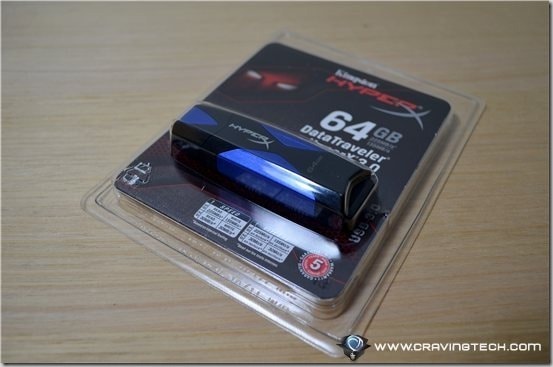 Kingston HyperX 3.0 (USB 3) Flash Drive
Michael Aulia
Kingston HyperX 3.0 (USB 3) Flash Drive review – As if having a read speed of 100 MB/sec and a write speed of 70 MB/sec is not enough (Kingston DataTraveler Ultimate 3.0 G2), Kingston releases an even better and speedier USB 3 flash drive: the Kingston HyperX 3.0.
Kingston DataTraveler HyperX 3.0 has a somewhat similar size compared to the DataTraveler Ultimate 3.0, but the speed has been ramped up quite significantly. Let's take a closer look.
The Kingston DataTraveler HyperX 3.0 that I have comes with a whopping 64 GB in size! Now that amount is super huge for a flash drive and you can definitely fit everything in there! I recently made a copy of Star Wars The Old Republic to a friend so he didn't need to download the whole 19 GB of files using the HyperX 3.0. It's really fast to copy and still has plenty of room left for other files!
Now if that's not enough, you can actually get the 128 GB or the 256 GB version should you want to store your HD movies or backup your entire media collection!
It looks quite unique in design with an "X" shape covering half of the body, with a mixture of black (rubber material) and blue (metal material) finish. The combination of materials makes the drive really durable and solid.
It's using a cap design, not the swivel. To open the cap, you need to squeeze the sides a bit while you take the cap out from the drive. This is definitely a nice safety feature to make sure the cap does not accidentally come off by accident.
You can also hook the HyperX 3.0 flash drive into your key chains easily.
As for the speed, Kingston clearly puts a safe margin on the packaging display and the official product spec as I could get an even higher reading during the test. According to Kingston's product specification, the read and write speed are:
USB 2: 30 MB/sec read speed and 30 MB/sec write speed
USB 3: 225 MB/sec read speed and 135 MB/sec write speed
When I used CrystalDisk Benchmark to test, here are the results:
USB 2: 35 MB/sec read speed and 35 MB/sec write speed
USB 3: 255 MB/sec read speed and 145 MB/sec write speed
What an impresive speed – this is definitely the speediest USB 3 Flash Drive I've ever had so far!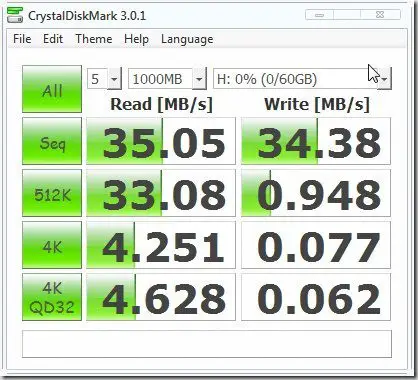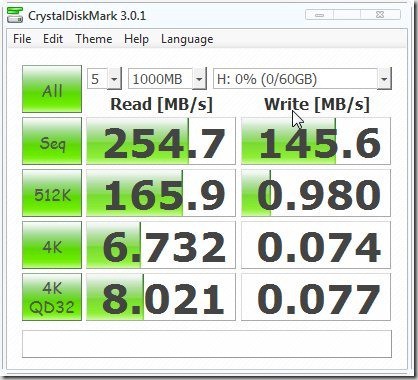 If speed matters to you a lot, then Kingston DataTraveler HyperX 3 will not disappoint. Copying huge amount of files didn't take long with this drive and since it's still compact in size, you can carry it around with you anywhere inside your pocket.
Kingston HyperX USB 3 Review Conclusion
Kingston HyperX USB 3 is an awesome flash drive. It's quite small in size, huge in capacity (up to 256 GB!), pretty stylish, durable, and most importantly – super speedy!
The read and write speed are just phenomenal and simply one of the fastest USB 3 flash drives out there! It's also compatible with USB 2 so if you have a USB 3 slot on your motherboard, take advantage of it to write quickly. However, when you have to copy your files to someone else's computer, you can feel safe knowing that you can hook the drive up to a standard USB slot (USB 2).
Speed, style, and capacity  – that's Kingston HyperX 3.0 alright!
Note: Kingston HyperX 3.0 Review unit was provided for the review
Kingston HyperX 3.0 Review – Pros
+ Stylish
+ Durable
+ Cap has a nifty protection mechanism
+ Can be attached to keyrings
+ Comes in huge capacity: 64 GB, 128 GB, or 256 GB
+ Phenomenal speed for both reading and writing
+ USB 2.0 backward compatble
+ Not as hot as the previous generation when plugged for a period of time
Kingston HyperX 3.0 Review – Cons
– None that I can see so far!