Huawei Band Review – Fitness bands like Fitbit ChargeHR or Jawbone UP3 don't always have to look like men's bracelets. Sometimes, there are fitness bands like this Huawei Band that looks like a regular watch, making it a pleasant to wear and and behold.
It also matches whatever I'm wearing and it's one of those bands that I don't feel shy to wear and show.
My friends actually mistook it as the Huawei Watch (when I mentioned that it's a Huawei's) and I think that is a good thing. It does look like a sports watch unless you really know your gadget well.
Huawei Band Review – Packaging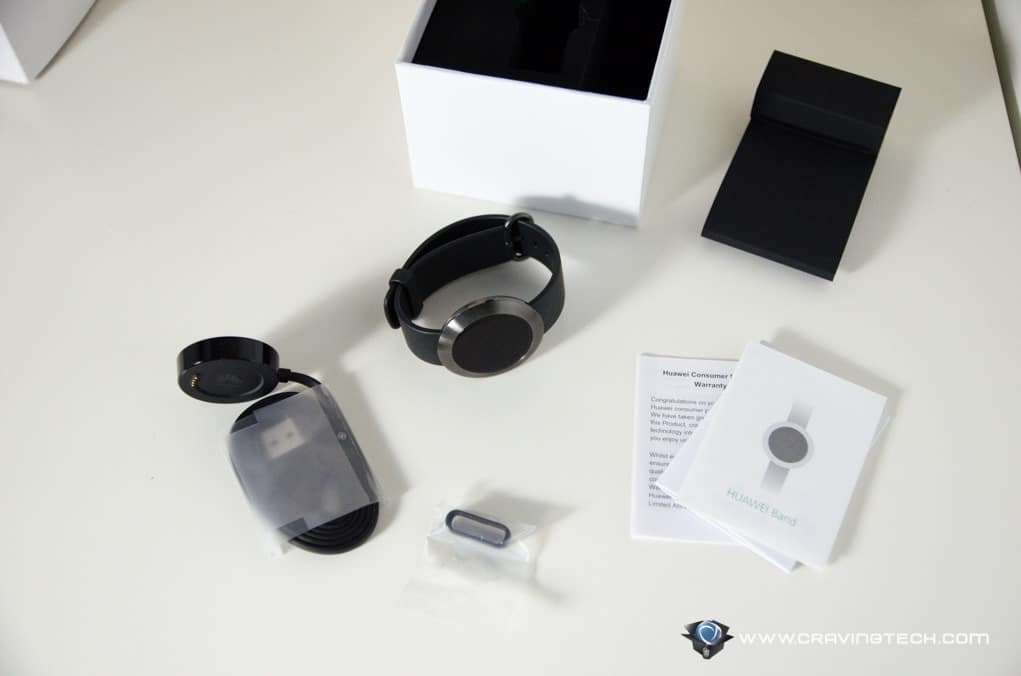 Huawei Band Review – Design & Features
The Huawei Band uses a 1.06-inch PMOLED touch screen with scratch and water resistance. It's IP68 certified, the highest level of dust proof and water resistance available. That means you can jog or wear it outside without worrying to damage it during the rain. Or if you are the lazy type, wear it while you shower is okay too. Just don't wear it while you swim.
Interacting with the Band feels smooth. Swiping up and down is easier than having to press buttons and you can either tap on the screen or twist your wrist naturally to wake it up. I love how it feels natural, like when you want to see the time on a regular watch.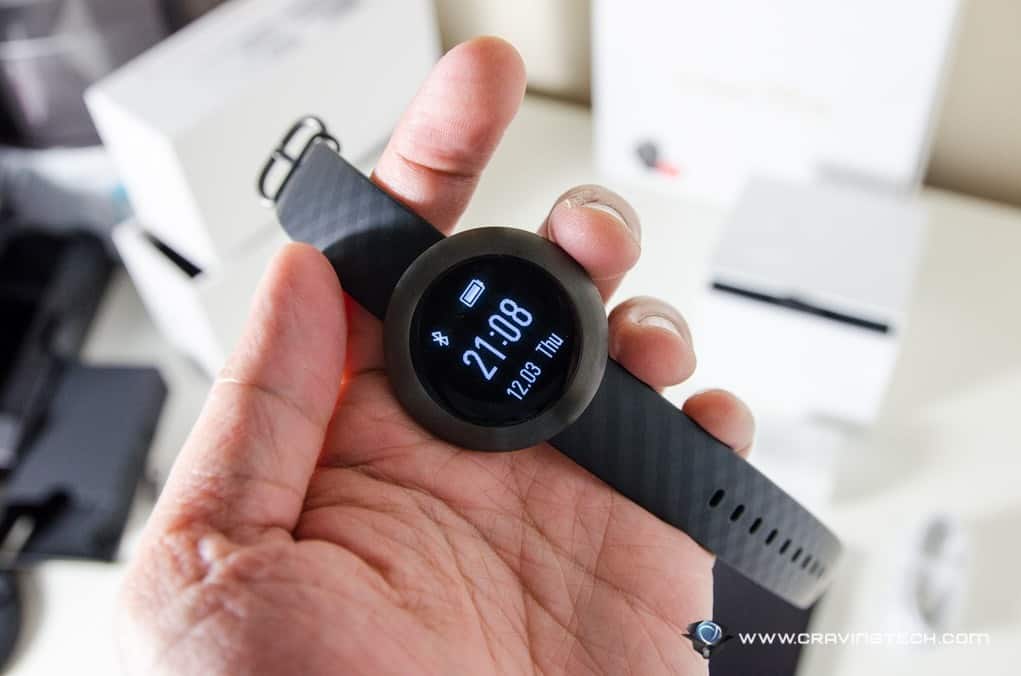 Pairing the watch is simple and works flawlessly in both Android (tested on my Huawei P8 Lite) and iOS (tested on my iPhone 6s). I did have an issue trying to pair the Huawei Band back to my iPhone 6s (after switching from iPhone 6s to Huawei P8 Lite, and back again to iPhone 6s), but the problem went away after I set the "Forget this device" under iOS' Bluetooth setting.
You do need to download a free Huawei Wear app (available on Android and iOS) to fully set it up and make use of the Band. The app is intuitive and serves as the primary brain behind most of the Band features.
Through the app, you can change the Band's watch face (only a few options available), see your stats, set alarms, and more. There are plenty of things you can set the Band to do here and it feels like you are really getting as much as you can out of the Band.
Daily Activities Tracking
The Band monitors and tracks your daily activities which includes steps and calories burned (which I assume will be calculated based on the data it collects about you and your activities).
When you jog, there is a handy, quick shortcut through the Band menu to start and stop the session.
There is also a gently reminder with a soft vibrate on the wrist to stand if you have been sitting for too long (you can of course turn this off).
Sleep Tracking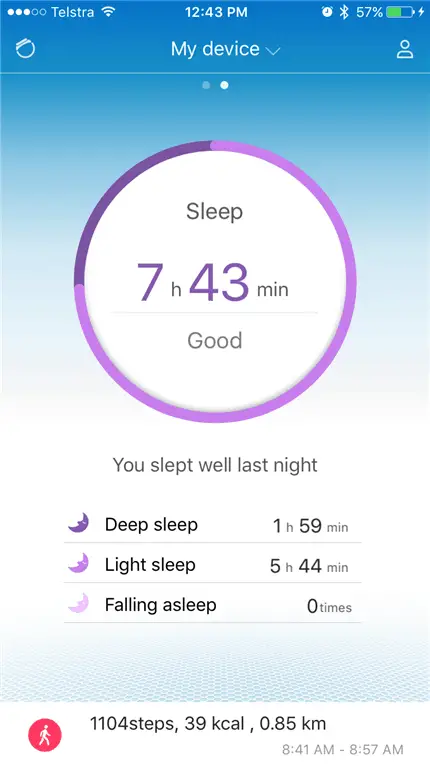 Sleep tracking will run automatically as you go to bed. There is no option or button to press, which is good, and I find that the Band tracks accurately when I starts sleeping.
It will track the quality of your sleep and provide you with some stats to prove. So far, the stats were spot on and encouraged me to have an earlier sleep every night.
Call and App Notifications
One thing that I also like about the Huawei Band is that it can also receive app and call notifications. Sure, you cannot send a reply or anything through the Band (this is just an activity Band after all), but I love how I don't really need to check my phone every now and then to see if I miss any notifications.
Unfortunately, due to Apple's walled garden, not all apps on the iOS can be caught by the Band. So far, apps like Messages, WhatsApp, Facebook, and incoming calls notifications can go through the Band just fine. However, Snapchat and Instagram can't, for example. In Android, all apps' notifications (at least the apps I use) can be set to go to the Band as well.
I realised my wrists wouldn't stop vibrating with every app notifications turned on. Thankfully, you can pick which app you wanted to enable through the Huawei Wear app (Android only).
There is also a "Do Not Disturb" mode to make sure that you don't go insane every time someone likes your post on Facebook or sends you an email while you are in la la land.
Silent Alarm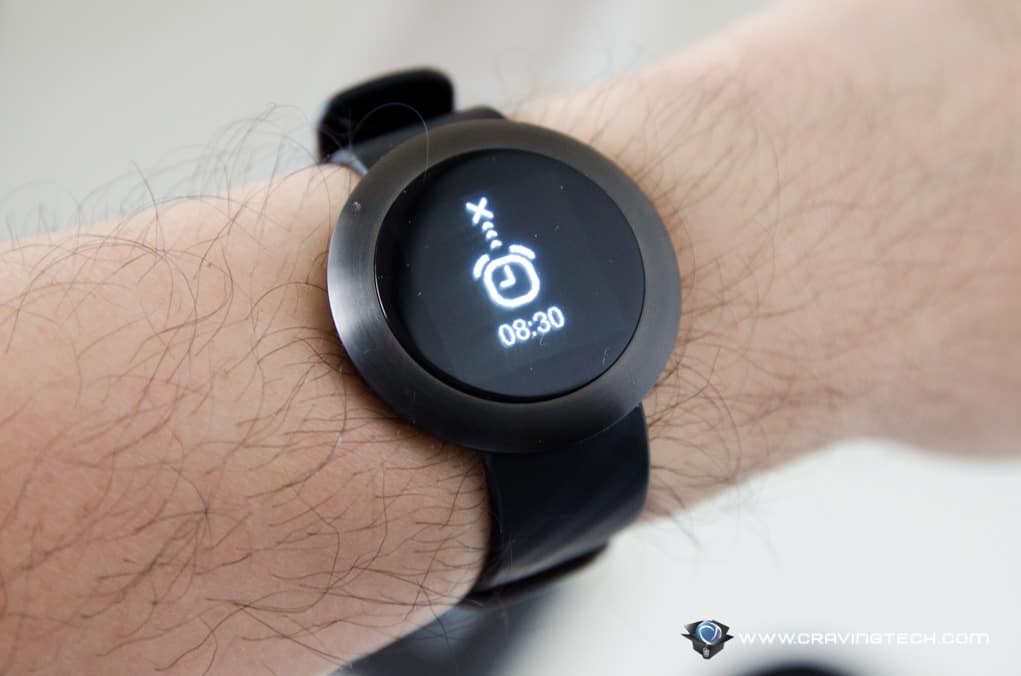 To be honest, I never think that I would want to wear a watch (or a band) while I sleep. Huawei Band gives me a good reason, and that is the silent alarm feature. Sure, this is not new and it's been done on almost every activity band out there. But it works (gently vibrates when it detects that I'm in Light Sleep mode around the set wake-up time) and it's painless (automatically tracks when I'm off to bed).
Battery Life
In my experience from wearing the Huawei Band for about 2 weeks, the Band can last a few days (2-3 days) but I guess it depends on how often I wake it up, and how often I made the thing vibrate (i.e notifications). It comes with a handy, easy to charge craddle too.
Huawei Band Review – Conclusion
From all the activity bands I reviewed so far, I find that I like Huawei Band the most. It doesn't like a man's bracelet and it really has powerful features that Huawei take advantage of as much as they can. Basically, everything you'd want to get out of a fitness band, without the unnecessary features.
It's not clear how to buy the Huawei Band in Australia as my contacts at Huawei haven't replied yet. At the moment, I think you'll be able to get it in a bundle when you grab the Huawei P8 Lite from Telstra. Will update this post if I ever get a reply back from them.
Disclosure: The Huawei Band was gifted during an end-of-year drinks event with Huawei. I was under no obligation to review it whatsoever.