HUAWEI WATCH FIT 2 Review – If you've been enjoying your original WATCH FIT from Huawei, this updated model offers larger display among other things. The display size is now 18.6% larger compared to the predecessor with a larger 72.2% Screen-to-body Ratio. And if you are eyeing on the more premium HUAWEI WATCH GT 3 (check my review out) but on a budget, you might want to consider grabbing the HUAWEI WATCH FIT 2 instead.
It has a built-in GPS, heart rate sensor, and can even measure your blood oxygen (SpO2) level – which is pretty good features for an activity watch.
HUAWEI WATCH FIT 2 Review – Unboxing and Packaging Contents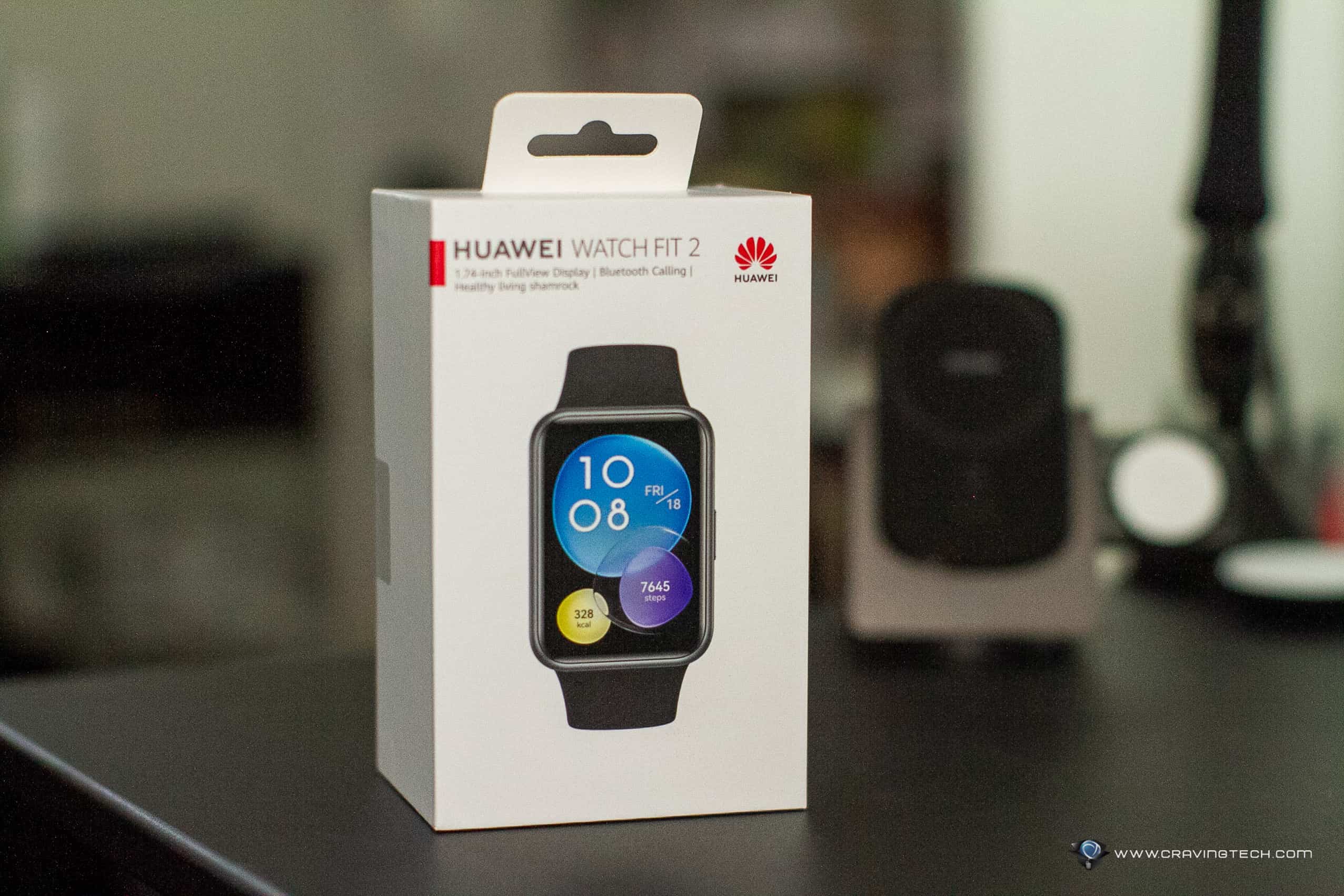 HUAWEI WATCH FIT 2 Review – Design & Features
The watch has a 1.74-inch AMOLED display with 336 ppi which is pretty bright and clear to see. It also has a pretty narrow bezel and while you don't actually use it for watching videos or looking at photos, it helps with the aesthetics when you pick a premium watch face from over 200+ selections of available watch faces, and easiness in looking at your stats. Thanks to the larger display area, it is also easier now to interact with your finger.
The watch does look taller on the wrist compared to other similar watches I've reviewed (which you may or may not like). And of course, compared to the more-premium WATCH GT 3, the WATCH GT 3 does look much sleeker.
With just 26 grams in weight, the watch is comfortable to wear and I can actually forget that it's there on my wrist most of the time.
There is only one physical button instead of two (including a nice, rotating crown) on the WATCH GT 3, but for quick access to shortcuts and apps, you can swipe your finger on the screen directly.
The review unit I have here is the WATCH FIT 2 Active Edition in Midnight Black (you can also pick Sakura Pink or Isle Blue if you are bored of wearing Blacks). There is also Moon White in Classic Edition with leather strap available here in Australia.
According to Huawei, the battery can last up to 10 days of typical use or 7 days of heavy use. There is a quick charge where you can use the watch for the whole day with just 5 minutes of charging time. Charging experience is not the best however, as you have to align the two connectors with the watch to charge.
There is also an Always-On Display mode that you can turn on and off to save battery life further.
Surprisingly, HUAWEI WATCH FIT 2 can also take and make calls thanks to Bluetooth Calling feature. This feature is usually reserved on high-end, premium watches so I'm quite surprised to see this on the WATCH FIT 2. With the range of 100 metres, I had no trouble taking calls on our ground floor kitchen while I left my phone upstairs. I never thought that this would be one of the best things I have access to in my tech life.
Thanks to its 32GB internal memory, you can actually transfer your songs directly into the watch through the HUAWEI Health App. This makes it easier to exercise as you can just leave your phone at home while you run/jog and just wear a Bluetooth headset like the FreeBuds Pro to listen to your favourite tunes.
HUAWEI WATCH FIT 2 Review – Exercise Functions
The Personal Trainer will not only warn you to stand up and take a break from sitting, but also supports 7 different workout modes including outdoor running, indoor running, outdoor cycling, indoor cycling, pool swimming, open-water swimming, and skipping rope. However, the watch itself can also track up to 96 different workout modes that you can select from the watch manually.
I play Badminton every Friday so I'm glad that Badminton is supported on WATCH FIT 2. You do have to start (and stop) the workout manually but you can add your favourite workout mode beforehand to make the shortcut quicker to access.
You can check your current heart rate, calories burned, how long the exercise has been going for, and also the heart rate zone if you want to push yourself further.
These stats will also be recorded in the HUAWEI Health app, along with the other stats like your sleeping quality, SpO2 level, and even stress level.
HUAWEI WATCH FIT 2 Review Conclusion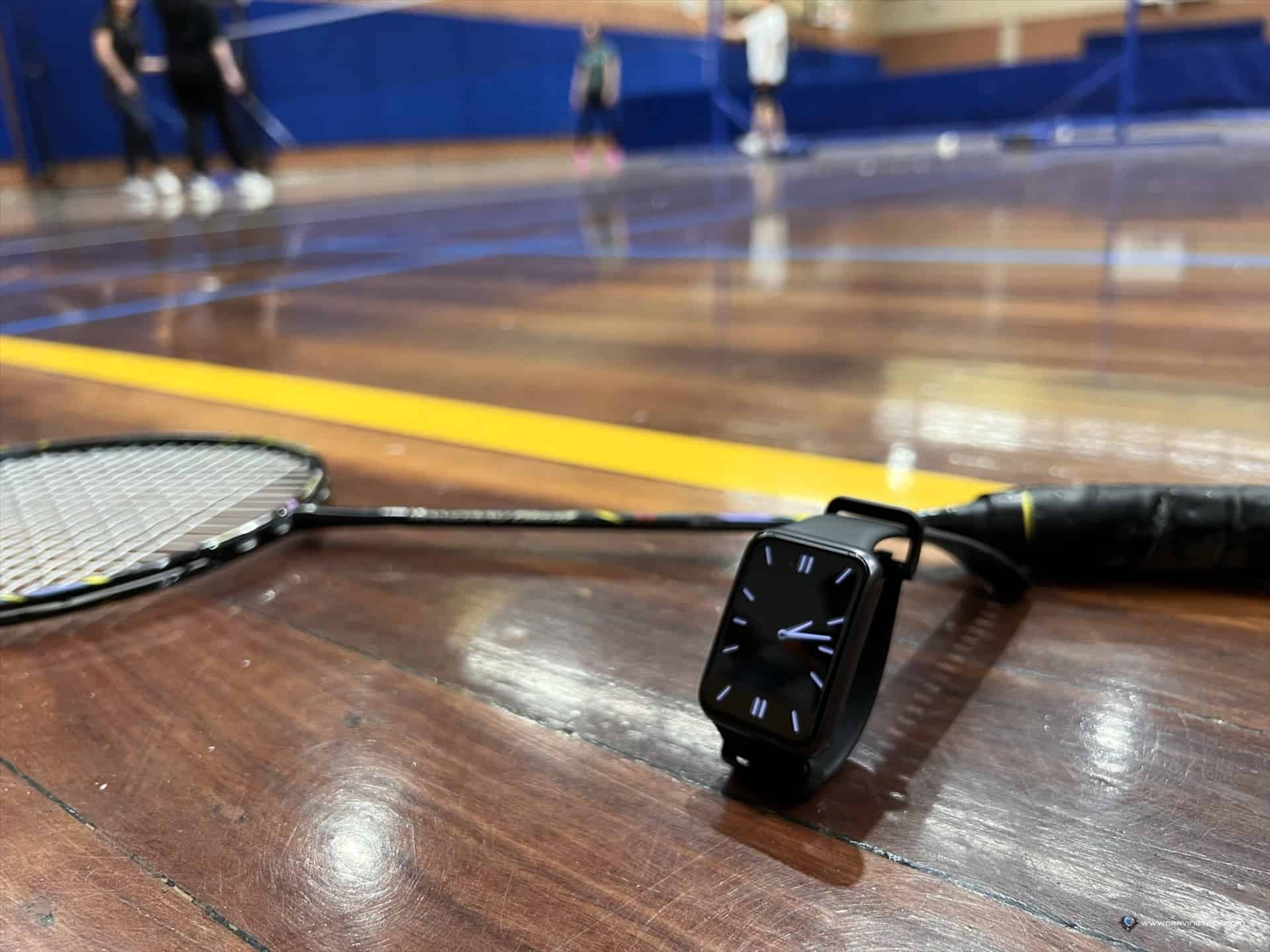 This activity smartwatch has a lot of things to offer: all-day SpO2 monitoring, built-in GPS, heart rate sensor, support for different workouts, sleep quality tracking, and other smartwatch features like notifications and even Bluetooth Calling.
With around one week of battery life, a bright and clear 1.74″ AMOLED display, and comfortable to wear on the wrist, HUWAEI WATCH FIT 2 retails for A$247 at Bing Lee when this review was written. It's quite a bargain for what it offers and if you don't need it to be able to control your smart devices at home or other funky things, you should be happy with the purchase.
Disclosure: HUAWEI WATCH FIT 2 review sample was supplied for reviewing
HUAWEI WATCH FIT 2 Review
Summary
HUAWEI WATCH FIT 2 offers many great values and it's very comfortable to wear to the point that I actually forget I'm wearing one
Pros
Lightweight, comfortable to wear
Clear AMOLED display
Supports many workout modes
SpO2, heart rate sensors
Has built-in memory to store music files
Can take calls on the watch
Cons
Sensors are not that super accurate (e.g steps and sleeping activities).
Many best watch faces are not free, but they only cost a couple of dollars usually