HUAWEI FreeBuds Pro Review – There are times when you want to completely shut the world out with a good pair of ANC headphones, but there are times when wearing one is considered to be too bulky. And there are many good, slimmer earphones out there, but if you can't really hear your music due to its bad noise isolation, what's the point?
But with these HUAWEI FreeBuds Pro earphones that come with Intelligent Dynamic Active Noise Cancellation feature, you get to experience the best of both worlds.
To be honest, I kind of prefer Jabra's take on the charging case where you can place it upright on a table. But the FreeBuds Pro's case has a stylish touch and more flat, which makes it easier to fit into a shirt's pocket.
It can be charged through USB-C and Qi wireless charging, which is nice. The case also charges the earbuds while they are inside the case, prolonging the battery life even further when you are not using them. Taking the earbuds out of the case is, however, quite challenging and a bit fiddly. You have to use your thumb and pull it out at an angle, and the magnetic force holding the earbud in place is pretty strong too.
The FreeBuds Pro design looks similar to the Apple AirPods Pro with a shaft/handle design that shocked the world when Apple first unveiled it, but it has been well-received along the years. The shaft also houses the internal components such as the Bluetooth 5.2 certified Chipset and the Intelligent Dual Antenna for boosting the wireless experience and signal. Plus, the controls are located within.
Interestingly, Huawei goes with "pinching" mechanics to control mostly everything on the FreeBuds Pro, except to control volume where you can swipe up and down. When a call comes, pinch once to accept the call or twice to reject. When music is playing, pinch once to play/pause, twice to skip track, and thrice to go to previous track. But if you pinch and hold the earbud handle, it will cycle through the different noise cancellation mode: Off, On, or Awareness. I like that it gives you audio feedback so you know which mode you are currently in.
These pinches surely take some time to get used to, but they apparently offer a better experience than having to tap the earphone which sometimes gives you that discomfort feel (i.e have the ear tip pressing into your ear canal).
I wasn't sure what to expect, but I was quite amazed with how good the sound is as soon as I played my favourite tunes. Music definitely comes to live with the FreeBuds Pro, but there seems to be more focus on the lower end (bass). Usually, on earphones with a slim profile like these, the bass is weak and not so enjoyable, but FreeBuds Pro's bass is very strong and punchy. So if you like a bass-heavy profile sound signature, you'll love the FreeBuds Pro.
The active noise cancelling is also unexpectedly exceeded my expectation. After all, I've been used to experiencing it on big, bulky headphones so I had very little expectation when it comes to active noise cancelling earphones. To my surprise, the active noise cancelling performs really well.
At a point in time, I was making an hour of video call with the active noise cancellation on. After the call was finished and I took the earphones off, I only then realised how windy it was outside (60 km/h gust wind). Looks like the ANC works. Taking the earphones out on a regular day while listening to music also offers a great experience as I can fully be immersed in my music even more. I used to commute by train to work before the pandemic, so it'll be interesting to test these earphones out in a busy, noisy train one day.
There is also an "Awareness" mode if you still want to hear your surroundings and a few other noise-cancelling modes like "Cozy" or "Ultra" mode accessible only on the HUAWEI AI Life app (Android only at this stage). It's not a problem if you are using a Huawei phone like the P40 Pro, of course.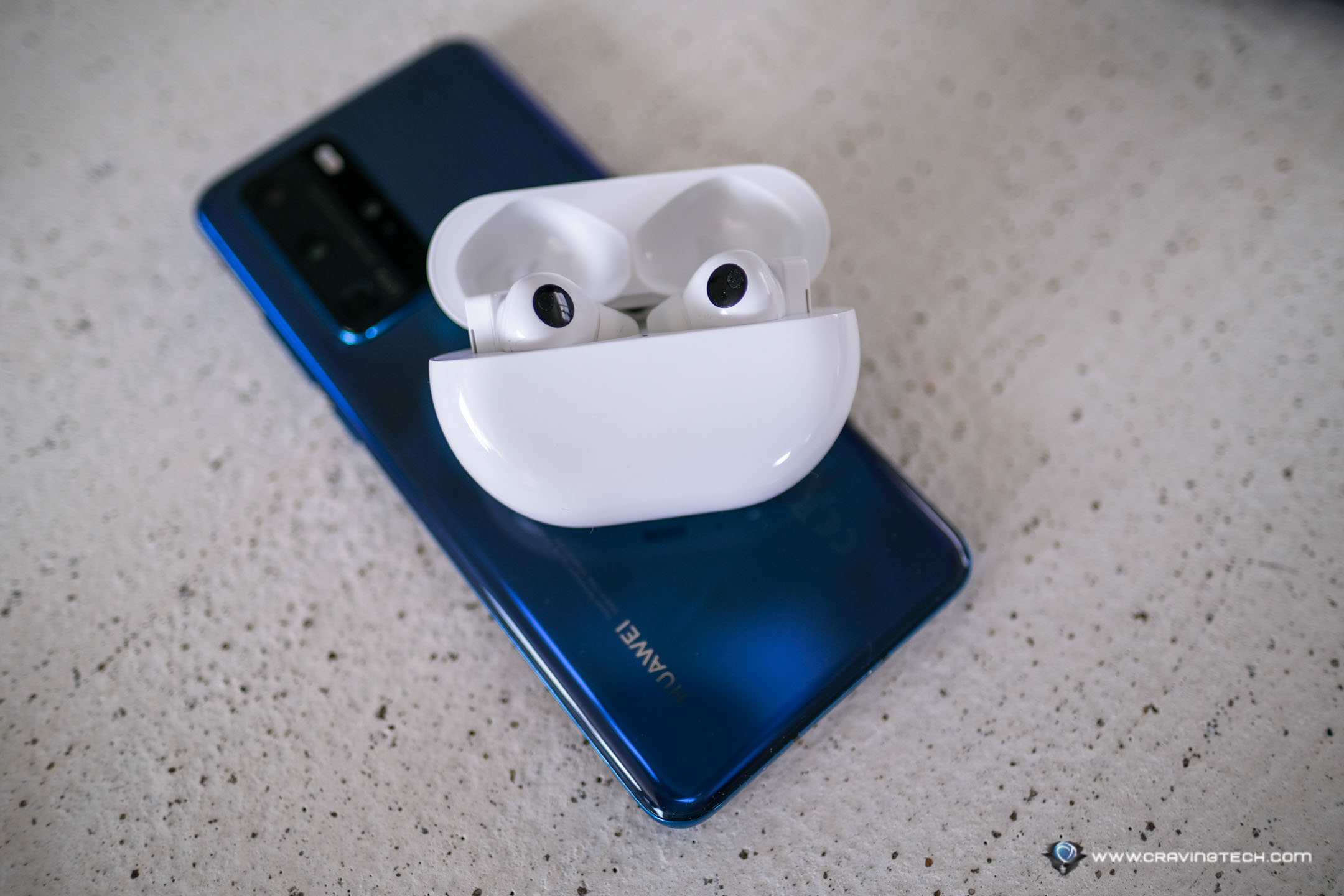 According to Huawei, a single charge can get you up to 7 hours of listening time (with active noise cancellation turned off), or 3.5 hours with it turned on. You'll of course get more out of that with the charging case. It's probably good enough to use while you are travelling interstate but not on a long flight. While there are many earphones that can give you better battery life, Huawei FreeBuds Pro sounds really good and the active noise cancelling is also superb – so it's a trade-off, but I'll pick great sounding earphones any time.
HUAWEI FreeBuds Pro Review Conclusion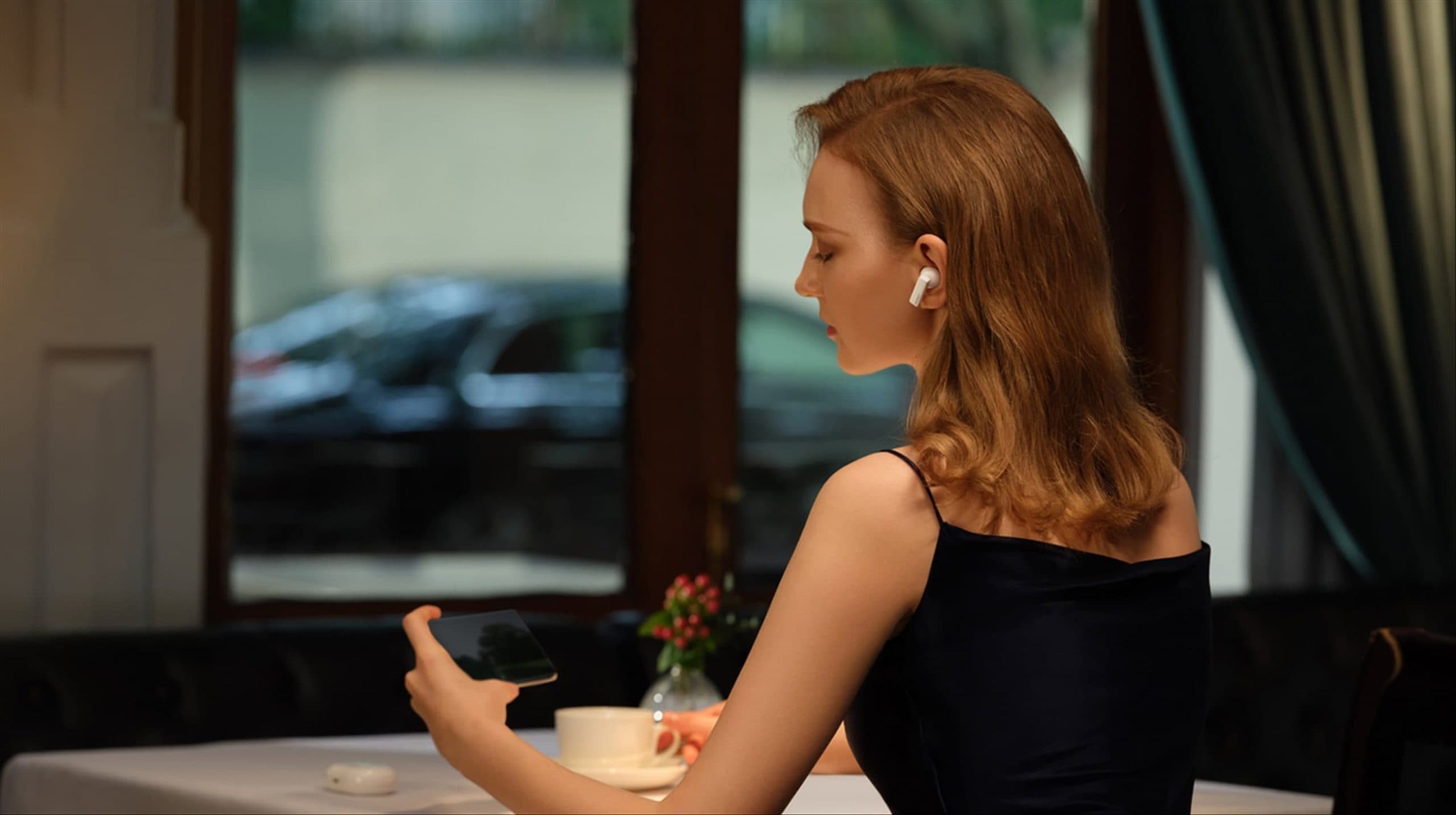 HUAWEI FreeBuds Pro is a comfortable to wear, great-sounding earphone with great active noise cancelling performance that blocks or reduces unwanted noise. It has intuitive, unique pinch controls, great passive noise isolation (even without turning ANC on), and available in Silver Frost, Ceramic White, and Carbon Black.
The FreeBuds Pro retails for AU$328 and available for purchase at Amazon and other retailers around Australia.
Disclosure: HUAWEI FreeBuds Pro review sample was supplied for reviewing but all opinions are mine
HUAWEI FreeBuds Pro Review
Summary
Huawei's noise-cancelling earphones  have a lot of things to like, especially its active noise cancelling performance
Pros
Comfortable to wear, good design
Great active noise cancelling
Slim charging case
Great sound & microphone quality
Strong, thumpy Bass
Seamless setup with Huawei phones
Has volume & playback controls
Wireless Charging
Cons
Fiddly to get the earbuds out
Not for those who want a more balanced sound signature
No IP Rating, not sure about its water resistance