Xiaomi Mi Portable Air Pump Review – Xiaomi Mi Portable Air Pump can accurately check your current tyre pressure and also top it up conveniently with just a press of a button. This definitely saves you a trip to a gas station and more importantly, when you have a flat tyre mishap in the middle of nowhere.
You can easily store it in your car's trunk before going for a long drive, or backpack if you are cycling. With a built-in lithium battery, it can also be charged with a power bank like the ZMI Power Bank Pro so even if you are going somewhere remote, that peace of mind will always be with you.
Packaging
The package consists of Mijia Electric Pump, French Air nozzle adapter, Air needle (for inflating balls like basket balls, etc), charging cable, and a storage bag.
Design & Features
The design reminds me of a very thick, first generation of iPod. It has that LCD display on the top, and a wheel of buttons underneath. The familiarity to the interaction is a good thing, of course, and the large display showing the current tyre pressure and more are clearer than ever.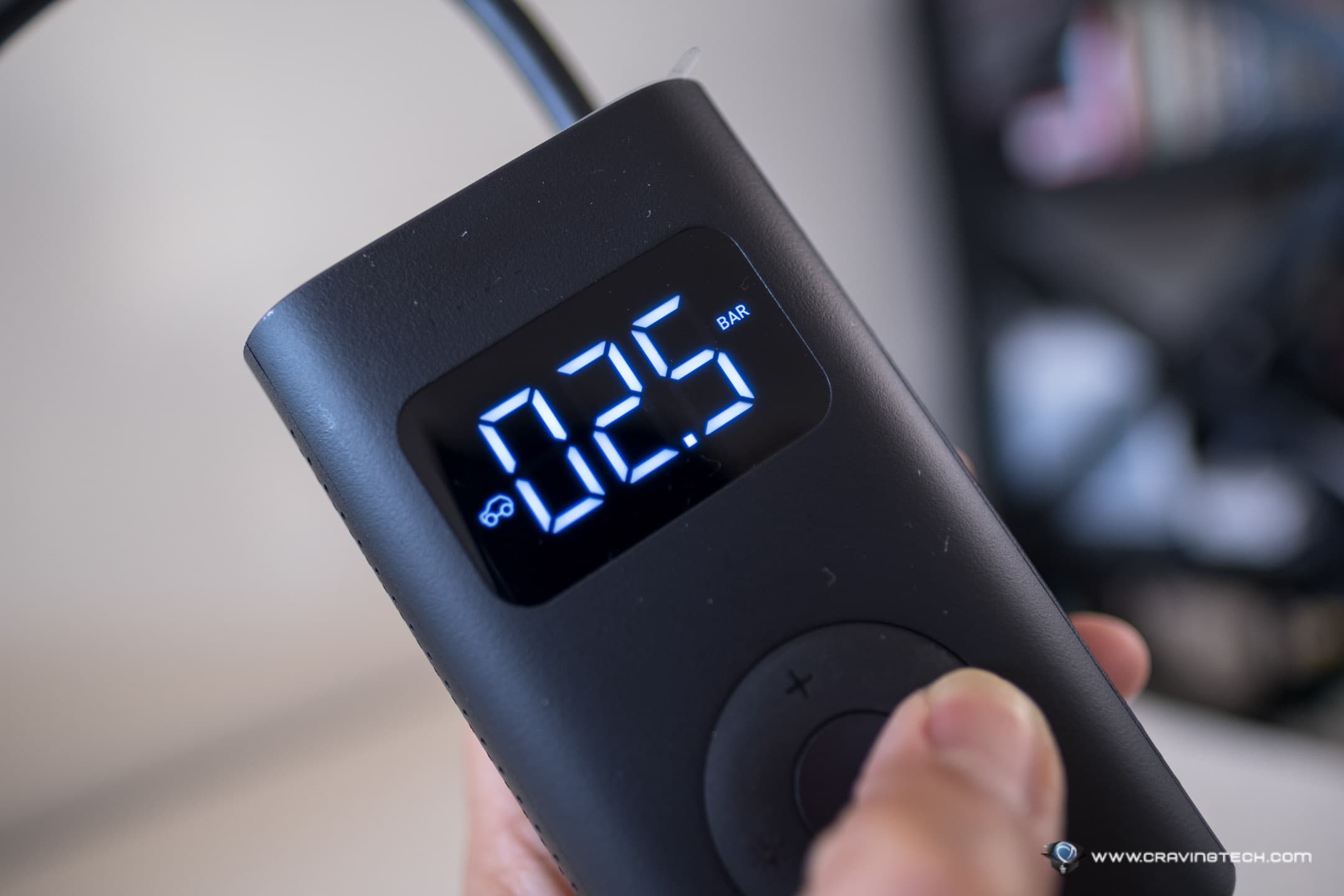 Before we get into the operational details, I'd love to say that the Xiaomi Mi Portable Air Pump is not as heavy as it looks. It is durable for sure and has been tested properly by Xiaomi with all sort of range of tests: freefall, air hose tensile strength, pressure resistance, etc.
Using the wheel controls, you can cycle through different presets for different types (cars, bicycles, etc), change between psi/bar, and the pressure setting that you'd like your tyre to be in.
I tested it with my Hyundai i30 and the operation was pretty simple. After plugging the end of the nozzle adapter to my car tyre, the LCD will display the current tyre pressure. I can then change it with the "+" and "-" button to set the desired pressure, and then press the Start button.
The electric pump will then pump air into the tyre and will automatically stop when the tyre has reached the pressure you set before. It's pretty much a "set it and forget it" operation for sure. Note, however, that it generates a loud noise (about 80db-ish) so maybe it's not something that you want to do outside of your garage at night.
Unfortunately, the cable is pretty short in favour of portability. This means that depending on where the tyre valve position is, you may have to hold the pump with your hands. In the garage, you can trick it by grabbing a tiny chair or a box near your tyre – but it can be quite an annoyance if you have to hold it for a few minutes while squatting down. But if you are using it to pump air into a sports ball, bicycle, or scooter, the operation is quick and you'll most likely be doing it inside your house anyway.
Xiaomi Mi Portable Air Pump comes with a 2,000mAh internal battery and according to Xiaomi, is enough to fill 8 road bike tyres, 6 motorbike tyres, or 5 car tyres. It can be charged via microUSB (not USB-C, sadly).
There is a built-in light for use at night but I wish that the button labels are lit too as it can be a challenge to see them at night, unless if you remember where the controls are located.
Interestingly, a similar product, ROIDMI MOJIETU, pretty much has all the features and operations I've mentioned here, so you might want to have a look and compare them both.
Xiaomi Mi Portable Air Pump Review Conclusion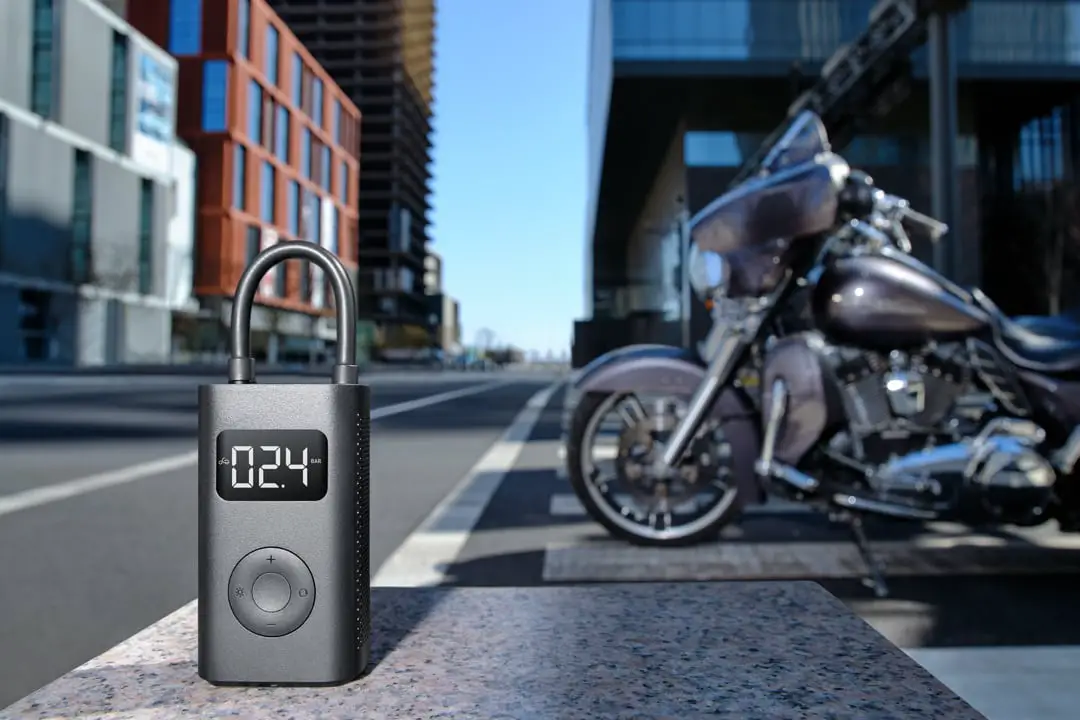 Xiaomi Mi Portable Air Pump is handy to have for inflating everything that is basically inflatable. It saves you a trip to go to a gas station, and a great emergency tool when you have a tyre accident in the middle of nowhere. Or if you like to ride in an electric scooter like my Reid E4 Plus eScooter, you can place this in a backpack just in case.
It takes some time to actually top up all four car tyres so you may want to invest in a more powerful electric pump if you are going to do this for a car more frequently in the garage. But if you travel often, especially to an area where there is not much gas station around or been using manual pump to inflate your bicycle's tyres, having the Xiaomi Mi Portable Air Pump around is a godsend for sure.
Xiaomi Mi Portable Air Pump can be purchased for AU$79.95 and available now.
Disclosure: Xiaomi Mi Portable Air Pump review sample was supplied for reviewing but all opinions are mine
Xiaomi Mi Portable Air Pump Review
Summary
A handy, portable, electric air pump from Xiaomi that can inflate even car tyres
Pros
Portable
Bright and large LCD display
Familiar controls
Easy operation
Accurate tyre pressure gauge
Support many types of tyres
Cons
Can't deflate
Short cable
microUSB
Controls are not lit, making it hard to see them in the dark