ROIDMI MOJIETU Review – Whatever car you have, you will always have a tyre problem sooner or later. Flat tyres are definitely the worst and I've had a couple of shocking events while driving on the freeway. And to most drivers, maintaining your tyre air pressure will always haunt you for the rest of your life.
If you have a cool dashcam with tyre pressure monitoring like this Navman MiVUE 860 DC TYRE (check our review out), then at least you know when to go to that gas station to top your tyres up with air. Most people usually don't know they are driving with a rather flat tyre until it's too late because hey, who would want to go to a gas station and check your tyre air pressure weekly (or even monthly)?
But thanks to ROIDMI MOJIETU, a rechargeable and portable tyre inflator, I can always check and inflate my car's tyres in my own garage anytime I want. Plus, if I ever have a rather flat tyre on a road trip, I know I'll be alright to drive because I can use this to inflate the tyres wherever I am on the road.
Forgive me for the long introduction, because it is important to lay out some of the scenarios that will happen to you at some point, even if you just get yourself a brand new car. Sure, you can get yourself a manual air pump but hey, you'll be sweating and why waste all the energy if you can use a gadget to do this for you while you're playing with your phone?
ROIDMI MOJIETU can be used to inflate car tyres, bike tires, sports balls, beach balls, swim rings, air mattresses, and other inflatables. Three extra nozzle attachments are included in the packaging for these but if you only use it to inflate your car tyres, you don't need to attach any of these.
Design & Features
ROIDMI MOJIETU is truly portable, thanks to the smart cord design. You can detach it completely so you can stow everything inside the included hard case, or both ends can be hooked to the unit to make it easy to carry around. The drawback is that the cord is quite short so there are times when you have to hold the MOJIETU with your hand while it's pumping air to your tyre. Unless you move your vehicle a little bit to make the tyre valve closer to the ground.
It has four soft buttons to:
Change the operation mode (bike, motorbike, car, and ball). A long press will change the pressure unit between psi and bar
Turn lighting on (solid white light, warning, and SOS) which is really useful if you have to stop on the side of the road and need to make yourself visible.
Start/Stop the inflating process
Increase or Decrease the pressure to the one you want
It's quite easy to use and these buttons have background lighting on them, but I wish that they are brighter. In the garage or evening, they can be seen clearly but not during a bright daylight. You really have to look at them real close to be able to see these buttons or cover some sun light with your palms. Thankfully, the current tyre pressure (and what pressure you want your tyres to be before you start it) is highly visible at all times.
ROIDMI MOJIETU comes with a 2,600 mAh battery and according to ROIDMI, can be used to inflate up to 6 car tyres in one go. The battery itself can also last for a year when not used, so if you somehow forget to charge the unit, you should still be fine during emergencies. It would be around 3-4 hours to charge the MOJIETU from 0 to full charge. Unfortunately due to safety reasons, you cannot charge and use it at the same time.
Personal Experience
So does this gadget really work? Oh, yes! I've used ROIDMI MOJIETU a few times to inflate my Hyundai i30 tyres to 32psi and my Tesla Model X SUV to 42 psi (the MOJIETU supports up to 150psi). When you plug the nozzle to your tyre valve, it will display the current tyre air pressure.
During operation, it will generate around 75db of noise which is quite loud. I was a little shocked when I turned it on the first time so make sure you don't use it outside your garage in the middle of the night unless you really have to!
In my experience, ROIDMI MOJIETU adds 1psi to my Hyundai i30 tyre within 30 seconds (so around 2psi a minute). This was tested on a 17″ wheel 22545R17 NEXEN RODIAN tyre (225/45 R17). On my Tesla Model X, which is an SUV with larger wheels (20″), it took around 70 seconds per 1psi.
While you might wish that it can be faster, in practice, you'd rarely use this on a full, flat tyre – i.e when you just want to top up some air to your tyres in the garage. You can just set your desired pressure, turn the unit on, and leave it be (or just browse your social media feed for a bit) because it will auto-stop after the tyre reaches the desired pressure.
However, if the tyre valve happens to be far above the ground, you do need to squat down for some minutes and hold the unit while it's doing its thing – which is bad for my lower back. It's a trade off between portability and convenience, I guess. I do wish that ROIDMI can at least include a longer cable but for now, it's either squatting down or adjusting your car back and forth so you can place it on the ground. Or use some kind of a stool to place it on.
I do need to remember that the MOJIETU is a multi-purpose inflator so having it designed to be portable is a good thing for cyclists, for example. You can just carry it in your backpack or attach it on your bike because it doesn't take that much space at all. Perhaps one day they might design and release a new product solely for cars and I'd love to have that.
ROIDMI MOJIETU Review Conclusion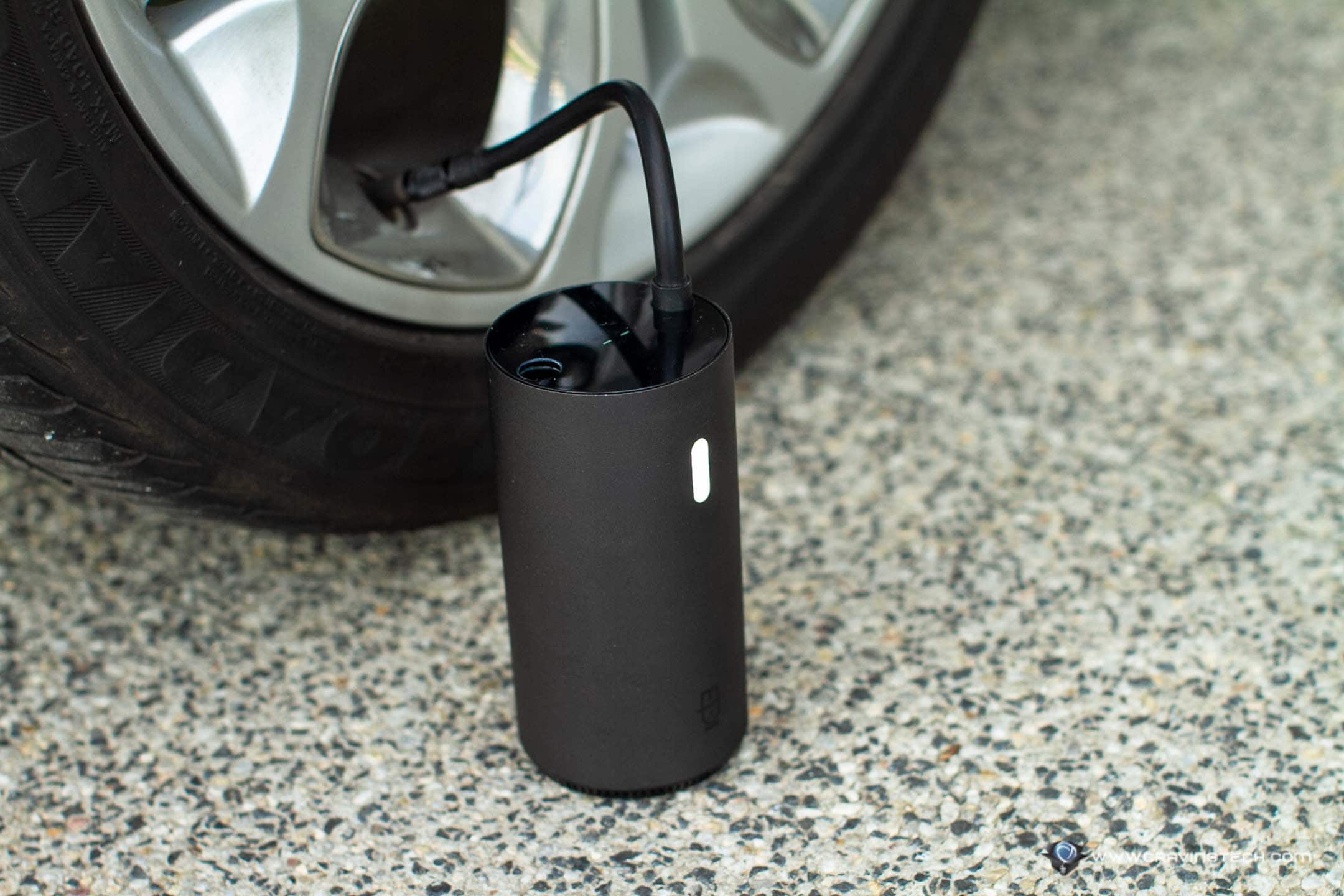 I love ROIDMI MOJIETU. Its portability and compact design means I can store it in the car and doesn't take much space at all. It's really easy to use and best of all, you can set it and just leave it. You can also chuck it into a backpack and you can really carry it anywhere with you to inflate sports balls or bikes.
Having the ROIDMI MOJIETU in the car means peace of mind because you can always inflate your tyres during a road trip, or when you don't have access to a near gas station. There was a time where the nearest gas station's air pump was broken when I had to inflate my car tyres and I had to drive far to try another gas station. At least with having the MOJIETU around, I can do it anywhere now.
I also own a Tesla Model X, so having to inflate my tyres was the only reason I still had to go to a gas station. Thanks to ROIDMI MOJIETU, I can now totally say goodbye to gas stations for good. I just wish that it has a longer cord so that it's easier to inflate the tyres without having to squat down or move my car back and forth. But hey, it's portability vs convenience.
ROIDMI MOJIETU is on Indiegogo at the moment and priced for US$54 or AU$76 for an early bird unit.
Disclosure: ROIDMI MOJIETU review sample was supplied for reviewing but all opinions are mine and not paid
ROIDMI MOJIETU Review
Summary
A handy, useful, portable, and rechargeable tyre inflator. Can be used for cars, bikes, balls, and other inflatable objects.
Pros
Portable & rechargeable
Multi-functional, not just for cars
Different nozzles attachment included
Has light functions for night time use on the side of the road
Good battery life
Auto stop
Short cord is great for portability and storage
Cons
Can't be used to deflate
Short cord is an annoyance for inflating cars regularly for maintenance