Plantronics RIG 500HD Review – Being able to play games while using the same headset to talk with someone on the phone was really cool, thanks to Plantronics RIG Gaming Headset (the product seems to be discontinued, though).
However, competitive gaming grows even more and more popular these days, and that is one of the reasons why Plantronics releases the new RIG 500 series gaming headsets.
The RIG 500 Series focuses on giving you the best tools and experience in gaming, but also high audio quality for music listening and movie watching in between with its 40mm drivers.
The RIG 500HD from Plantronics RIG 500 series is the one that I've been reviewing for the past 2 weeks (it has 7.1 Dolby Surround Sound through USB input, compared to the standard RIG 500).
Plantronics RIG 500HD Review – Packaging
 
RIG 500 Launch Official Trailer:
https://www.youtube.com/watch?v=XUgn-uFugrM
Plantronics RIG 500HD Review – Design & Features
The headset comes in an all-dark look and made up with two separate internal and external headbands. The internal headband is softer as it makes a direct contact with your head and the external headband has the sturdier plastic material.
The external headband can be dismantled so you can properly adjust the headband to your head size. They are not as flexible as a regular adjustment where you can simply slide up and down til you are happy with it, but I don't have a problem with the fit of RIG 500HD so far. Again, this is the external headband, not the internal where it touches your head.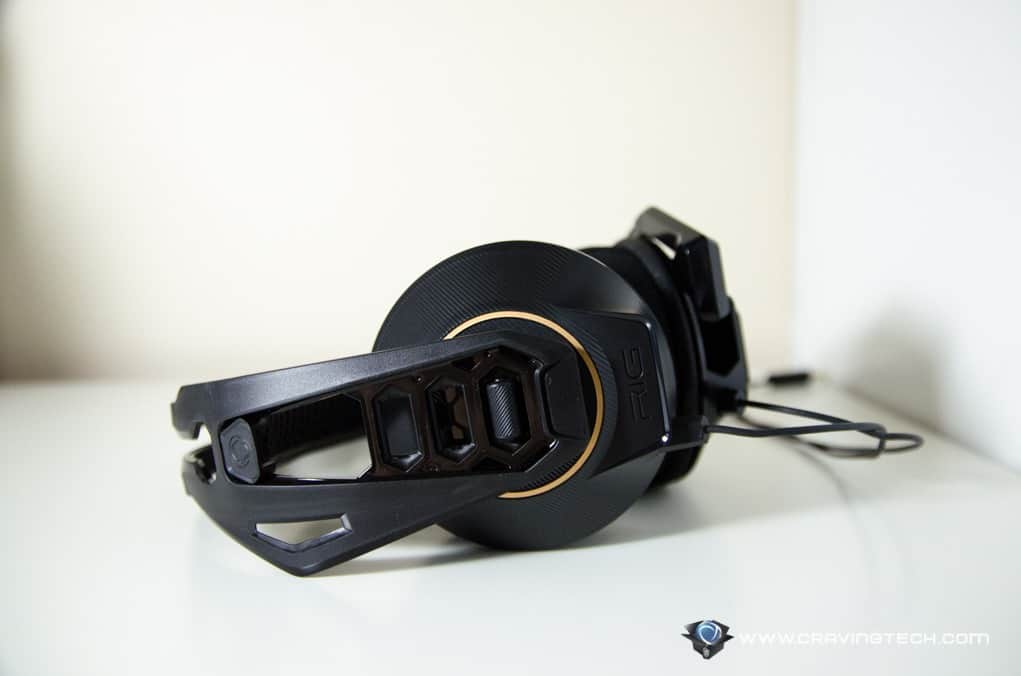 The internal headband itself is self-adjusting which provides a comfortable and perfect fit.
The memory ear cups are comfortable too and serves as good passive noise isolation, letting you focus on your game. They feel light and also gives plenty of breathing room for these Summer days in Australia.
Equipped with noise-cancelling and auto-mute, the RIG 500HD's microphone offers an excellent tool in gaming. My voice sounds crystal clear, which is really important when I was giving instructions to my team mates during crucial moments or when a decision needed to be made within seconds.
Flip the boom up to auto-mute, flip it down to enable the microphone. There is no button to press and it simply works. The microphone feels like it's way too far from the mouth, but in my experience, it still picks voice up really well (no need to shout).
But best of all, it doesn't seem to pick up my heavy-breathing. So yes, finally, no one can hear me breathing into the microphone and I don't have to cover it with my hand when I'm about to (I have a deviated septum problem on my nose so I do tend to breathe heavily).
Plantronics RIG 500HD Review – Experience
Thanks to the 7.1 Dolby Surround sound support via USB (which I can just plug my RIG 500HD if I want to play games with the headset and plug out if I want my speakers back), gaming is a blast with the RIG 500HD. When the 7.1 Dolby Surround sound is enabled, I can clearly tell the difference.
Sound feels as if they are coming from speakers in front of you than from a headset glued onto your ears. The feel is somewhat scary that I often had to take the headset off a bit to make sure that the sound did not actually come from my desktop speakers.
The audio positioning is also superb when I tested it with playing Left 4 Dead 2 – a game that relies heavily on audio positioning to be able to pinpoint your enemies in a split second when they spawn. Failure to do this, and your team can even get wiped out in an instant.
Thanks to RIG 500HD, I'm also able to accurately guess where they exactly are: behind a specific tree, or on the roof behind our team, or waiting at the corner behind the door in front of us. It feels like cheating but it's a legitimate way to win, so, why not?
Competitively, this feature itself is a win as you will be able to pinpoint where the enemies exactly are (from footsteps, or the sounds they make when they reload or doing certain actions) and that's a huge advantage.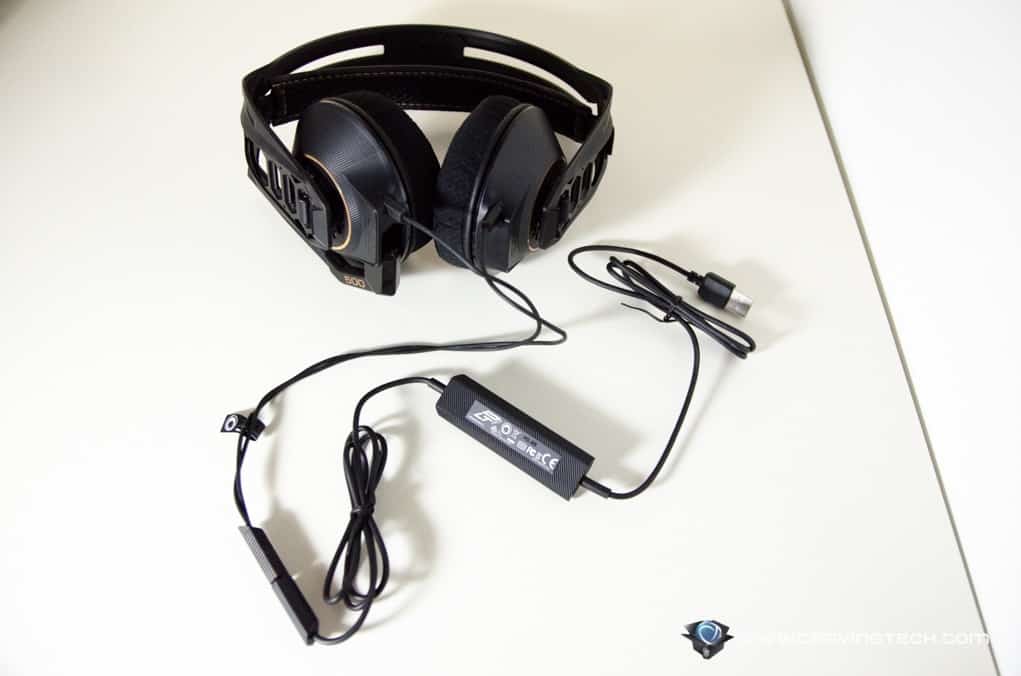 As for the sound, the RIG 500HD sounds great and clear, even for music listening or movie watching. I found that it was too well-balanced/flat at first, so I changed the equaliser to "Seismic" to have more Bass through Plantronics RIG 500 Audio Panel. With the "Seismic" settings, explosions rumbled in Star Wars Battlefront and weapon fire in all of my FPS games sounds more alive and menacing. But of course, you have the control to adjust these yourselves to your liking or when you are doing different activities with the headset.
All these greatness and joy only lacks one thing. Why oh why there is no volume control on this thing? There is none on the ear cups (like my SteelSeries H Wireless or my old Sennheiser PC 363D) and none on the Dolby surround sound inline control. Though I still have a way to control the volume with my keyboard, the design just feels lazy.
Plantronics RIG 500HD will work on a Mac, but it will be in Stereo (there will be no 7.1 support).
Plantronics RIG 500HD Review Conclusion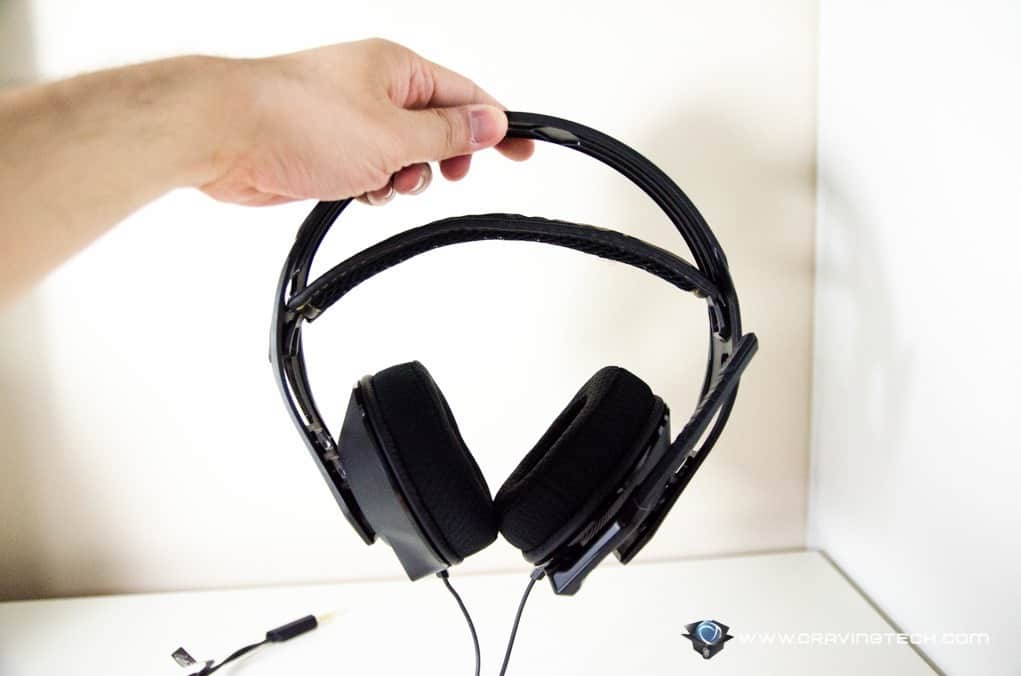 Plantronics RIG 500HD is an excellent gaming headset with high audio and microphone quality, and powered by the best audio positioning technology. It is also light on the head and comfortable to wear for hours of gaming. I played for 5 hours non-stop once without breaking a sweat (pun intended).
By being able to pinpoint the location of your enemies quickly and accurately, the RIG 500HD brings you closer to victory as you have more advantage from the opposing team (assuming they are not wearing a 7.1 headset as well).
Winning an FPS game is easier with Plantronics RIG 500HD (of course, your skill matters more + other peripherals like your gaming mouse) and it's definitely a gaming headset that you'd want to pick up for your next buy.
The only wish is that it should have a built-in volume control, but that's the only thing that's missing from this great, simplistic-look gaming headset (unless if you want backlighting or something fancier).
Disclosure: Review sample was sponsored for reviewing but all opinions are mine