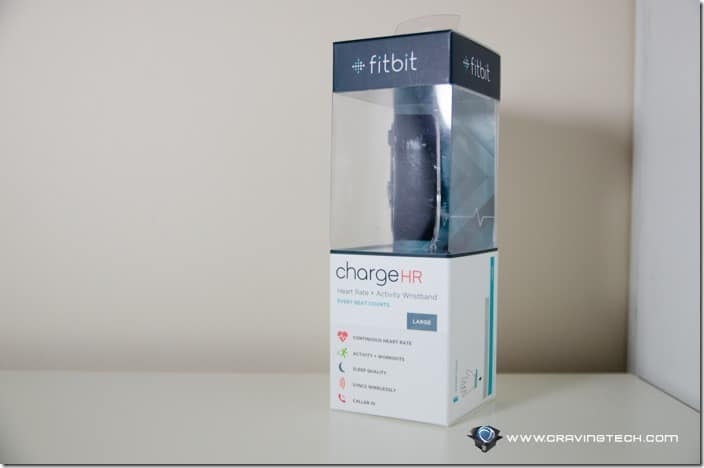 Fitbit ChargeHR Review – Fitbit activity wristbands are popular to those who want to stay fit and healthy. The last Fitbit I reviewed here at Craving Tech was the Fitbit Flex released last year. Three new Fitbit models are now ready on the shelves: Charge, ChargeHR, and Surge.
We'll be having a closer look at the Fitbit ChargeHR today, which is the review sample I have here from Fitbit.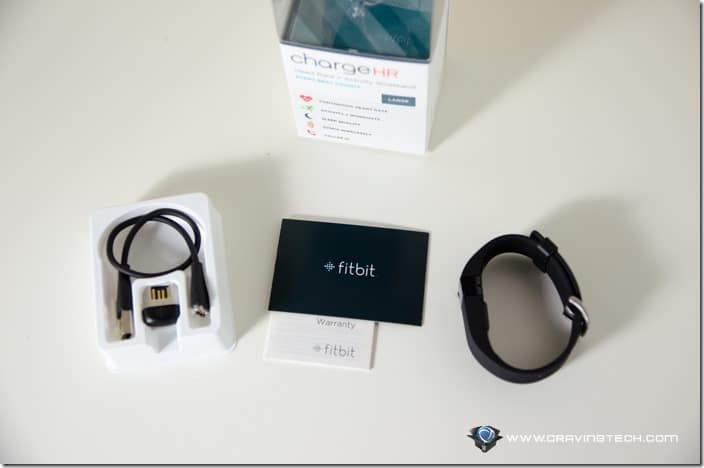 The "HR" stands for "HeartRate", in case you are wondering. This is because the Fitbit ChargeHR has a built-in heart rate sensor, to further analyse and track your activities and exercises.
Design wise, it borrows the same style as the other Fitbit models with tweaks and updates. Unlike the Flex, you cannot take the main unit out from the band (at least, not easily) and I feel that the Charge HR wrist band actually feels better on the skin. The fit is great and you can pretty much adjust it like wearing a regular watch. Once the ChargeHR is on my wrist, I can barely feel it throughout the week.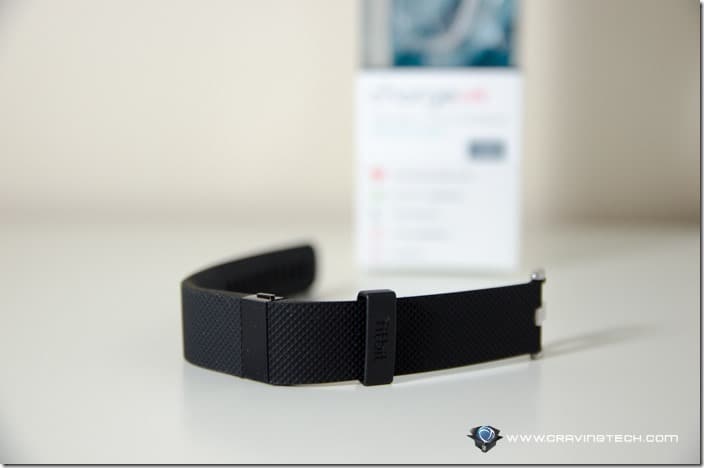 Fitbit ChargeHR itself is resistant to sweat and water (from rain and such), though you can't wear it on the shower or while swimming in the pool.
The heart rate monitor constantly tracks your heart rate (can also be turned off) without the need of a chest strap like the Magellan Echo.
When set to Auto, the heart rate monitor turns itself off automatically after some time if you take the ChargeHR off your wrist. You can monitor your current heart rate at all times through the Fitbit smartphone app, or directly on the ChargeHR OLED display.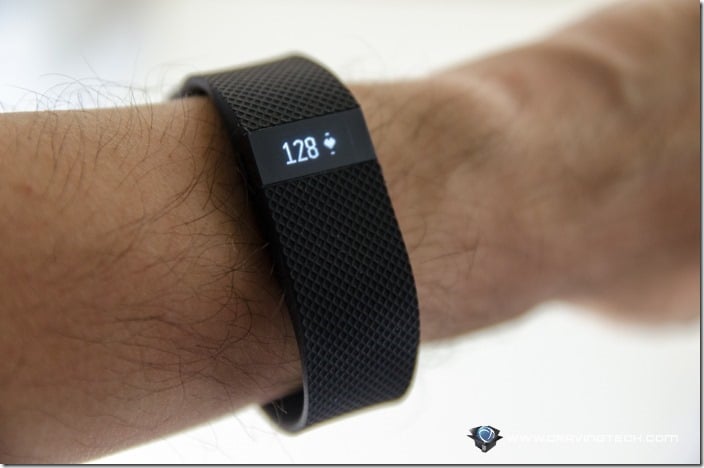 The OLED display is bright and clear, informing you of your daily activities such as the number of steps you've taken for the day, the distance you've traveled, number of floors climbed and more. You can cycle through these stats on the ChargeHR by pressing the main button a few times.
You'll also get notified when you've reached your daily goal (such as when you've walked 10,000 steps).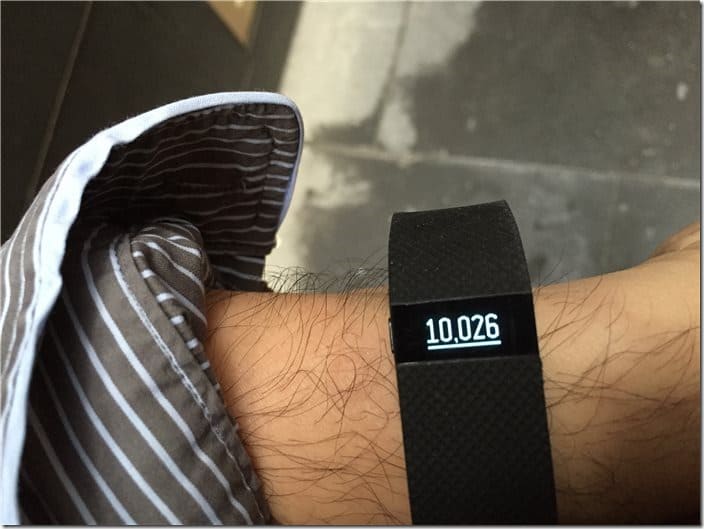 That same button is used to cycle through the different stats and also to go to "Exercise mode", which will track your routes, stats, and record your exercise. Every stat is accessible on the free Fitbit mobile app tied to your account:
The Fitbit ChrageHR can also act as a regular watch that tells you the current time and date. The clock face can be configured on your Fitbit account's page on the web or through the mobile app.
When someone calls you, Fitbit ChargeHR will display the caller ID on the display. You can't answer and talk through the ChargeHR, but you at least don't have to take your phone out to find out who's calling. During an exercise (or even when you are not), it's now easier to decide if the incoming call is important enough to answer.
You can also set a silent alarm like the Flex and it's one of the features I like on the ChargeHR. It's comfortable to be worn to bed and its silent alarm gently wakes you up peacefully with vibrations. Should you decide to ignore it, the alarm will auto snooze and wake you again around 7-9 minutes later. It seems that the ChargeHR knows when I'm still on my bed (probably if it doesn't detect steps or that I've gained some distance).
In fact, the Fitbit ChargeHR is smart. It knows when I sleep (and tracks how long + how well I sleep) so I don't have to manually set it like most wearables in the market. It also knows when I'm awake. Nifty. Even when I took a quick nap in the evening, Fitbit ChargeHR also knew and tracked it properly!
Stats are synced seamlessly online with the help of a USB dongle and to your phone (wireless).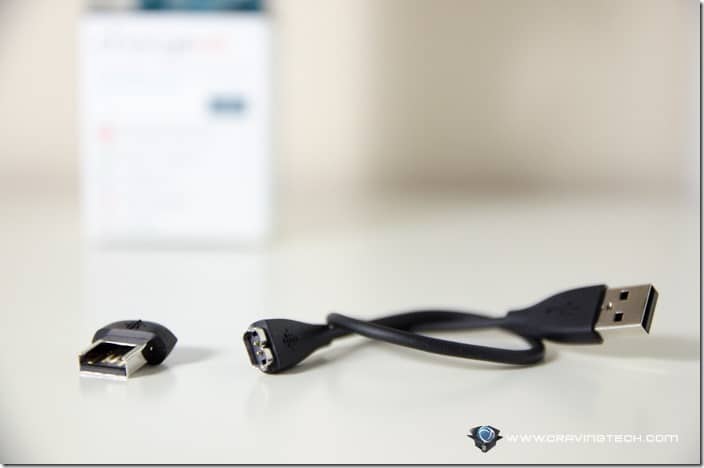 You can see and review everything on your Fitbit account and even share them to friends. These are lots of stats, so it may be overwhelming to casual users who don't really know what to do with the data, or what they should do to improve their exercise unless if they do their own research.
In my experience, though, some the stats are not 100% accurate. For example, my resting heart rate is often read around 7-10 bpm off the regular (I know this because the Jabra Sport Pulse and my EA Active Sports 2 heart rate sensors report a different heart rate). Sometimes, the sensor seems to be able to read more accurately during an exercise. It's probably caused by how I wear it on the wrist – as the guide advises you to place it differently when idling and exercising. Sometimes the sleeping detection is a bit off too, such as waking up in the middle of the night yet the ChargeHR still thought that I was sleeping like a baby.
The OLED display is also somewhat prone to minor scratches as you can see here (I placed it inside my jeans pocket with keys and coins for a couple of hours):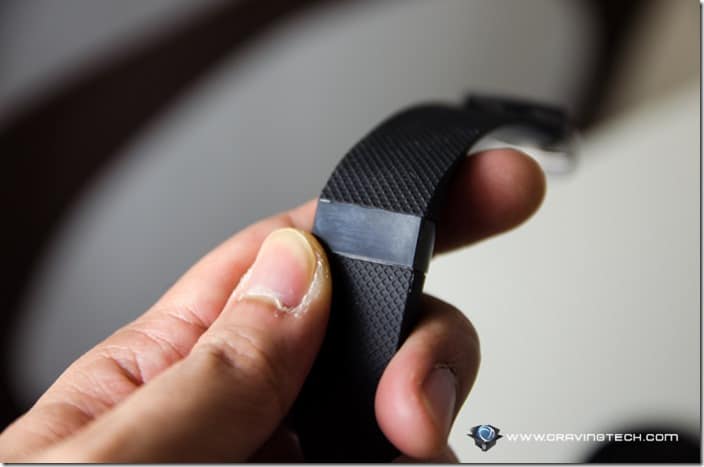 Fitbit ChargeHR Review Conclusion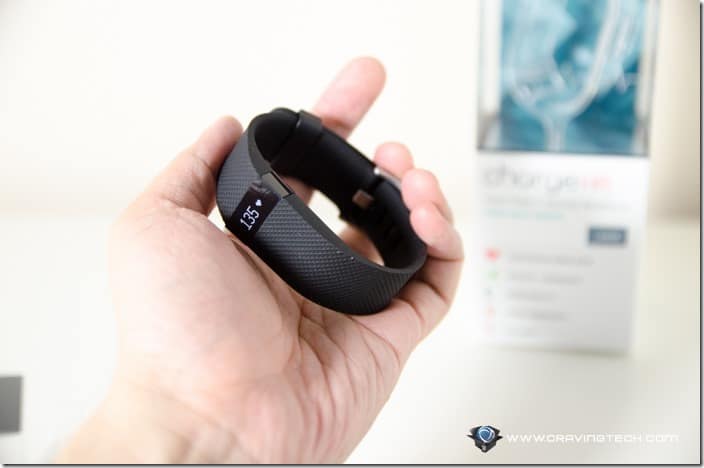 Overall, Fitbit itself does not make you healthy. It motivates you to be healthy. By tracking your activities daily and even the qualities of your sleep, you can adjust to ensure that you have enough exercise and a healthy lifestyle. The continuous heart rate tracking helps you to check how optimal your current exercise is and how you need to boost your heart's health through the different heart rate zones.
Fitbit now can also tell you the time and incoming calls, which is great because there are now more reasons to wear a Fitbit all day. The higher model, Fitbit Surge can even notify you of other notifications.
Fitbit ChargeHR is a worthy upgrade if you are a fan of Fitbit products in the past. However, you do need to do a research on how to improve your health through monitoring your heart rate during an exercise. Or else, it will just be sitting on your wrist, wasted.
Disclosure: Sample was sponsored for the review but all opinions are mine
[AMAZONPRODUCTS asin="B00N2BW2PK"]