Note: Giveaway details at the bottom of this post
Magellan Echo is not a full blown smartwatch like the Samsung GALAXY Gear, so you won't be able to see text notifications from your phone or to make calls from it. However, as a fitness watch, the Echo brings power and convenient to your workouts and sports.
Normally when you jog, you'd have to take your smartphone out of your pocket (or from an armband) to run and interact with a sports app. Or to change your music if you are on a wired headset. With Echo, however, all you need to do is press a button or two without having to reach for your phone, ever.
Official Video
Packaging
You can purchase the Echo with or without the Heart Rate Monitor, which is handy to keep track of your heartbeat during a workout. It's easy to strap and also to sync with the apps that support it.
Design & Features
The Echo is rubberised, which makes it water resistant (so you don't need to worry about the weather or if you need to wash your hands during a workout) and also sweat resistant. The watch fits nicely and as tight as you want it to be on the wrist, thanks to the strap design. When the watch is not on your wrist, it can "sit" rather nicely on a desk, adding an aesthetic value to your room.
The Magellan Echo is powered by a replaceable cell battery like most regular watches. This way, it eliminates the chore of having to recharge your smartwatch on a daily basis. The Echo also turns its screen off if it has been idle (not moving) for a period of time to save battery. When the time comes to replace its battery, you can just grab a new battery on eBay (or Chemist), use a screwdriver, and replace the battery on your own easily. According to Magellan's FAQ, the battery should last about 6 months while using activity mode for about an hour per day.
On itself, the Echo can't do much apart from displaying day, date, and time. However, pair it with your smartphone such as my iPhone 5s (or an iPad, even) and it becomes a powerful sportswatch, tailored to the app you are using. The app, of course, needs to support the Echo directly. Here are the list of Magellan Echo's currently supported apps. The display (and what the buttons do) will change depending on the customisations you set on an app.
Pairing the watch with an app involves pressing the top left button to pair Echo with the app (Bluetooth must be turned on too).
Workout Experience
The Echo itself does not have a GPS, so it relies heavily on your phone to crunch the data.
Activity – Walking
Tested App: MapMyWalk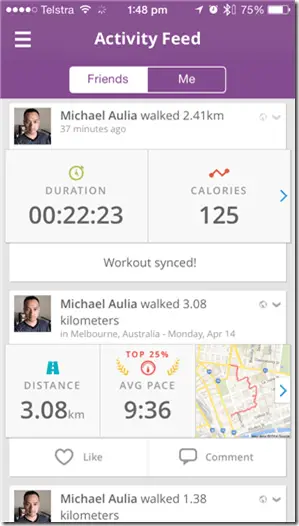 I walk. A lot. If you want to achieve that 10,000 steps a day, you may already have an application installed on your iPhone to track that. With the MapMyWalk app, however, you can interact through Echo once you have it paired. For example, you can simply press a button on Echo to pause and resume your workout easily. This also gives you an option to accurately track how long you've been walking so far (since you can easily pause the workout while you stop to get a cup of coffee, ).
Pairing is easy but it seems that I always need to unpair and pair the Echo again every time I want to use it. This doesn't happen with the other apps such as Wahoo Fitness, which is my next point to talk about.
Activity – Running
Tested App: Wahoo Fitness
There are more screen customisations on Wahoo Fitness but I was happy enough with the default. It displays how long you've been running and the distance you've covered. At any time, I can pause and resume my workout with the press of a button. I can also go to the next page/screen on the watch to check for other information. If you are wearing the Heart Rate Monitor around your chest, you can even see how fast your heart beats here too.
Some useful formulas from my Physio:
220 – your age = maximum heart rate (there is no point exercising where your heart rate goes over this limit. It may also damage the heart in a sense)
For cardio, reaching 80-85% of your maximum heart rate is optimal. Thanks to the sensor from Magellan, you can track this easily and exercise optimally!
If you listen to music while you jog, you can set the other buttons to control your music, such as playing/pausing it or going for the next track.
Magellan Echo Review Conclusion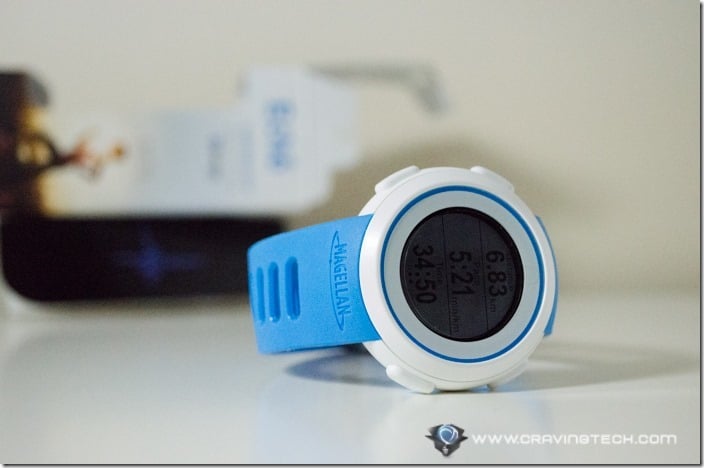 If you workout on a daily basis, such as walking or running, you will love Echo. Those are not the only things that Echo can support, however. You can sync and use Echo to help you when you are cycling, hiking, golfing, and even gymming (using the Map My Fitness app to keep track of your reps, etc). Obviously, there are more potentials to be unlocked, so we'll leave the job to fitness app developers. When you are not working out, Echo also serves quite well as a casual watch.
At the moment, unfortunately, Echo only supports iOS devices but Android support is coming soon.
Magellan Echo Watch Giveaway
So here it is! Fired up to have an Echo for your own? Thanks to Magellan, Craving Tech has been sponsored a Magellan Echo (Black color, without the Heart Rate Monitor) to be given away! In order to win this lovely watch, all you have to do is to answer this simple question:
What feature do you like most on the Echo? Why?
The best answer will win the Magellan Echo. YOU MUST ANSWER IT USING THE WIDGET BELOW, NOT ON THE COMMENTS SECTION. I will use the widget to get your email address so I can contact you when you win. I will not use the email address for anything else.
Though not a requirement for this contest, feel free to like Craving Tech's fan page on Facebook for future updates.
Terms and Conditions
Eligibility: Australia ONLY (those with an Australian address to ship the prize to).
Giveaway period starts on 29/04/2014 9 AM and ends on 29/05/2014 8:59 AM.
Use this widget to participate in the contest with your answer: