Edifier TWS6 Review – After the success of Edifier TWS5 last year, Edifier has updated its True Wireless Earbuds model to TWS6.
Edifier TWS6 offers a natural, balanced sound with up to 8 hours of battery, a charging case that can also be charged wirelessly (which is kind of awesome, really), and also IPX5 Waterproof and Sweatproof. It definitely has a sweet resemblance to the previous model, but with upgraded internals.
Packaging & Unboxing
Edifier has decided to include a variety of earbuds (memory foam, silica gel, and ear wings) and from different sizes here so you can get the perfect fit on the ears. And it's important to get the right fit so you can get the best sounding experience and also the best passive noise isolation possible.
Design & Features
Edifier TWS6 earbuds can go straight into your ears without any ear hooks, and they do stay there when you get the right ear buds size. There are some ear wingtips included if you do a lot of sport and need a more secure fit while moving more rigorously.
While the earbuds themselves are compact, the case is definitely not the smallest in the market. Edifier TWS5 definitely has a slightly more compact case, however, the new TWS6 does support wireless charging. Thankfully, the case is not that wide in dimension so you can still put it deep in the pockets with ease. In fact, the thickness has actually been reduced compared to the TWS5. Now, if you compare that to the Beats Powerbeats Pro, TWS6 case is much smaller and lighter.
I certainly have no issues using my EFM wireless charging pad and Totallee wireless charger to charge the Edifier TWS6 case (and the earbuds inside). If you don't have a Qi wireless charging pad, don't worry because you can still do it the traditional way via a USB charging cable (USB Type-C). It's just much more convenient to be able to place the case straight on a charging pad after use.
Note that there is only one side that can be used to charge though, so you can't just randomly place any part of the case on the charging pad to work.
Controls can be done by double tapping one of the earbuds to answer a call or play/pause a music, for example, However, it is quite limited as there is no way to change volume or even skipping a track without using your voice assistant.
Sound wise, the TWS6 sounds really good and clear in quality. It really has a nice audio separation as I can hear different instruments playing all over my ears. The bass is punchy though feel a bit muddy. Thanks to the passive noise isolation, I can completely immerse in the music and barely can hear anything else.
I've used the TWS6 daily for making calls and virtual meet-ups with my friends. The sound is clear both ways, but I did notice my listener complaining when I was outside and it was really windy.
Edifier TWS6 Review Conclusion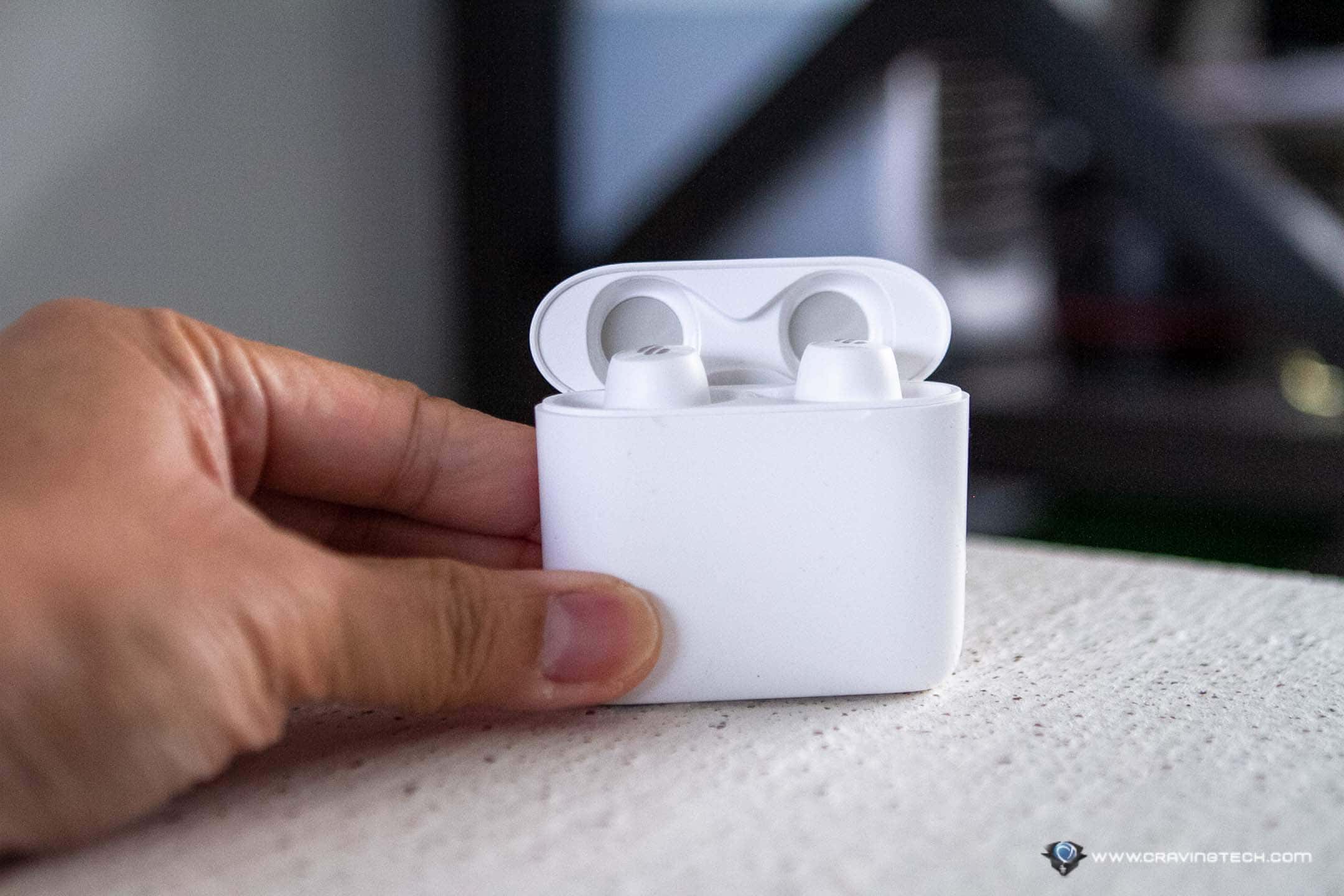 Edifier TWS6 is another solid wireless earbuds from Edifier. The sound quality is bright, clear, and there's also the punchy bass to motivate you during your exercise. While the bass can feel muddy and the mid is not as bright, it has a really nice sound overall especially on the vocal side.
The audio separation/wide soundstage is probably the one that I'm amazed most about the TWS6. When listening to music with different instruments playing at different times, listening becomes a joy. Combined that with the included charging case that can be charged on a Qi wireless charging pad, it's a great earphones to grab overall. I'm not sure if it's worth an upgrade if you already have the TWS5, however.
Edifier TWS6 can be purchased at Edifier website for A$149.95.
Disclosure: Edifier TWS6 review sample was supplied for reviewing but all opinions are mine and not paid
Edifier TWS6 Review
Summary
True wireless earphones from Edifier with good sound quality and a handy, compact, charging case
Pros
Good sound quality & clarity
Compact to carry
Charging case can be charged wirelessly on a Qi-charging pad
Great noise isolation
Great audio/instruments separation
Plenty of eartips options
Cons
Not enough controls on the earphones
Not as balanced as I thought it'd be? (geared a bit towards on the lower frequencies)