CORSAIR DARK CORE RGB PRO Review – CORSAIR's latest wireless gaming mouse, the DARK CORE RGB PRO features a new hyper-polling technology up to 2,000Hz. A mouse polling rate is the number of times it reports its position to the computer and while a wireless gaming mouse traditionally only supports up to 1,000Hz polling rate, CORSAIR has decided to go further this time.
Combined with 1ms SLIPSTREAM WIRELESS technology, their new wireless gaming mouse is definitely superior for competitive use online without the lag.
Packaging
Unboxing
Design & Features
CORSAIR DARK CORE RGB PRO is designed for right handed gamers and if you are, you will appreciate the contour of the mouse and even the texture on some parts for better, firmer grip.
The palm and right thumb area for example, are definitely non-slippery, thanks to the rubberised texture. The side grip can also be changed to your liking if you are not a fan of that textured surface feel. I personally love it as I can grip the mouse better.
With a numerous amount of buttons to set and press, CORSAIR DARK CORE RGB PRO offers plenty of macros and possible shortcuts that you can assign on these buttons. Through their software, iCUE, you can set a profile that automatically triggers when you play a certain game through its executable.
I find the automatic profile switching really helpful because I like to switch between the game I'm playing and my desktop consistently, and the software changes my DPI accurately from 1,800 (while in-game) and 800 (for desktop mode).
The mouse itself is actually on the heavier side as it weighs 133 grams without cables and accessories. Since I've been reviewing under-100-grams-gaming-mouse for the past few months, it was a bit challenging at first to get used to the weight. However, the weight does make the mouse feel sturdier to glide on the mouse mat and if you are a palm grip gamer, you'll definitely love it. I'm a claw grip gamer but I find that I already get used to the mouse after a day or two playing with it. But if you are gaming with a very low DPI and like to do a lift-and-swipe motion with the mouse (plus, you are skinny or non-muscley type), it might be a bit challenging.
If you look at the product page carefully though, CORSAIR does suggest that the mouse is designed for palm grip gamers, who definitely would prefer heavier, sturdier mouse.
The mouse also supports Bluetooth (can be switched using the toggle button at the bottom of the mouse) and has up to 16 hours of battery life with standard lighting or 36 hours with lighting off on wireless mode, OR 18 hours of battery life with standard lighting or 50 hours with the lighting off on Bluetooth. If you ever run out of battery, the mouse can also be used wired – while it's charging the mouse away. You can have an option to see the battery status indicator on Windows taskbar, so the low battery should never taken you by surprise.
I used to have problems with CORSAIR gaming mice and iCUE. At times while playing Overwatch, the mouse would lower the DPI step every now and then which was quite frustrating. It happened on this mouse too, but apparently it could be fixed by setting up a new profile that monitors Overwatch.exe and setting the DPI stage down to something else like Sniper. But to be honest, iCUE is not the most user friendly software compared to Razer and SteelSeries. But it does seem to have more advanced macros and customisability.
Gaming Experience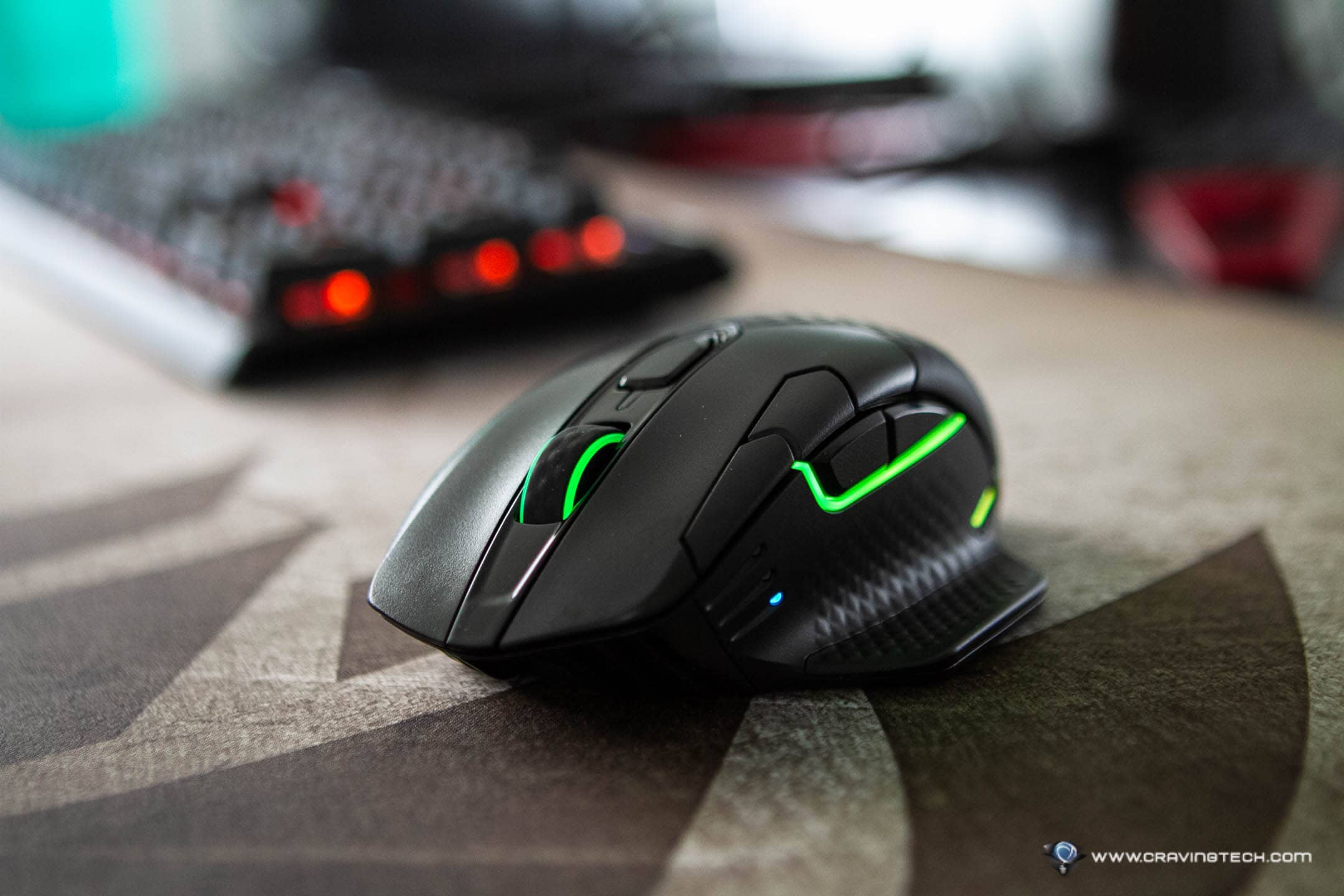 CORSAIR DARK CORE RGB PRO mouse uses the PAW3392 optical sensor and I can vouch for its accuracy and performance. Playing Overwatch competitively with the mouse was a breeze, both in wired and wireless mode. The sensor could always keep up even when I had to flick my shot from left to right and I never had any frustrating moment to blame on the mouse.
Here are some Play of the Game clips from Overwatch, using the CORSAIR DARK CORE RGB PRO mouse:
CORSAIR DARK CORE RGB PRO Wireless Gaming Mouse Review Conclusion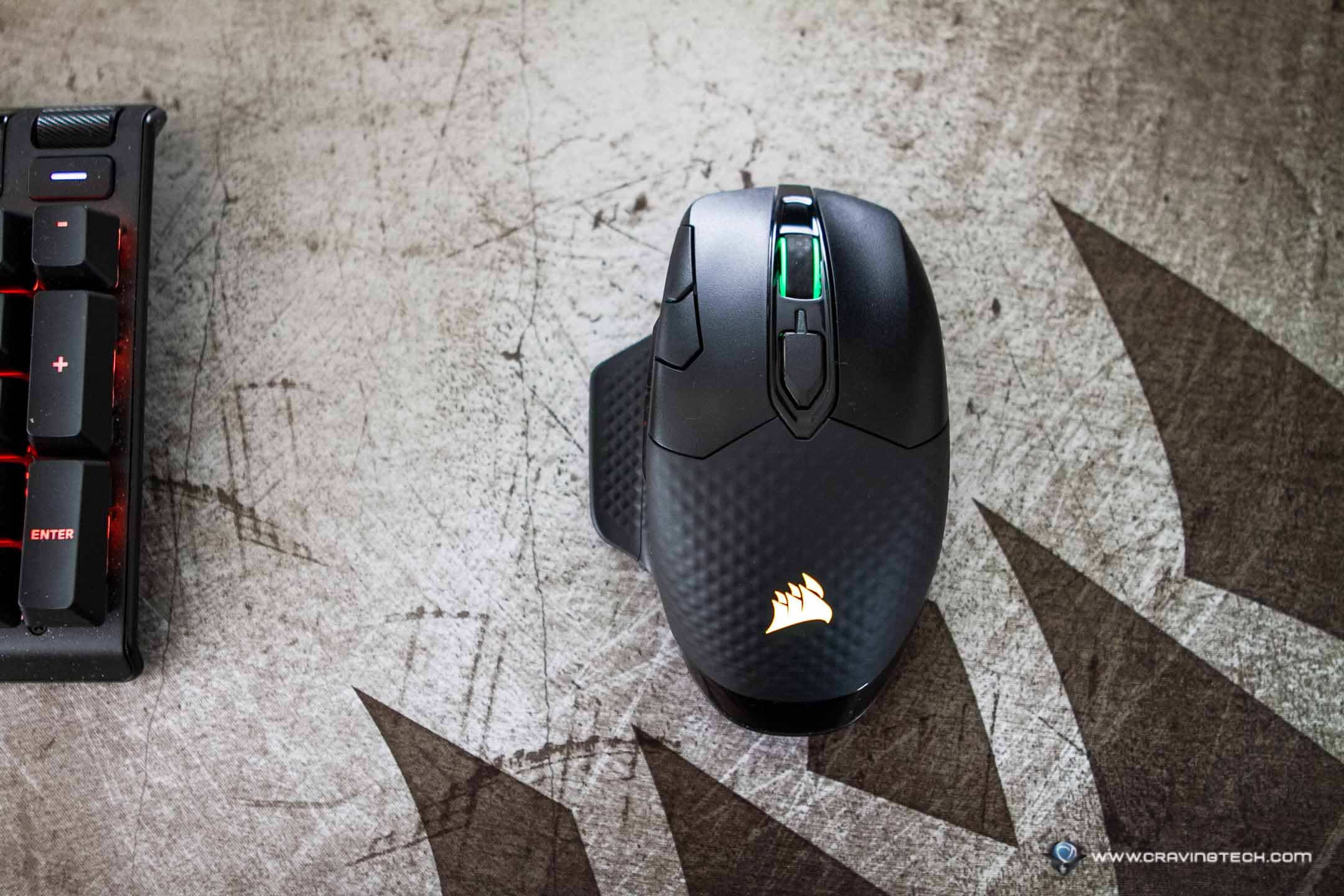 Palm grip gamers who are looking to get a fast, responsive wireless gaming mouse with good amount of battery life and good grip should look no further. CORSAIR DARK CORE RGB PRO has up to 2,000Hz polling rate with 1ms wireless speed, which should take your competitive gaming to the next level without the pesky cable holding you back.
CORSAIR DARK CORE RGB PRO retails at A$139 and available now at many retailers around Australia.
Disclosure: CORSAIR DARK CORE RGB PRO mouse review sample was supplied for reviewing but all opinions are mine and not paid
CORSAIR DARK CORE RGB Review
Summary
A 2,000Hz polling rate wireless gaming mouse with 1ms wireless speed for palm grip gamers. 
Pros
Fast, responsive wireless 
Great battery life
Also supports Bluetooth, rarely found in a gaming mouse
Ergonomics, great grip
Cons
Not much of a fan of iCUE software
Does 2,000Hz polling rate really matter?
Best use for palm grip gamers