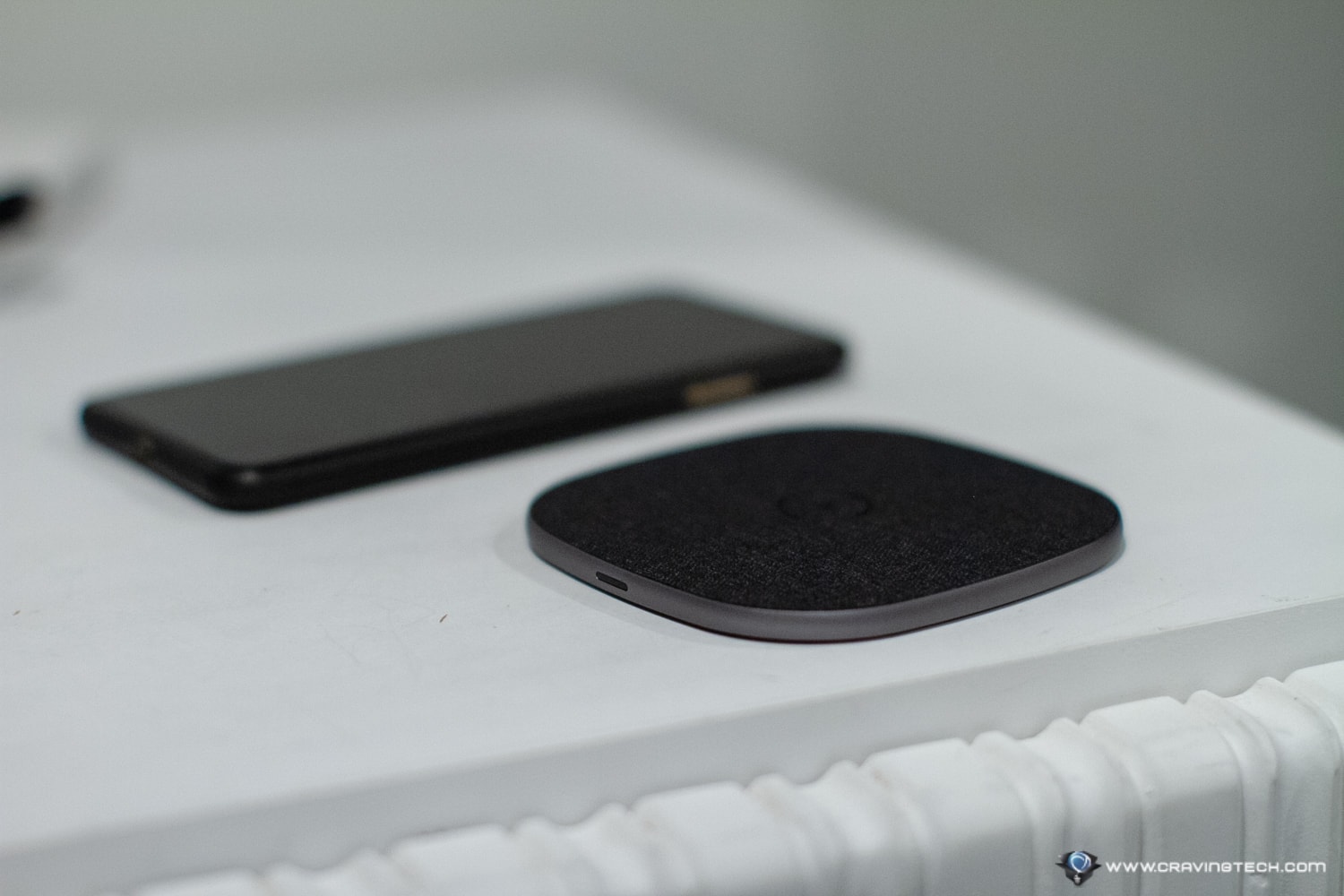 Totallee Wireless Charger Review – Totallee make thin and minimalist cases such as these Totallee cases for iPhone XS Max and iPhone X, offering protection to your phones with elegance.
And now, their wireless charging pad is out, offering the same minimalistic and elegant approach to phone accessories. Totallee Wireless Charger is very clean looking and will fit perfectly on any stylish, modern home.
It works with all phones supporting wireless charging, which includes the new Apple iPhone 11/11 Pro/11 Pro Max.
Its 0.25″ slim design is much cleaner than some wireless chargers in the market like the Belkin's. It's also very light that you can easily slip this into your bag or backpack for travelling.
There is a rubbery circle surface on the back of the wireless charging pad, to make sure it lies steadily on the table. Even when my phone vibrates, the phone stays on the pad. The top of the pad has a fabric material which feels soft to prevent scratches on your phone.
Totallee Wireless Charger supports 10W fast charging, but requires a QC 2.0/3.0 adapter which unfortunately is not included in the packaging. What you get is a microUSB cable that I wish can be longer (it's one metre long) that you can plug to a computer or USB powerboard.
I usually place my smartphone on the pad to charge over night, so I don't really care much about fast charging in a sense. It's more about convenience and Totallee Wireless Charger also has overheating & short-circuiting protection for safety purposes.
There is a small LED light to indicate whether you are charging successfully. It will also blink if you don't place the phone correctly.
Totallee Wireless Charger Review
Totallee Wireless Charger is slim, minimalist, lightweight, and supports fast wireless charging (though requires getting an adapter that is not included in the packaging).
As a wireless charging pad, it excels in offering convenience and security to charging your smartphone. Totallee Wireless Charger is definitely my most favourite wireless charger now thanks to its good looking and stylish design.
It can be purchased at Totallee website for $49.
Disclosure: Totallee Wireless Charger review sample was supplied for reviewing but all opinions are mine and not paid
Totallee Wireless Charger Review