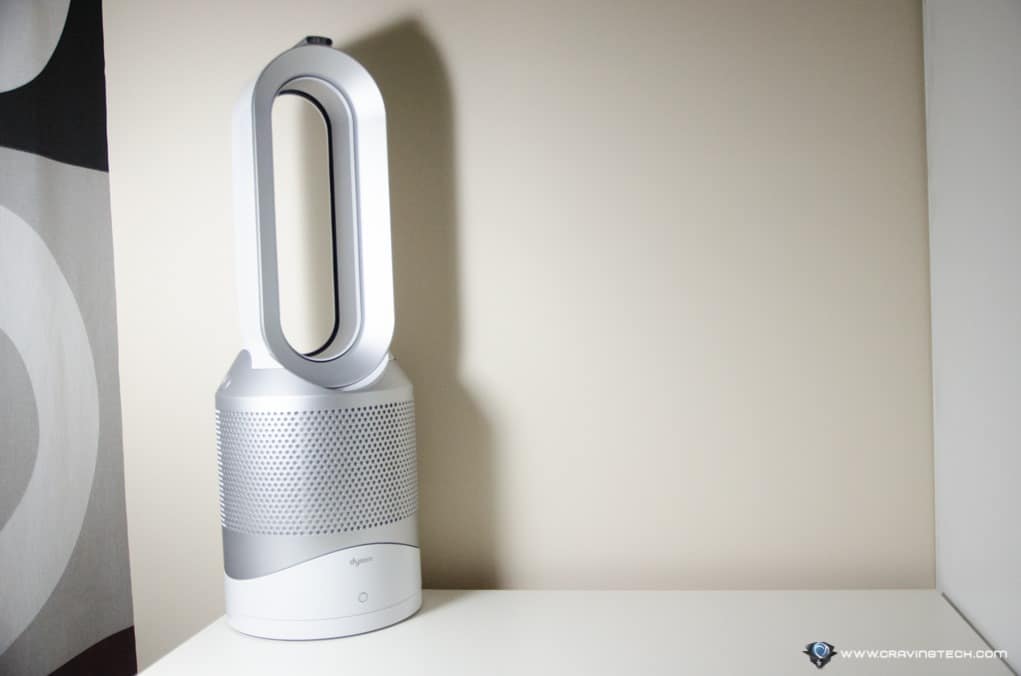 Dyson Pure Hot+Cool Link Purifier Review – I still remember having my first air purifier years ago. It was huge and bulky. It also didn't do anything else except sucking air and (I assumed) filtering and purifying the air around me. I'm allergic to home pollutant like dust, dust mites, and pollen so the machine was supposed to help me in that area.
That is why I got really excited when I saw Dyson releasing the all new Air Purifiers range. Not only that, its latest Pure Hot+Cool Link Air Purifier can both be used to cool and heat the room like the Dyson Hot+Cool unit I reviewed last year, though its size is more similar to the Dyson Humidifier.
This is an Air Multiplier product through and through. It utilises Dyson's bladeless fan and aerodynamics that deliver powerful flow of air, first introduced in their original Dyson fan I reviewed back in 2010.
Thanks to the huge Dyson 360° Glass HEPA filter inside the unit, 99.95% fine particles in the room such as pollutants and allergens can be trapped. The unit will suck the air around it and what you get in return, is purified air being circulated back. The air is drawn from all angles, so technically, you can place the Hot+Cool Link anywhere in the room and still benefit from it. I'm not an airflow expert so I'm not too sure how far can it draw the air in. For example, if I place the unit in a corner of a room, can it purify the air on the other far end corner? How long will it take for the air to circulate?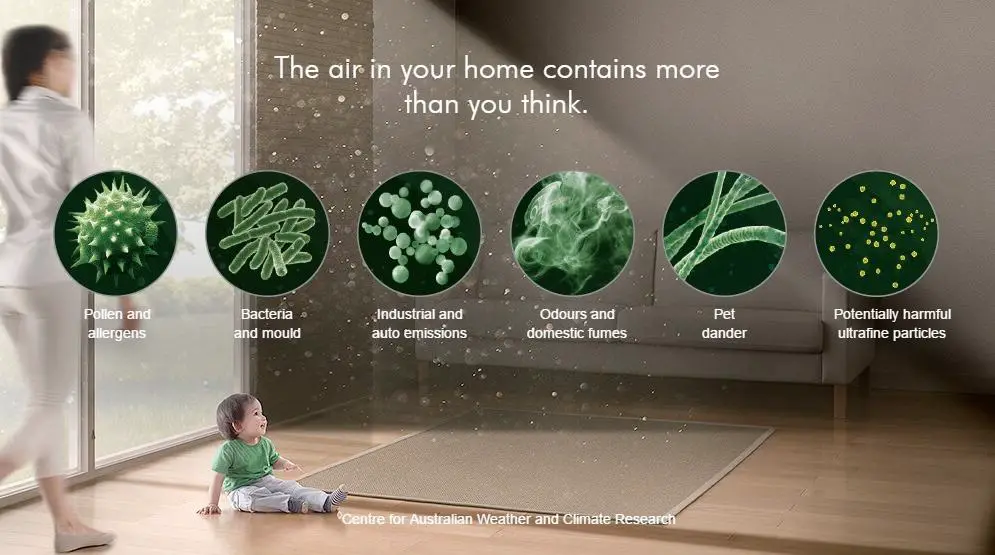 This is the Dyson Cool Link official video (the Hot + Cool Link adds heating function to the unit):
https://www.youtube.com/watch?v=SYBp0NCeswo
If you want to know the details about how the Hot+Cool Link purifies air with the Dyson 360° Glass HEPA filter, feel fee to visit their dedicated page for it. The filter is replaceable and recommended to be replaced within 4,300 hours (or around 12 month assuming you use it 12 hours a day, according to Dyson).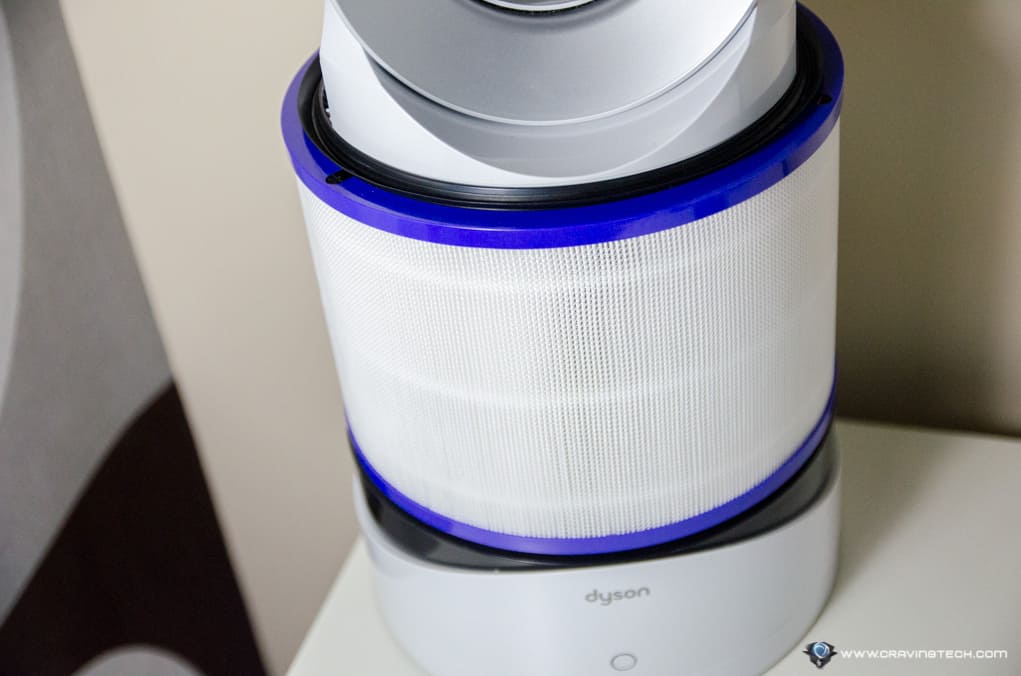 It's an extra investment having to replace the filter every now and then, but thankfully you don't have to do it regularly. You can buy the replacement filter at Dyson website and more info will be added later with pricing and how.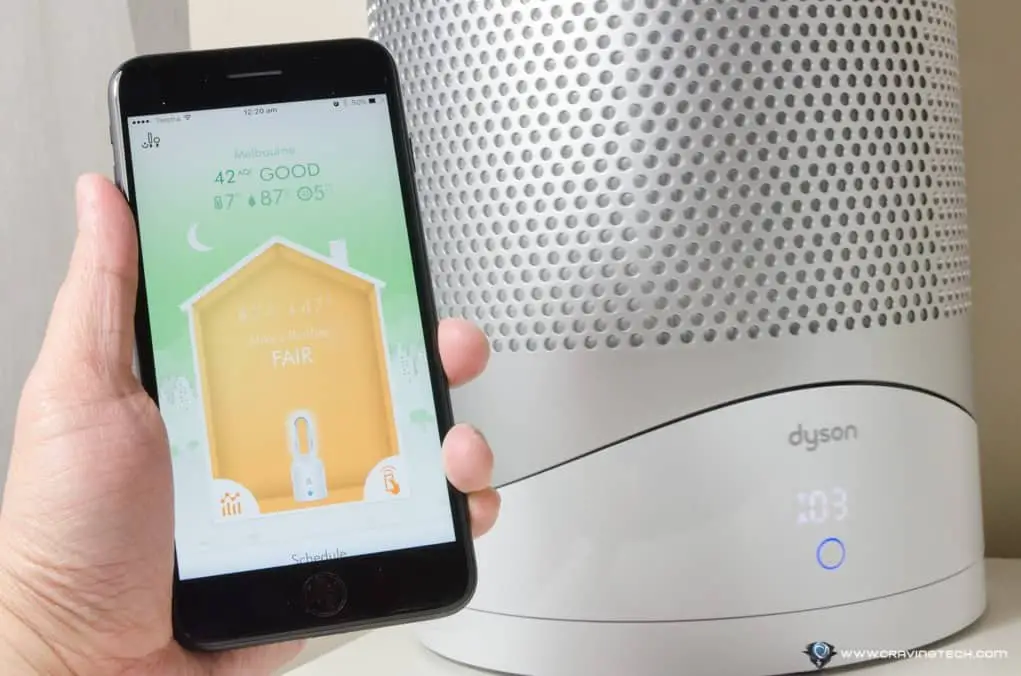 Dyson Pure Hot+Cool Link needs to be connected to your home's Wi-Fi and that is because you can now use an app to control your Dyson unit – which is really cool. The app also shows the outdoor and indoor air quality, among other stats:
You type in the area where you live (for the outdoor air quality)
The unit uses its built-in sensor to identify the air quality in the room it's in (indoor air quality)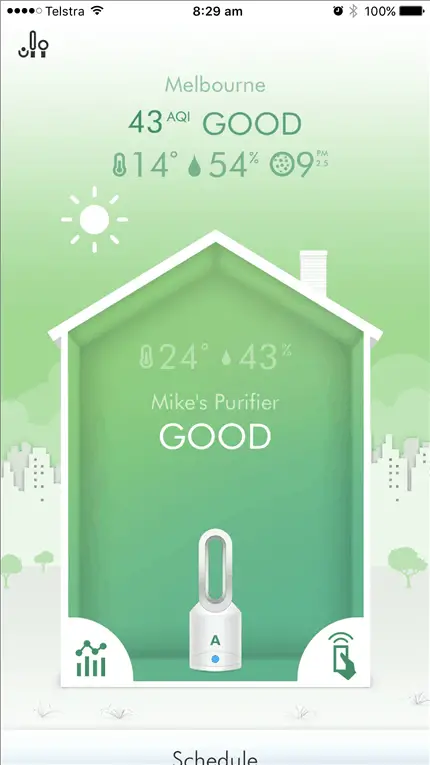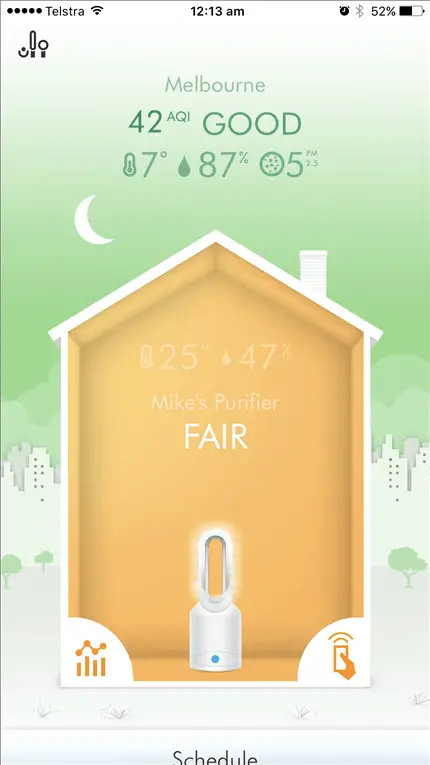 I did some, ahem, tests to see if the active carbon layer in the sensor can actually detect smells as Dyson claims it to be (using body spray/deodorant, opening my windows up, and some other.. non-conventional tests). In short, yes, the sensor can somehow detect the change in the air (i.e smell) and react swiftly.
I just farted and this is what my #Dyson Purifier thought of the air quality in the room pic.twitter.com/uUxOktBgJb

— Michael Aulia ?? (@michaelaulia) October 19, 2016
You can set the Dyson Pure Hot+Cool Link to Auto mode which makes the unit runs continuously (in either fan or heating mode – according to your current setting) until the sensor detects an all-good air quality. It will adjust the strength of the airflow automatically: going strong when the air quality is poor and lower it down when air quality is improving. It's pretty neat.
In a sense, you can always make the unit run 24 hours a day, automatically purifying the air in your room even when you are away. It automatically goes to standby mode after the air quality turns to "Good" (can be seen from the "A" symbol on the unit).
Like other recent Dyson fans and heaters, you can set a timer (handy to heat the room at a certain temperature while you are sleeping), change the airflow (personal to diffuse), and use the remote which can be magnetically attached to the top of the unit. Dyson Pure Hot+Cool Link, however, also has the night mode to keep maintaining air quality with lowered airflow settings and a dimmed display. It cannot sense the time however, so you have to switch it on manually.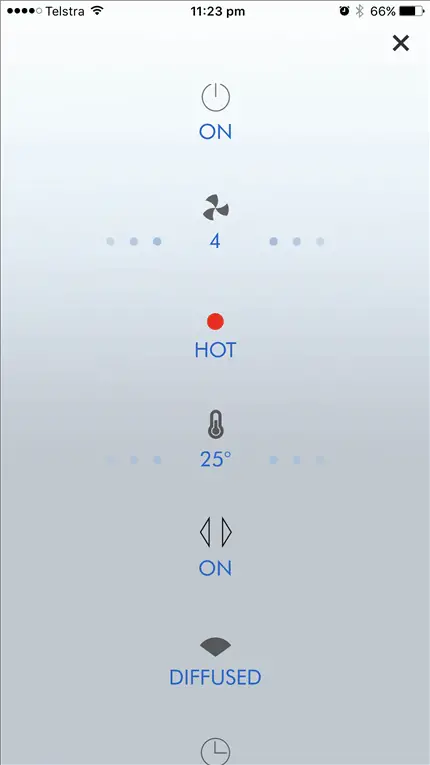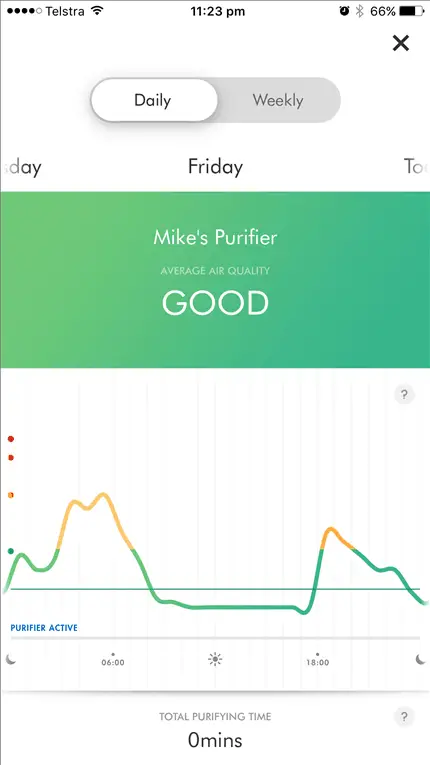 I don't have a noise scanner but it feels like the machine is not as quiet as the Dyson Hot+Cool on the same airflow strength setting. Thankfully, I'm a good sleeper so noise never bothers me too much.
Dyson Pure Hot+Cool Link Review Conclusion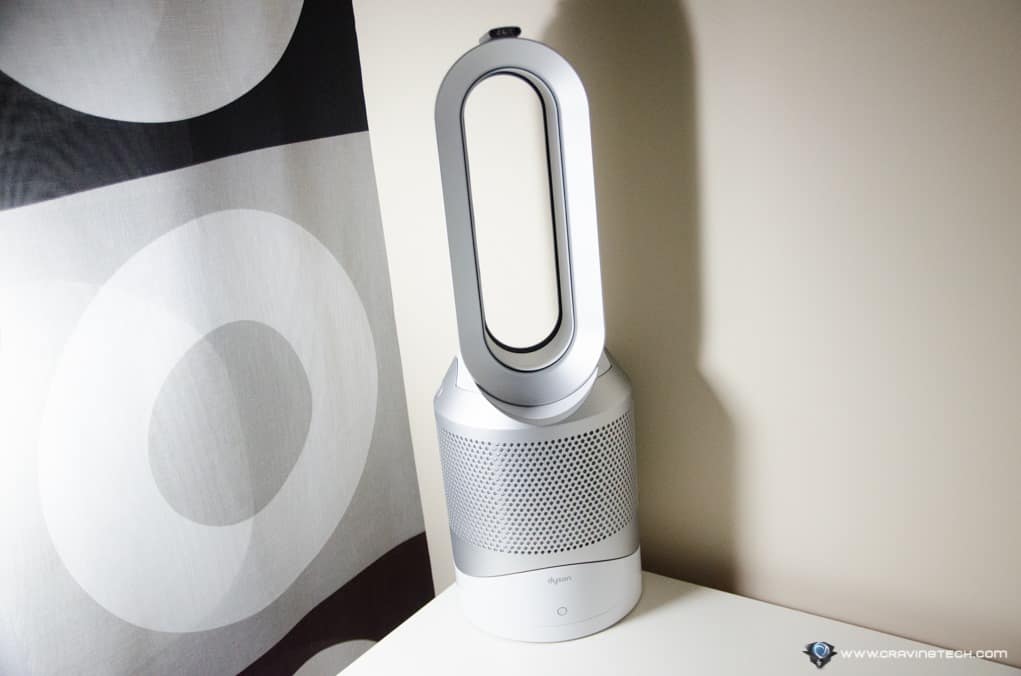 Dyson Pure Hot+Cool Link Air Purifier is a fan, a heater, and an air purifier in one and it does them all magnificently. It's a well-made intelligent machine, designed solely to give you comfort and improve your health by purifying the air around you in the best way possible.
Remote support through a smartphone app means that you can choose to heat your room up while you are on your way back home. Being able to control the Hot+Cool Link straight from the app is also godsend. I no longer use its remote and happy to do it from my iPhone 7 Plus while I'm lying on bed, or somewhere else.
The idea of having to replace the filter may not go well to some, but if you really care about your health, this is the only way to go. Besides, the filter can last more than a year assuming you don't turn it on 12 hours a day. It's unclear at this stage how much will it cost (as there is no information on this yet) or when can you start ordering one in Australia through the Dyson Pure Hot+Cool Link Filter replacement page. Will update my review as the info comes along in the future.
Overall, this is another great breakthrough in technology by Dyson, especially in the air purifying industry. Rather than having a gigantic machine taking up 1/4 of your room, you now have a compact machine that does not just filter and purify air, but also provides cooling and heating to your room at the same time. It's like buying 3 machines in one that does all jobs really well and intelligently.
Disclosure: Sample was supplied for reviewing but all opinions are mine and not paid
[AMAZONPRODUCTS asin="B01IBRTN88″]