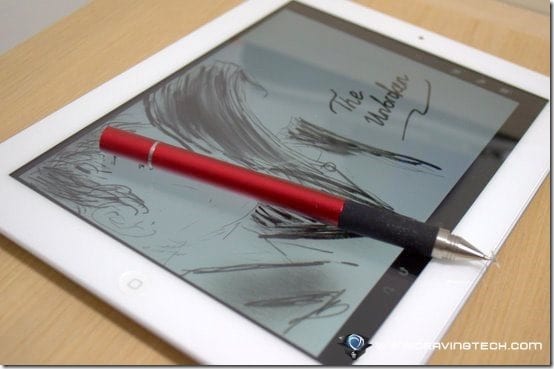 Adonit Jot Touch Review – Gone were the days where a stylus is just a piece of pen-alike with a round tip at one end. This Jot Touch from Adonit features a Precision Disk technology (similar to the Jot Pro or the Jot Flip that I have reviewed) and also a surprising Bluetooth connectivity.
Why would a stylus need a Bluetooth connectivity, you frowned? That is because the Adonit Jot Touch is a Pressure Sensitive Stylus and this will allow supported applications to take advantage of the pressure sensitive feature to create dynamic strokes! It also allows an app to register shortcut buttons on the Jot Touch. This enhances productivity and creativity to an unimaginable level.
The Adonit Jot Touch packaging is pretty slick which includes some materials of the supported apps, the Jot Touch stylus itself, USB charging device, and also an extra Precision Disk tip.
The Jot Touch looks really stylish and also professional. It's available in Red and Metal.
Its design is quite similar with the Jot Pro I reviewed before and there's nothing wrong with it. It works and it works great. The material is also of high quality and it has a sturdy grip. Its weight is perfect to make your hand steady while drawing and does not tire your hand.
The Dampening Tip also makes your strokes quieter, which makes it easier to sketch away in a place like the Library or a Museum where every noise you make gains you an extra eye stare from the others.
The main feature of the Adonit Jot Touch is definitely the Pressure Sensitivity that the stylus brings. The stylus reacts to the amount of pressures you put when you draw/sketch, making it more natural to draw and obviously, save you plenty of time without having to switch between different stroke types.
It is definitely an amazing feature and it will make lots of artists happy.  Obviously, the apps developers have to incorporate this into their applications so you might want to check whether your favorite apps have supported Jot Touch yet. Check out the official page for a list of Jot Ready Apps. For the purpose of this review, I actually bought the Procreate – Sketch, paint, create. – Savage Interactive Pty Ltd app to test the Jot Touch, as it is the most recommended app by lots of people.
Once I pair the Jot Touch, I can enable it through Procreate settings:
Now, it's a pity that I am no artist and even after trying so hard to show something off to you with the Jot Touch, I simply couldn't make a master piece. Feel free to find some Jot Touch video reviews on the YouTube or other people's artwork using the Jot Touch though. In my own experience however, I find that the Jot Touch does make it easier to sketch and to apply different level of strokes. This makes it natural to draw with a stylus on the iPad and less frustrating.
I also like how the Jot Touch is smoother and more responsive compared to the Jot Flip, which requires an extra pressure to the screen to register. With the two shortcut buttons on the Jot Touch, doing an "Undo" or "Redo" in Procreate is also much quicker. Again, this adds another productivity point to using the Jot Touch compared to the other stylus. Each app can utilise these 2 buttons for anything as it is up to the developers to code them.
The power button is located between these 2 shortcut buttons, which makes it a bit dodgy to switch on/off (as you'll accidentally press one of the shortcut buttons while doing so). There is a small LED to indicate when the Jot Touch is turned on or off. To save battery, the light will disappear after a while, which makes it confusing at times to find out whether the Jot Touch is already being turned on. The Jot Touch will also turn itself off if not used for a period of time.
To charge the Jot Touch, the included charger is to be plugged to a USB slot which then acts as a charging dock (magnetised). I really like this design far better than having to connect a micro USB tip or similar. It's just cool!
The magnetic power is also very strong, which ensures that your Jot Touch will stay in place.
Adonit Jot Touch Review – Conclusion
Adonit Jot Touch
The Jot Touch is a true masterpiece. It has a built-in pressure sensitivity which improves productivity and also creativity by tenfold. Not to mention that Jot Touch looks really elegant and luxurious. It also has a couple of shortcut buttons that can be utilised by app developers to incorporate frequently used actions (such as an "Undo").

These combinations make the Jot Touch THE stylus that you need to have if you are serious in making amazing artwork on the iPad. Adonit Jot Touch is guaranteed to save you plenty of steps, frustrations, and time so you can focus more on your creativity.