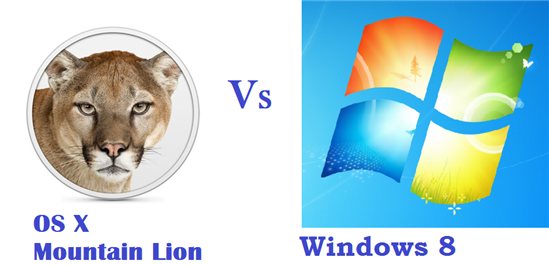 Note: This is a guest post written by Awebus
Windows 8 Vs Mountain Lion – With the recent developer's preview available for the OS X Mountain Lion, Apple is all set to challenge Microsoft's Windows 8. With no hype or prior news about the new Operating system, OS X Mountain Lion left many tech-pundits perplexed on the sudden launch of the new OS X- Mountain Lion. With less than one year of the release of OS X Lion, the launch was something no one could have guessed and every Mac lover quickly downloaded the OS to have a first-hand preview of the latest Mac Operating System.
With full version of Windows 8 set to launch this year, Apple too has declared that the OS X (read as OS ten) Mountain Lion will be available by the end of the summer. Let us now check in detail some features of these two Operating Systems.
Windows 8 vs Mountain Lion – Integration of Devices
Windows 8 has a new UI called the "Metro", which is designed for use in both PC and tablet and includes many applications meant for touch screen devices. Also one can change to the regular Windows menu whenever desired. OS X on the other hand has almost the same UI as the previous version of Mac, however there are many new applications installed and most importantly applications like iMessage, Notes, etc. which are same as the ones available in iPad and iPhone. This step has been taken by both the companies as more and more people are buying tablets and smart phones and hence it will be convenient to integrate all the services under one roof.
Windows 8 vs Mountain Lion – Messaging
OS X comes with the iMessage application installed with it which enables Mac users to send messages and multimedia to iPhone, iPad or another Mac. Windows on the other hand comes with the Skype application to provide the messaging services. One advantage Windows 8 has over Mountain Lion is the option for video calls.
Windows 8 vs Mountain Lion – Cloud Services
With the cloud services, users can easily access to any document or content from any of their devices automatically. Walking in footsteps of Google, Apple and Microsoft have also included cloud services for their devices. Microsoft has included the Skydrive cloud storage with a Free storage option of 25 GB. Mountain Lion also has the iCloud services which integrate all your Apple services.
Windows 8 vs Mountain Lion – Application Store
With the 'Windows Store' and 'Mac App Store', both Microsoft and Apple have provided facility to easily browse and download any content directly via their Desktops.
Windows 8 vs Mountain Lion – Multiple Avatars
The Windows 8 OS is compatible with both PCs as well as tablet PCs. Also it is speculated that Microsoft may come up with Windows 8 enabled phones which will be cool once it arrives. OS X on the other hand is solely for Mac devices.
Windows 8 vs Mountain Lion – Resume Feature
The Mountain Lion comes with Resume feature which allows you to continue your task from where you left it before logging off. In other words, Let us assume you were watching a movie and logged off from your system as you had some urgent work. Now when you switch on your system again and open the movie file, the movie will be right there where you left it before leaving. There is no such feature in Windows 8.
It will be hence interesting to see which Operating System has the final say when these two Operating systems will hit the market.
Note: This guest post was  written by Awebus, who likes writing and blogging. She works with an iNetZeal.com and provides various Website Development click here to know more about their services.