WD Blue SSD 1TB Review – Western Digital (WD) is well-known for their storage solutions including the traditional hard disk drives. The one resides in my computer at the moment, the WD Black 7200RPM, has a humongous 6TB of space and I can never seem to fill it up.
They then went into the market of external storage solutions (like the recent WD My Passport or the older WD My Passport Ultra) and also backup drives (like the WD My Cloud).
And now, Western Digital has come into the Solid State Drives (SSD) market with Green, Blue, and PCIe SSDs. We are going to take a closer look at the WD Blue 2.5″ SSD in this article.
If you don't know what the colour stands for:
Green: Cool, Quiet, Eco-friendly
Blue: Performance and reliability for everyday computing
Black: Maximum performance for power computing
In a simplest term: Black > Blue > Green in terms of performance. There is no WD Black SSD yet at this stage, but I'm pretty sure it's in the making somewhere. For a day to day operation though, WD Blue provides the best balance between performance and price.
Nothing else is included in the packaging apart from the SSD unit itself. There is no extra SATA cable, mounting screws, or a free commercial software to migrate your operating system to.
The WD Blue 2.5″ SSD has 3 different storage options at the moment: 250GB, 500GB, and 1TB. With media files getting bigger these days (4K resolution videos, for example), not to mention games that can take up to 30GB of space or more, having larger options is definitely a big plus here – if you can pay for it.
At the moment, the 250GB will cost you around A$129 and A$225 for 500GB. However, if you think that these capacities won't do, you have to pay around A$435 for the 1TB model. It's definitely not a cheap investment but if you process lots of bigger data like photo or video processing, you'll not regret it.
Speed-wise, it's not disappointing (tested on the 1TB model that I have for review here). In fact, the speed is more superior compared to the other SSDs I've reviewed so far at Craving Tech.
Using CrystalDiskMark a couple of times, I managed to get:
(compared to the one listed on WD page: up to 545MB/s read and 525MB/s write speed – which is well within range).
The WD Blue SSD (1TB) is somewhat faster than the Crucial MX300 (750GB):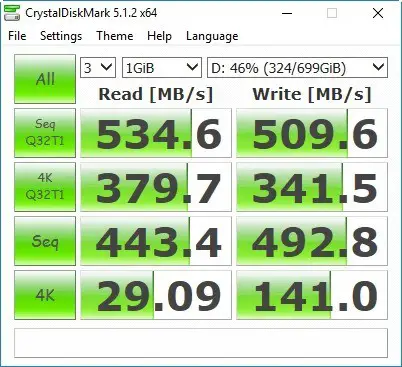 Compared to SanDisk Extreme Pro (960GB) that has been inside my computer for more than 2 years, hosting all my games within:
Western Digital also provides a free, downloadable SSD management software (WD SSD Dashboard) to upgrade the drive's firmware, check its health, and glance at the estimated lifetime remaining.
WD gives the WD Blue owners a 3-year limited warranty, not as generous as the 10-year SanDisk Extreme Pro's, but 3 years warranty on an SSD is the standard.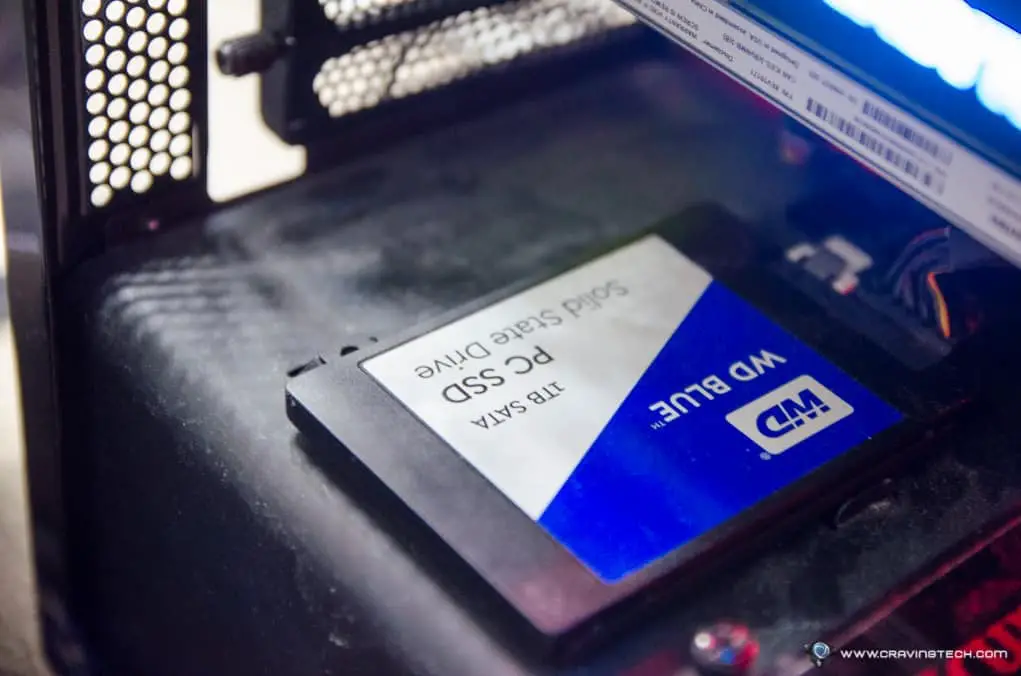 The question is of course, how fast would you like your SSD to perform? Compared to the other budget 2.5″ SSDs I've reviewed so far, the WD Blue is definitely the fastest (though I'm aware there are faster SSD models out there in the market). Sure, it's not the cheapest and WD never said that this is a budget SSD model, but if you really want the speed or performance and not to treat it as just a data storage, the WD Blue should keep you satisfied.
Its high read/write speed is great for photo and video editing, and if also if you set it as the drive that will host your operating system. Windows 10 will definitely fly once you set it up!
If you are upgrading from a good, old HDD for your operating system, the difference will definitely be night and day. I'm using the WD Blue 1TB at the moment for my games (hate looking at loading screens) inside my Skylake gaming system.
You can purchase the WD Blue SSDs at major retailers around Australia such as PCCaseGear or CPL. If you are not in Australia, you can also purchase it at Amazon.