Thermaltake Tt eSPORTS Meka G Unit Review – TT eSPORTS previous mechanical gaming keyboard, Meka G1, was a solid mechanical keyboard. It's great for typing and it's great for gaming. It's just that it lacked dedicated macro keys and some fancy keyboard backlighting for gamers who like to game all night long.
Tt eSPORTS Meka G Unit addresses these problems and offers a solid mechanical gaming keyboard with various options for the hardcore gamers.
Tt eSPORTS Meka G Unit Review – Packaging
The Packaging includes:
The Meka G Unit keyboard
Detachable USB connectors
Detachable Palm Rest
Manuals, etc
Tt eSPORTS Meka G Unit Review -Design
The design of this keyboard, in terms of looks, is excellent. Before I even requested the keyboard to be reviewed, I was already stunned by the official product photos. It looks really nice with the black finish on the matte material with a mixture of reds. In real life, it looks as good as the photos, if not better.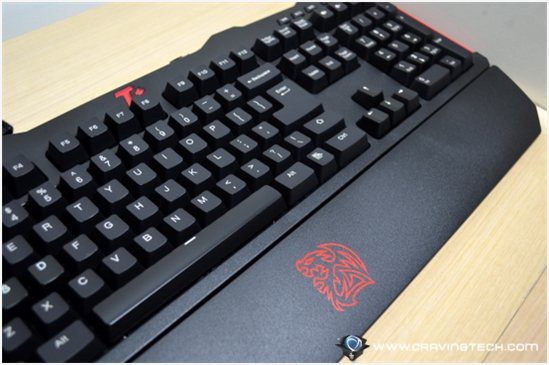 The keyboard is sturdy and the matte material makes it look luxurious (and non-finger print magnet). Keyboard is a bit heavy, which makes it sit sturdy on the table. The USB cables (gold-plated) are detachable so it's easier to bring the keyboard to a tournament and there are also minor cable management slots underneath the keyboard: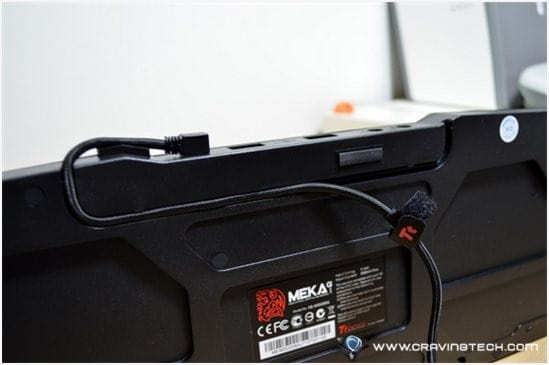 The Meka G Unit is using the Cherry Black mechanical switches which has a life expectancy of up to 50 million keystrokes and also provide a nice tactile feedback for typing (read the Cherry mechanical switches differences). The keys are equipped with backlighting, though unfortunately not all keys are back-lit. There are 3 sections with back-lit keys mechanisms; they are:
W-A-S-D, Left-Ctrl, Left-Shift, and Space bar key
The Arrow keys
The Numeric keypad (only the Up, Right, Down, Left keys)
You can tweak through the software whether you want all of these 3 sections to lit up or just one of them. There are also 4 light intensity levels that you can choose from (or pulsating).
Though it may be a pity not to have backlighting in all keys, this definitely lowers the price of the keyboard and these are the areas what we gamers use the most anyway (although it's debatable, except for the WASD key obviously. For example, I never use the keypad or arrow keys for gaming).
The keyboard has dedicated macro keys on the left hand side, a Game mode switch (which disables the Windows key), Profile switch, and dedicated 7 multimedia control keys.
I like the fact that the Windows key is located at the usual place, compared to the Meka G1 which replaces it with a Function key. There is no function key on the Meka G Unit, so you can simply press the "volume up/down" keys without having to press 2 keys, say. At all times, you will see the feedback of these keys you press on the screen, which I really like. On other gaming keyboards, I often wondered whether the volume keys I pressed were registering well or not as there wasn't any visual feedback.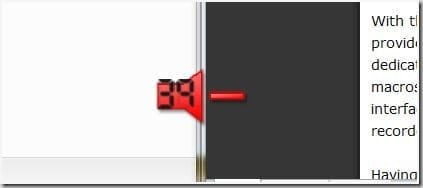 However, I do find that some of the keys are somewhat smaller and the positioning of ESC is not in the right place. Since I always use the Right-Shift to capitalise my letters when I type, I often pressed the wrong key on the Meka G Unit. This is because the Right-Shift key is being made smaller/shorter. The backslash key is also located next to it rather than on top of the ENTER key (this made me press "backslash" quite often even when I wanted a "slash"). I also found the ESC key positioning is not optimal as I prefer it to always be my most top left key so I don't have to look for it. These might be minor as it depends on your preferences or style. I find that after using the Meka G Unit for a while, I have sort of gotten used to the keys placement already.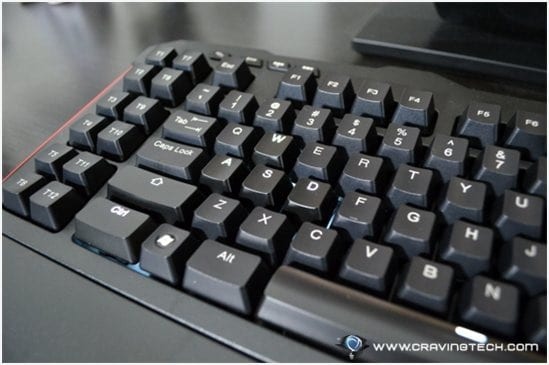 Tt eSPORTS Meka G Unit Review – Other features and Impressions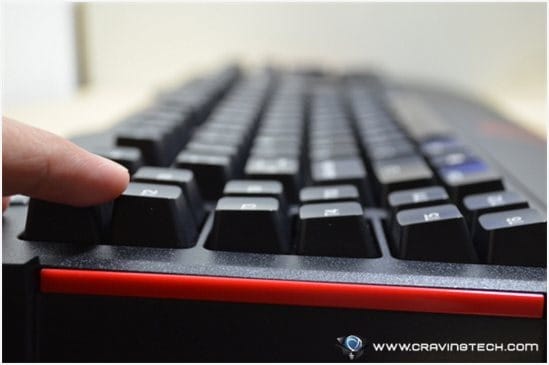 With the dedicated macro keys and 3 profiles to choose from, the Meka G Unit provides up to 60 macro keys in total (20 macros in each profile – from 12 dedicated macro keys and 8 other keys you pick). There are definitely plenty of macros you can make here! Through the software provided (with an easy to use interface), you can set whether a key is supposed to execute a macro you've recorded or launch a program/executable file.
Having these dedicated macro keys really helps in battle, especially in an MMORPG games with tons of skills you need to manage. I definitely could play my Sith Sorcerer on Star Wars the Old Republic much more manageable with these macro keys.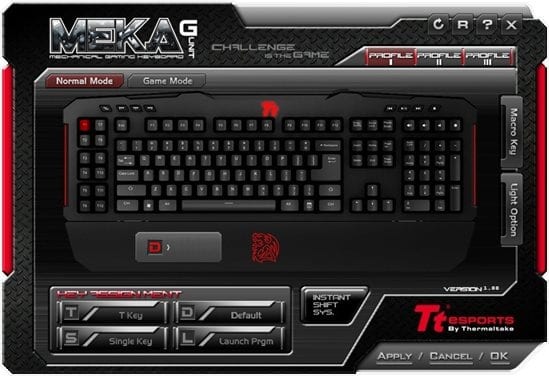 These macros can be saved into the keyboard itself, thanks to the built-in 64kb memory, meaning I can plug this keyboard anywhere and all of my macros will still be available as they were recorded originally.
The Meka G Unit also includes 2 extra USB Hubs and audio jacks (microphone-in and speaker-out) which are located on the top of the keyboard. It's also amazing that the keyboard only has a single USB cable to enable these hubs and ports, unlike the previous Meka G1.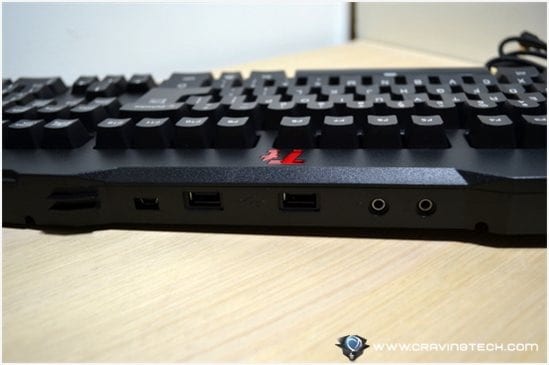 Your gaming headset can be plugged easily to the Meka G Unit, saving the trip to the CPU case.
Tt eSPORTS Meka G Unit Review – Conclusion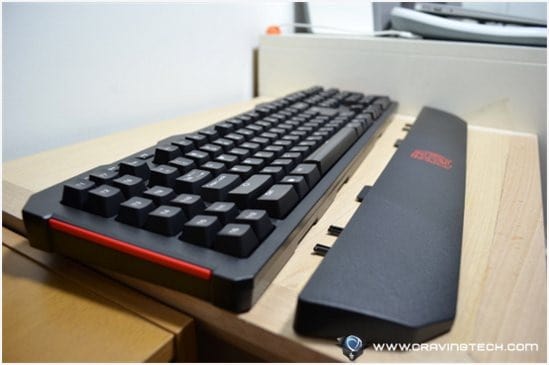 Another great mechanical gaming keyboard has made its way to the gamers' hands. The Thermaltake Tt eSPORTS Meka G Unit is durable, looks awesome with the matte material (not plastic), and simply has plenty of macro keys to satisfy the most hardcore gamers who like to bring their mighty arsenals to tournaments alike. Even if you don't need to carry this around, you'll still find plenty of things to squeeze out of this keyboard from Thermaltake Tt eSPORTS.
Some keys placement and design are a bit off to my liking, but these depend on your typing style and preferences obviously. This is definitely a solid gaming mechanical keyboard to own.
Disclosure: Thermaltake Tt eSPORTS Meka G Unit review unit was sponsored by Tt eSPORTS for the review
Thermaltake Tt eSPORTS Meka G Unit Review – Pros
+ Matte material
+ Look and feel like a true gaming keyboard
+ Mechanical (Black Cherry Switch)
+ Extra USB hubs and audio port
+ Dedicated macro keys
+ Dedicated multimedia control keys
+ Plenty of macros available in 3 different profiles
+ Backlit (some keys)
+ Palm rest
+ The cable can be detached, easy to carry (cable pouch included)
+ Has a gaming mode to disable Windows key
Thermaltake Tt eSPORTS Meka G Unit Review – Cons
– A few key placements / design
– Not all keys are back-lit
Thermaltake Tt eSPORTS Meka G Unit Review