There were a few mechanical gaming keyboards released by the end of year 2010 and Meka G1 by Tt eSPORTS (Thermaltake) was one of them. The Meka G1 mechanical gaming keyboard certainly did not disappoint when I used and tested it for a couple of weeks for the purpose of this review. It's solid, sturdy, comfortable, and has become my favorite gaming keyboard so far.
Meka G1 Review – Design
Meka G1 looks simple yet elegant – coated in black.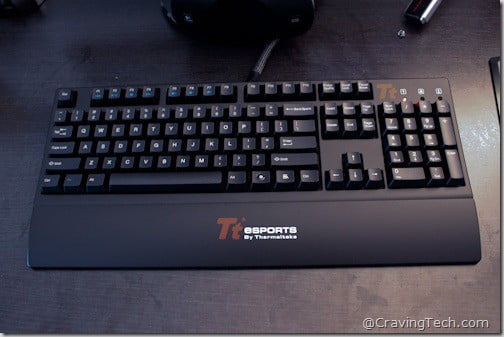 It's sturdy and the size of the whole keyboard is just right (not too big and bulky on the desk). Unfortunately, the Meka G1 does not have any backlighting on the keys so don't expect to play games easily without any lights on during the night.
It includes a detachable palm rest which I never took off when I was using this keyboard as it gave an extra comfort when using the Meka G1.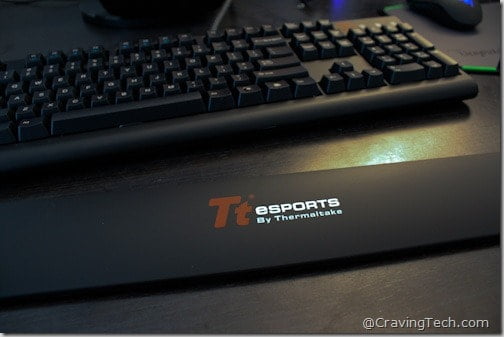 The Windows key is moved to the bottom right (to avoid pressing it in the game) and instead, you get a Function key. This key is used to access 7 multimedia hotkeys (from F1 to F7) such as adjusting volumes and others. No driver is necessary to activate this function key. In fact, you don't even need to install anything to fully utilize the Meka G1. Nifty.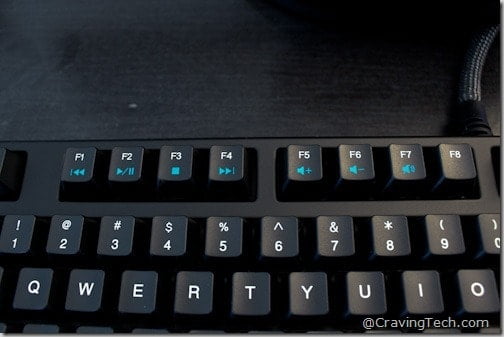 The cables (2 USB and 2 audio related cables – more on these later) are bundled into a single large military grade cable. It's tough and shouldn't tear easily. I do wish the cable does not come out from the middle of the keyboard though as I have to adjust the cable to make its way through my center speaker and my LCD monitor stand.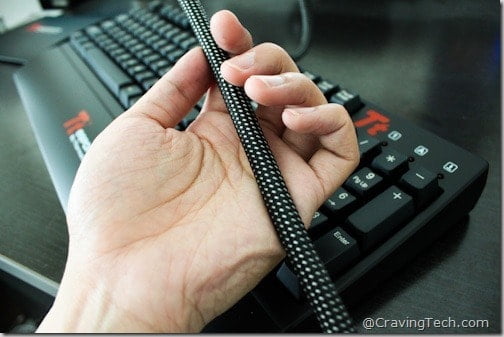 The USB cables are also gold plated, providing the most reliable data transmission.
Meka G1 Review – Features
Meka G1 uses the cherry black mechanical switches with life expectancy for up to 50 million keystrokes. This may sound crazy at first but if you are an avid RTS gamer (like Starcraft), you've probably pressed hundreds if not thousands of keystrokes per gaming session on your keyboard.
Ever since I was exposed to mechanical keyboards, I would never go back to the old standard keyboards. Typing on a mechanical keyboard feels so good and less tiring. Instead of having to press all the way down, you only need to press about half of the force for a key to register on a mechanical keyboard. This means your fingers tire less from long chatting or gaming sessions and of course, it also means that you'll react quicker than most gamers out there. The Meka G1 is no different.
The packaging includes a USB to PS2 adapter. If you plug the Meka G1 on your PS2, it will eliminate ghost keys (meaning you can press as many keys as you want on the keyboard and they will all register). The Meka G1 also has up to 1000 Hz polling rate (Polling rate is how many times a device sends information to the computer every one second) which is significantly better than most keyboards.
As a bonus, there are extra 2 USB slots that you can access on the keyboard along with audio jacks (for Microphone-in and Speaker-out).
This gives an extra value to the Meka G1 as you can plug your mouse and also your headset to the keyboard, minimizing the mess on your computer table. Also works well with USB flash drives and alike.
Meka G1 Review – Conclusion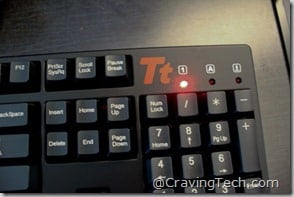 The Meka G1 is a great gaming mechanical keyboard, suitable for casual to advanced gamers. The mechanical switches are truly blessings in disguise as they provide comfortable and great typing experience. The response rate is very fast and you don't need to press all the way down for a key to register, giving you an advantage during the battle.
Unfortunately, there is no backlighting and there are no macro keys too which may turn some hardcore MMORPG gamers off. Since I barely use any macros to play my games, this is no big deal for me. The great build quality and the typing experience with the Meka G1 far outweigh the cons of the keyboard. If you want these features so badly, there's always the Challenger Pro keyboard made by the same company that provides such features.
Every friend who came by to my house to play agreed with me. The Meka G1 is an excellent keyboard and it's really comfortable to use. If you are okay with having no macro keys, backlighting, or other bling-bling, the Meka G1 should be your main keyboard for a very long time. Even if you don't game, the Meka G1 is still worth having, thanks to the comfort and the great cherry black mechanical switches.
Note: Sample was provided for the review