Note: This is a guest post brought to you by HyperX
If you're looking to purchase a new keyboard, you've likely come across a wealth of different options in your search. From the size, to switches, to RGB lighting, and price, it can be tough to decide what's best for your needs. By considering these three questions, you'll be on your way to finding the right fit for your work, or play… or both.
[1] Do I need a number pad?
Chances are, the keyboard you currently use has a number pad of ten digits sitting next to your arrow keys. Known as full size or 100% keyboards, they're an all-in-one solution that's great for any use be it working from home, writing assignments, personal blogging or gaming.
If this suits your needs, some 100% keyboards like the HyperX Alloy Elite 2 (check out Craving Tech's review) also feature dedicated media keys and volume slides so you can access volume control directly from the keyboards.
If desk space is what you need, more compact keyboards like the tenkeyless Alloy Origins Core remove the number pad to take up only 80% of the room of a full size keyboard. Some may find this design more ergonomic as it frees up space for mouse movement and allows the mouse arm to be closer to the body rather than outstretched.
If even an 80% keyboard isn't small enough, 60% keyboards such as the Alloy Origins 60 are designed to be ultra-compact and portable, incorporating arrow keys into the rest of the keyboard rather than keeping the dedicated space for them. 60 percent keyboards have become popular with gamers because they maximise mouse movements, but are also perfect for anyone investing in a minimalist setup.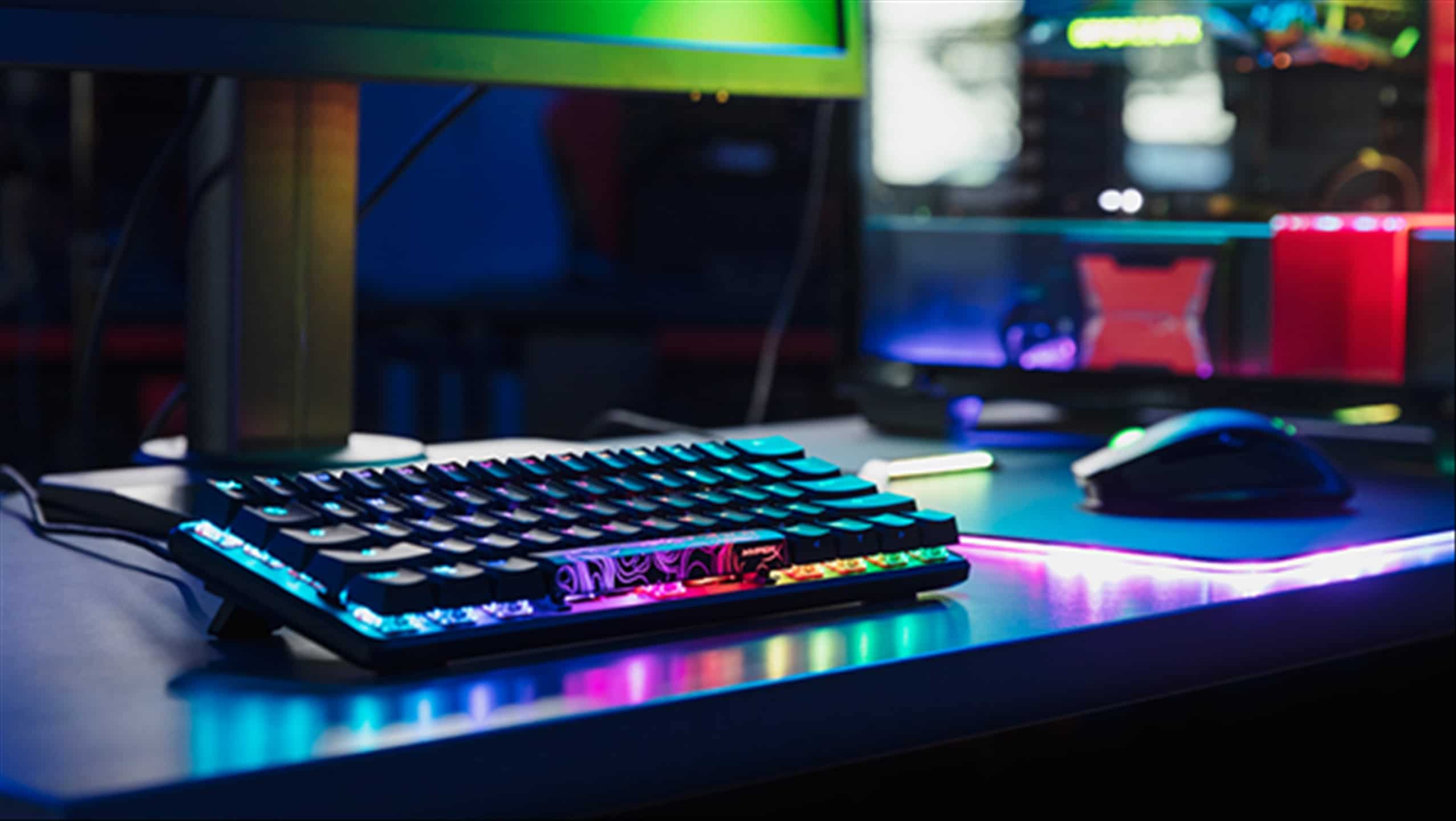 [2] Do I need RGB Lighting?
The answer to this question is almost always yes, but different switches and keycaps produce their own lighting styles so you can find the right style to match your preferences. If colour co-ordination is a priority, consider a keyboard with keycaps that really bring out RGB lighting on key switches. For example, the Alloy Elite 2's Pudding Keycaps (pictured below) have a white base which produces a vibrant lighting solution compared to some keyboards with solid keycaps.
Most keyboards have downloadable companion software you can download which allows you to customise keyboard features. HyperX's Ngenuity software, allows you to change the lighting effects and colours of your keyboard lighting, such as adding a colour explosion when keys are pressed, but it also has tools that allow for key remapping or creating macros if you're looking to simplify commands.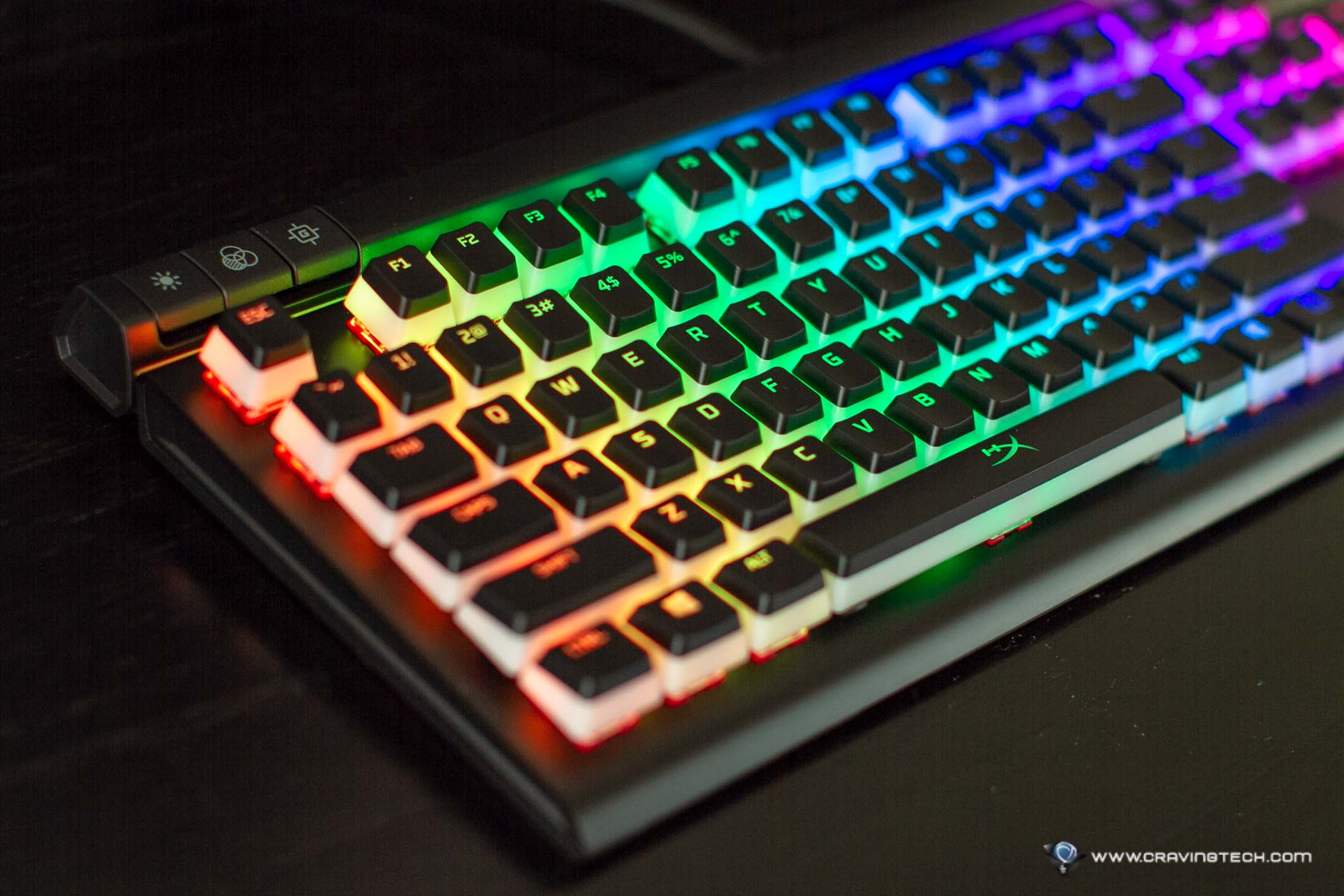 [3] What type of key switch do I want?
If you've been using a mechanical keyboard for years, this one will come as no surprise, but if you're not using a mechanical keyboard you should consider making the switch. Mechanical keyboards, such as HyperX's Alloy range get their name from the mechanical mechanism that registers each key press independently from every other key press. The benefits of this compared to a membrane or rubber-dome keyboard you probably use at the workplace or received with your computer are twofold. Firstly, mechanical keys are easier and faster to press, making the typing experience more efficient. Secondly, you can change the feeling of your typing experience by finding the right type of switch that suits you.
An example of three switch types are HyperX's manufactured linear (red), tactile (aqua) or clicky (blue) switches. On the extreme end, HyperX blue switches have an audible 'click' when pressed so you can tell when a key press has been registered. On the other end of the scale, HyperX red switches don't have an audible or tactile feeling when pressed because the mechanism under the switch is different. Neither option is right or wrong, they just cater to different tastes. Find your favourite and your typing or gaming experience will be better for it. For an indepth look at how each switch operates, click here. 
As the switches on mechanical keyboards operate independently to each other, multiple keys can be pressed and registered simultaneously, which leads to a faster keyboard experience.
So now that you know what you should be looking for, visit the HyperX website to learn more about HyperX's complete keyboard offering and find a keyboard to match your style.