HyperX Alloy Elite 2 Mechanical Gaming Keyboard Review – There are times when you wish you have an RGB mechanical gaming keyboard that shines brighter to showcase your gaming setup. 
And I've got to say, I have seen no other RGB mechanical keyboard with switches that shine this bright. HyperX Alloy Elite 2 uses HyperX's own mechanical switches that expose the LEDs, plus HyperX Pudding Keycaps that give extra brightness to the RGB lighting and put other RGB keyboards to shame.
Packaging
Design & Features
HyperX Alloy Elite 2 itself is very sturdy on the desk, thanks to its 1.5kg of weight. This means that you won't likely be carrying the keyboard around so if you game mostly on the desk, it is a very good keyboard with solid, sturdy, steel frame. 
The keyboard is a full-sized keyboard so you'll have num pads and dedicated buttons for media controls, brightness, and more. I also like the dedicated volume wheel to adjust volume easily.
There is a USB pass-through as well in case you are using a wired gaming mouse and want to plug it somewhere closer.
But of course, the main attraction of the show is the RGB brightness. Thanks to the switches and Pudding Keycaps design (which somehow reminds me of Mahjong pieces), the backlighting is very prominent and super bright.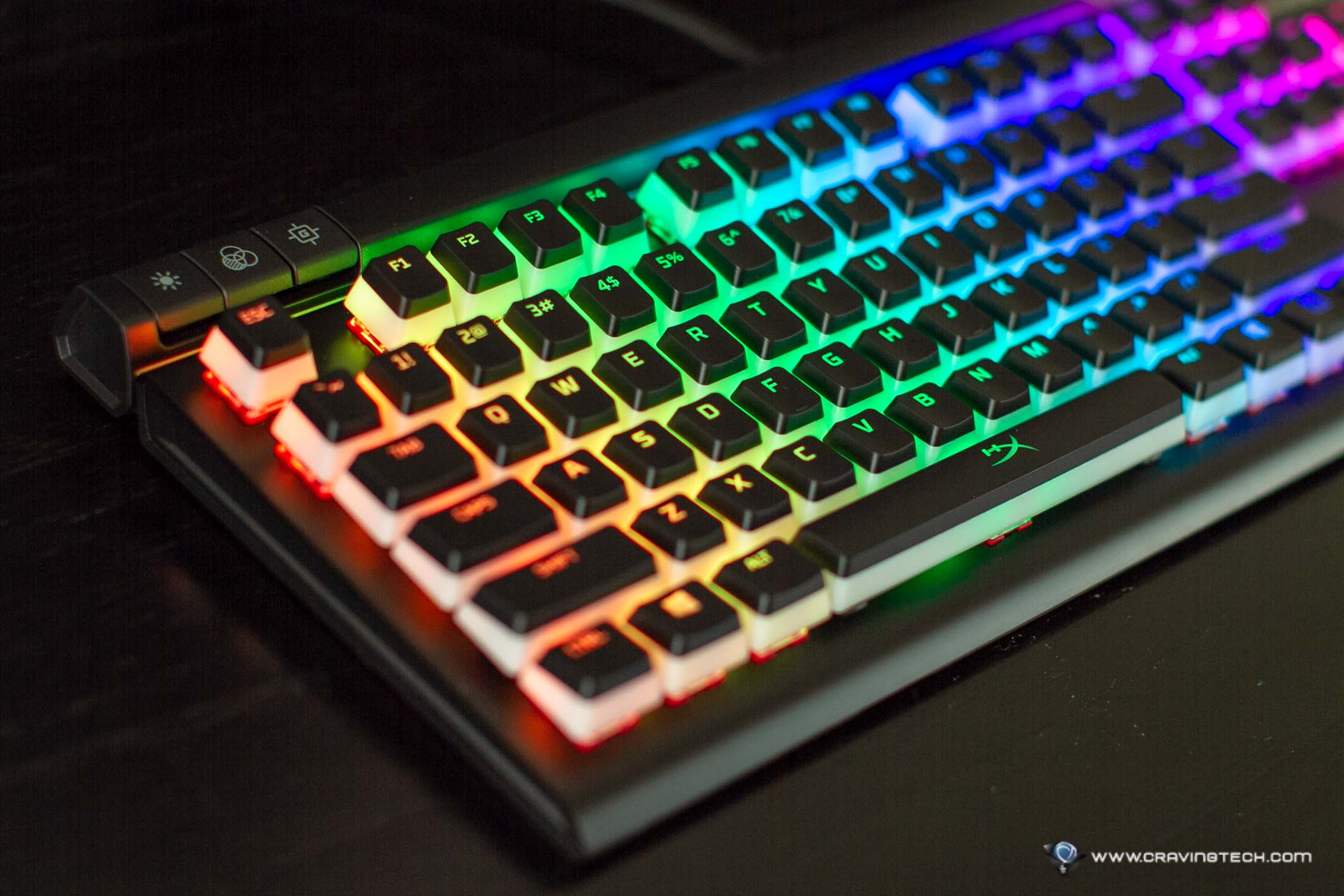 If you like the brightness to be more subtle though, there is a dedicated button to adjust the brightness level. I find that the highest brightness is not to my liking which is a surprise, because I'd normally always crank the RGB brightness to the max on any other keyboard.
This can further be customised with HyperX NGENUITY software but it is optional to install.
The keyboard is compatible with PC, PS4, and Xbox One so you can use it to play on any gaming device you have at home. 
HyperX Alloy Elite 2 uses HyperX Red switches which have 1.8mm actuation point so they are better than the CherryMX Red 2.0mm, but certainly not the fastest switch in the market. You should be fine, however, unless if you are an esport player who wants to have the best advantage possible while playing competitively.
The good thing is that you'll unlikely press a key accidentally while playing (such as pressing an ultimate ability), things that happen sometimes when I game with a really fast switch like the CherryMX Low Profile Speed (1.0mm actuation point) on the CORSAIR K70 RGB MK.2 LOW PROFILE.
HyperX Alloy Elite 2 switches have good, bouncy tactile feedback – great for both typing and gaming. Using typingtest.com, I could get 108 WPM (Words Per Minute) typing on the Alloy Elite 2. 
HyperX Alloy Elite 2 Mechanical Gaming Keyboard Review Conclusion
HyperX Alloy Elite 2 Mechanical Gaming Keyboard has a sturdy construction, thanks to the solid steel frame, and really cool & bright switches. If you love your RGB, make sure to install HyperX NGENUITY to further customise your lighting and keystrokes effects!
With dedicated control keys and HyperX's own Red switches, it feels refreshing to type and use the keyboard for both typing and gaming. HyperX Alloy Elite 2 retails for AU$289 MSRP and available at mwave.
Disclosure: HyperX Alloy Elite 2 review sample was supplied for reviewing but all opinions are mine and not paid
HyperX Alloy Elite 2 Review
Summary
Mechanical gaming keyboard from HyperX with HyperX Red Switches and very bright RGB
Pros
Very bright, adjustable RGB backlighting
Solid & sturdy construction, very durable
Dedicated controls on the keyboard, with Game mode to disable Windows key
USB passthrough
Cons
Not the fastest switches for the price