HyperX Cloud III Review – The HyperX Cloud II debuted back in 2015 and was loved by many for its comfort, durability, and sound quality. Eight years later, HyperX has finally launched its worthy successor, the HyperX Cloud III, boasting an improved design with HyperX signature memory foam and retuned 53mm drivers – while still maintaining what fans loved about the HyperX Cloud II headset.
Before we dig into the details of the new headset, let's check out the differences between the HyperX Cloud II and Cloud III.
HyperX Cloud II vs HyperX Cloud III
HyperX Cloud III has improved comfort with softer leatherette on the headband
HyperX Cloud III has thicker memory foam on the ear pads
HyperX Cloud III has redesigned aluminium forks on its frame
HyperX Cloud III has improved durability with a single piece buckle (compared to 2 pieces of buckle on the Cloud II)
HyperX Cloud III has redesigned and retuned 53mm drivers (improving sound quality)
HyperX Cloud III has DTX Headphone X:Spatial Audio (software) Surround Sound vs Cloud II's Virtual 7.1 Surround Sound (hardware)
HyperX Cloud III has better microphone with improved sound clarity
HyperX Cloud III has Mic Mute LED indicator on the microphone
HyperX Cloud III has Volume and Mute onboard controls on the headset
HyperX Cloud III also supports USB-C connection
HyperX Cloud III Review – Unboxing and Packaging Contents
My first impression when I held the HyperX Cloud III was that it felt lightweight (it weighs about 300 grams) and I really like the different accents of colour (Black and Red) with metal frame construction. The headset feels light but durable at the same time.
The Leatherette Earpads feel spacious, soft, and comfortable on the ears when I wear the headset for playing games, watching movies, and listening to music. They are more of over-the-ear than on-ear, which I prefer as they don't feel like they are pressing into my head and the ears don't get warm. Note that I'm testing the headset during an early Winter in Melbourne so I unfortunately can't tell you how they perform during the hot days.
The headband also feels comfortable though they don't seem to have plenty of padding and similar to the Cloud Core Wireless, I can see that you'll start seeing wear and tear on the headband pretty quickly. But you can't really complain with a A$159 headset.
Note that the HyperX Cloud III I have here is wired so you'll have to keep it plugged to use. You can opt with the 3.5mm (to plug it to your mobile devices) or go for the USB connectivity, which I can easily plug into my gaming laptop or desktop.
The headset has simple, onboard controls which are easily accessible while you are playing games.
Its microphone is also a noise-cancelling 10mm microphone with a built-in mesh filter. While I communicated with my teammates and used the headset in Zoom meetings, people don't seem to have any problems hearing my voice even when I turned the fan heater on nearby.
I've got the early review unit of headset to test with for almost a month, and I've been enjoying it so far. With games, I tested it while playing Overwatch 2 and Star Wars: Jedi Survivor. In Star Wars: Jedi Survivor, I could get totally immersed in the game while listening to the awesome, original soundtrack within. In Overwatch 2, it shines more thanks to the excellent audio positioning that allows me to listen and track where every sound is coming from.
In this simple example while playing Ramattra (a tank), I could hear the enemy Cassidy's footsteps flanking us even while I'm busy shooting at the enemies. I quickly moved back to protect my Support and his cheeky move failed. I ended up saving my team and we could push forward to victory. If you notice in the clip (around 0:08), I responded within just 1-2 seconds upon hearing the steps. Just another second late, we might have lose one of our supports (Kiriko).
For music listening, the sound is rather balanced and the headset does output good sound for the price. Acoustic songs shine more and I also used the headset to listen and practice my Bass, so I have no complaints in the Bass department as well.
HyperX Cloud III Review – Design and Features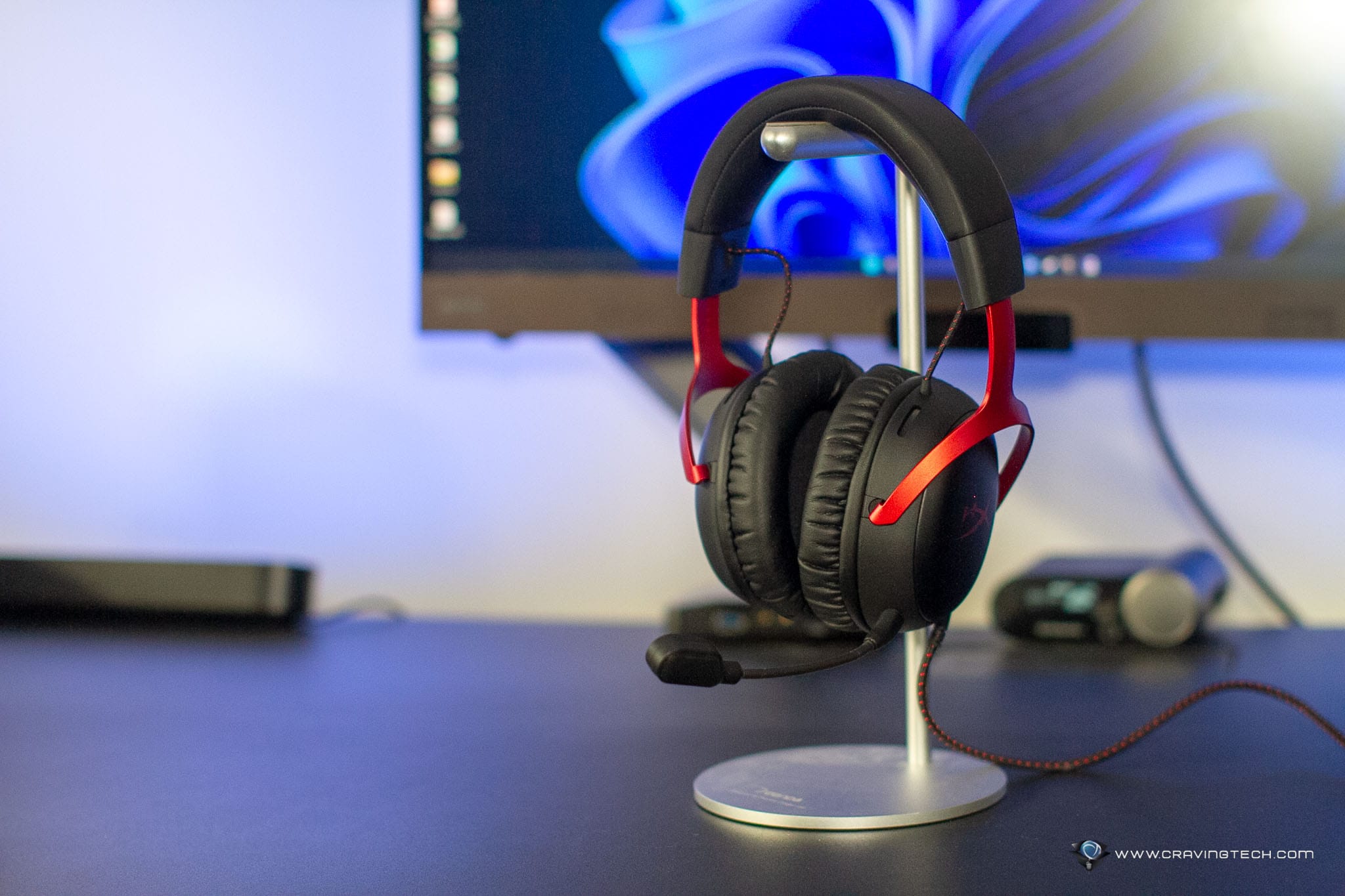 HyperX Cloud III is a great, budget-friendly, wired gaming headset that you can use on many gaming platforms at home. It works with PC, PS5, PS4, Xbox Series X|S, Xbox One, Nintendo Switch, Mac, and Mobile Devices. The headset is also comfortable to wear for hours of gaming which is quite important if you play games every day. It's wired but thankfully has a pretty long cable and this means you also never have to worry about charging the headset.
HyperX Cloud III will available in Australian retail stores on May 31 for A$159.
Disclosure: HyperX Cloud III review unit was supplied for reviewing
HyperX Cloud III Review
Summary
A great, budget-friendly, wired gaming headset from HyperX
Pros
Comfortable to wear
Budget-friendly
Durable and lightweight
Multi-platform compatibility
Good soundstage and audio positioning for competitive, FPS games
DTS Headphone:X Spatial Audio (software)
Don't require any driver or software to install (but you can install HyperX NGENUITY to tweak an option or two if you want)
Cons
Headband falls easily to wear and tear
Good sound quality, but nothing to be proud about